Deep Dish Pizza
This deep dish pizza was amazing! It was a bit of work so I was hoping it would turn out well and it far exceeded my expectations! It reminded me of the deep dish pizza I had at Pizzeria Uno years and years ago! A thick, crisp, buttery crust and delicious! You may also like Sugar Cookie Pizza.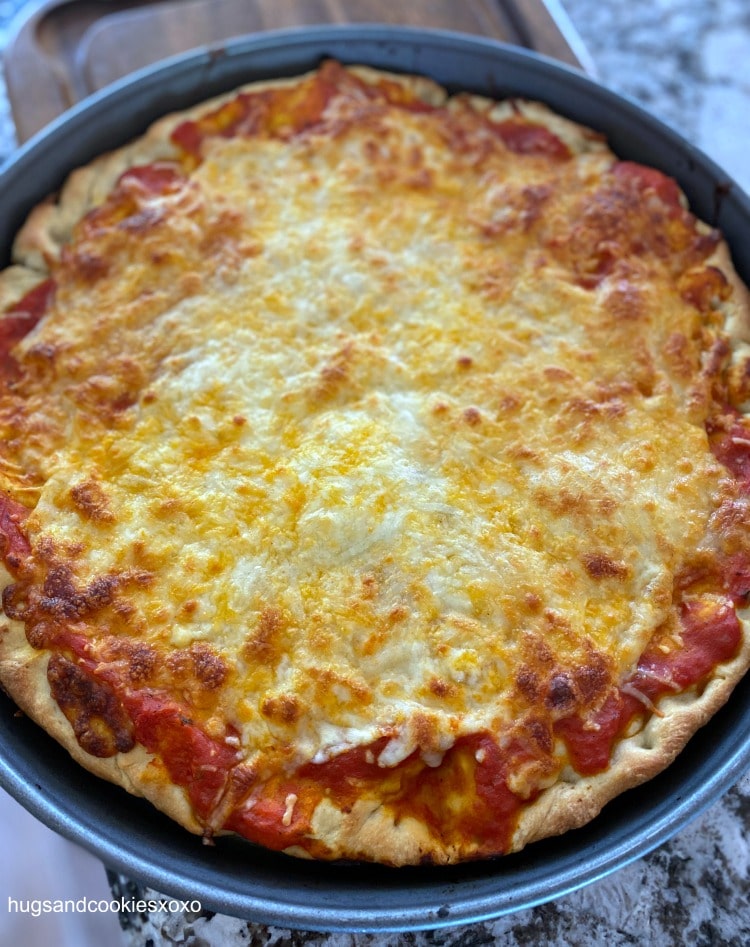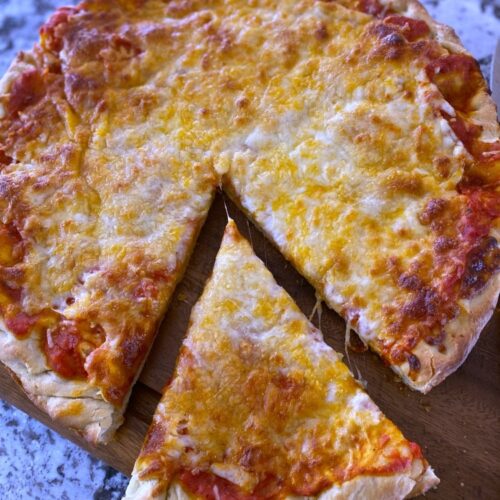 Deep Dish Pizza
Ingredients
1

9 ounce potato, peeled and quartered

1 ½

teaspoons

rapid-rise yeast

3 ½

cups

flour

1

cup

water

warm, 105 to 115 degrees

6

tablespoons

extra-virgin olive oil

plus more for oiling bowl

1 ¾

teaspoons

table salt
Instructions
Bring 1 quart water and potato to boil in a small saucepan over medium-high heat; cook until tender, 10 to 15 minutes.

Drain and press through a potato ricer.

Measure 1 1/3 cups lightly packed potato and discard the rest.

Adjust one oven rack to highest position, other rack to lowest position.

Preheat oven to 200 degrees.

Once oven reaches 200 degrees, let it heat for 10 minutes, then shut the oven off.

In a mixer , combine yeast, 1/2 cup flour, and 1/2 cup warm water until combined.

Cover with plastic wrap and let sit 20 mins.

Add 2 tablespoons olive oil, remaining 1/2 cup water, 3 cups flour, salt, and potato.

Use paddle and mix on low speed until dough comes together.

Switch to dough hook and increase speed to medium for 5 mins.

Transfer dough to lightly oiled medium bowl, turn to coat with oil and cover tightly with plastic wrap. Place in the warm oven for 30 mins until doubled.

Pour 4 T. olive oil into bottom of 14-inch deep-dish pizza pan.

Remove dough from oven; turn onto clean, dry work surface and pat into 12-inch round.

Transfer round to pan, cover with plastic wrap, and let rest 10 mins.

Place pizza stone on bottom rack in oven and heat oven to 425 degrees.

Uncover dough and pull up the edges to form the crust.

Cover with plastic wrap and let rise 30 mins.

Uncover dough and prick generously with fork.

Bake on stone 15 mins.

Add sauce and cheese and bake 15 more mins.

Move pizza to top rack and bake until cheese is spotty golden brown, about 5 minutes longer.

Cool 5 mins and slide onto a cutting board.

Cut and serve.
Recipe adapted from America's Test Kitchen