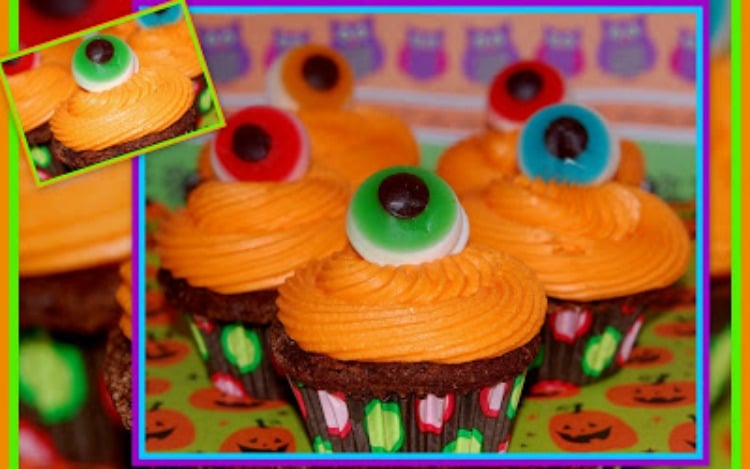 "EYE" hope Jaden's friends enjoyed their spooky treats! FOUND THESE EYEBALLS IN A LOCAL CANDY STORE! KEEP YOUR "EYES" PEELED WHEN SHOPPING!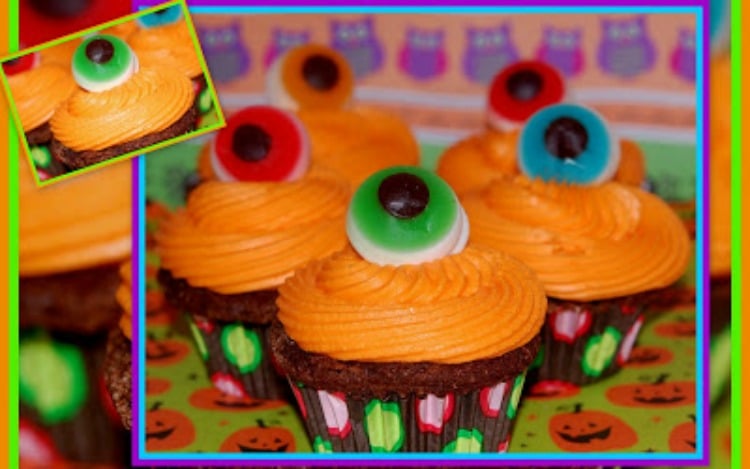 Chocolate Whopper Cupcakes:
2¼ Cups All-Purpose Flour
¾ Cup Unsweetened Dutch-Process Cocoa Powder
½ Cup Granulated Sugar
¾ Cup Packed Brown Sugar
1½ Teaspoons Baking Soda
½ Teaspoon Salt
1 Cup Milk
1½ Cups Malted Milk Powder
1 Cup Vegetable Oil
3 Large Eggs, at room temperature
1 Cup Sour Cream, at room temperature
1 Teaspoon Vanilla Extract
½ Cup Whoppers, smashed
Preheat oven to 350 degrees. Line standard muffin tins with paper liners. Whisk together flour, cocoa, both sugars, baking soda and salt. In another bowl, whisk together milk and malted milk powder until powder is dissolved.
With an electric mixer on medium-high speed, beat flour mixture, milk mixture and oil until combined. Add eggs, one at a time, beating until each is incorporated, scraping down sides of bowl as needed. Add sour cream and vanilla, and beat just until combined. Fold in smashed Whoppers.
Divide batter evenly among lined cups, filling each halfway. Bake, rotating tins halfway through, until a cake tester inserted in centers comes out clean, about 20 minutes.
adapted from martha!!

BUTTERCREAM:
BEAT 2 STICKS BUTTER AND ADD 4 CUPS CONFECTIONERS SUGAR. ADD 1/2 CUP MILK, 2 TSP. VANILLA AND 4 MORE CUPS SUGAR. BEAT UNTIL CREAMY. COLOR AS DESIRED. PIPE ON COOLED CUPCAKES AND TOP WITH HALLOWEEN CANDIES!
ADAPTED FROM MAGNOLIA