French Onion Meatballs
French Onion Meatballs make the most incredible dinner and you can soak up the sauce with the cheesy crostini!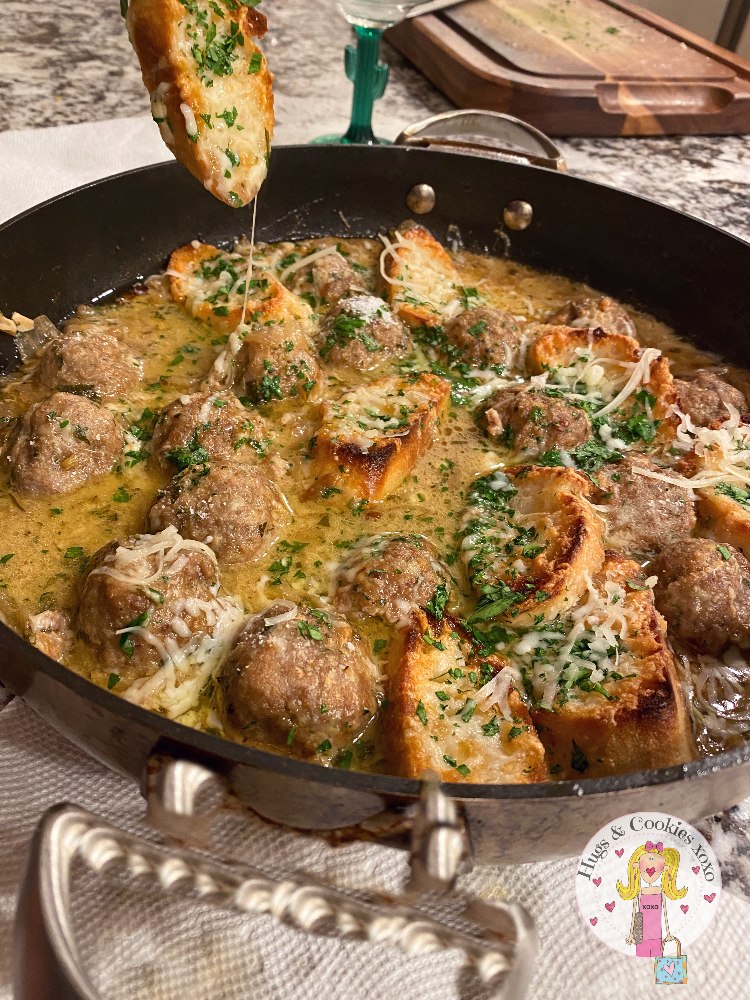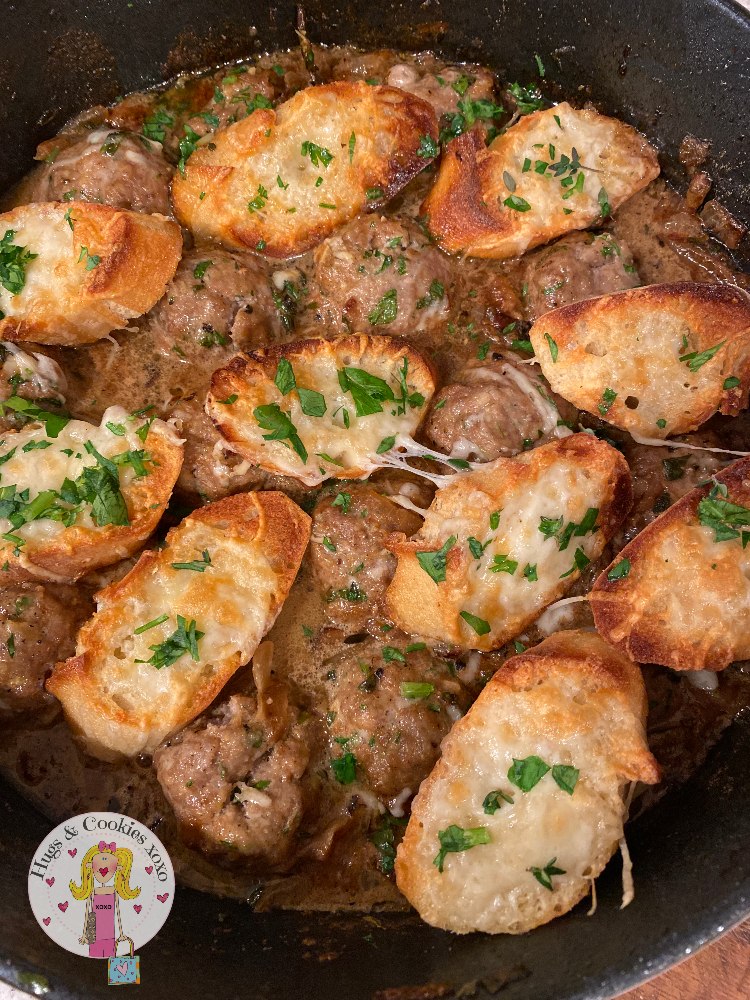 French Onion Meatballs
Ingredients
Meatballs
1½ pounds Meatloaf Mix
¼ c. seasoned breadcrumbs
¼ c. Parmesan cheese
1 egg
¼ cup whole milk
4 cloves garlic, minced
handful of fresh parsley, chopped finely
salt to taste
French Onion Sauce
3 yellow onions, thinly sliced
6 T. butter
¾ c. white wine
4-5 cloves garlic, chopped
small handful of mushrooms, sliced
2 T. fresh thyme leaves
2 T. chopped fresh sage
2½ c. chicken stock
¼ c. heavy cream
10 slices french bread, cut on diagonal
olive oil for brushing on bread
1 cup shredded cheese (I used an Italian 4 cheese combo)
Instructions
Meatballs
Preheat oven to 450°F.
Mix everything in a bowl.
Roll into 15 meatballs and lay on a baking stone. (or baking sheet lined with nonstick foil)
Bake 15 minutes and then add to french onion sauce.
French Onion Sauce
In a large oven safe skillet, melt the butter and onions on med-high and cook 10 mins.
Slowly add the wine in 3 additions, letting it cook into the onions each time.
Cook another 10 mins until caramelized.
Add the garlic, mushrooms, thyme, and sage, salt/pepper and cook 3-4 mins.
Add broth.
Increase to high and then reduce to a low boil.
Add meatballs and cook 10 mins.
Drizzle in the cream and stir.
Place bread slices on a baking sheet, brush lightly with olive oil, sprinkle with salt and toast at 450 6-8 mins.
Turn on broiler.
Lay bread on the meatballs, top with cheese and broil until browned. Top with parsley.
Recipe adapted from
Half Baked Harvest