Luckily it is time for another month of Two Sweetie Pies! Another month of 2 Sweetie Pies with That Skinny Chick Can Bake means another wonderful dessert! Always a success when you bake from Liz's blog! Each month we bake up a recipe from each other and keep it a secret until reveal day! Super fun! Make sure you pop over to visit Liz and see which Hugs & Cookies recipe she chose this month.
This month I went with Liz's Frosted Sugar Cookie Bars. These ranked very high among my cookie lovers in the house. So simple too because you bake a big batch as opposed to individual cookie batches! Definitely a time saver and with kids isn't that what we all need?!
Thanks once again Liz for a fabulous dessert!
You can visit Liz on her social media channels here:
Now, let's talk about the sprinkles I used. Aren't they just adorable? I found them over at Fancy Sprinkles! They are made for the "modern baker" and you cannot find anything like these in the local stores. I know, because I have looked many times in the past! Well, look no further! They have such an awesome variety and I love the various sizes within each sprinkle container. They have colors for every occasion and some really funky assorted sprinkles! I also love their containers and they offer free shipping! You can visit them at FancySprinkles.com , Instagram or on their Facebook Page.
Frosted Sugar Cookie Bars
Ingredients
COOKIE LAYER
½ cup butter, at room temperature
¾ cup sugar
1 egg
1 teaspoon vanilla
1½ cups flour
1 teaspoon baking soda
½ teaspoon baking powder
¼ teaspoon salt
FROSTING:
½ cup butter, at room temperature.
2 cups powdered sugar
1 teaspoon vanilla
¼ cup whipping cream
Sprinkles
Instructions
Preheat oven to 350º.
Cream together butter and sugar until smooth.
Beat in egg, then vanilla.
Add the dry ingredients and mix till well blended.
Spread evenly in an 8×8-inch pan lined with nonstick foil.
Bake 20-22 minutes. Remove to rack to cool completely.
Frosting
Beat butter until light and fluffy. Add powdered sugar,vanilla, and cream.
Beat for 5 minutes.
Spread on cooled cookies.
Garnish with sprinkles if desired.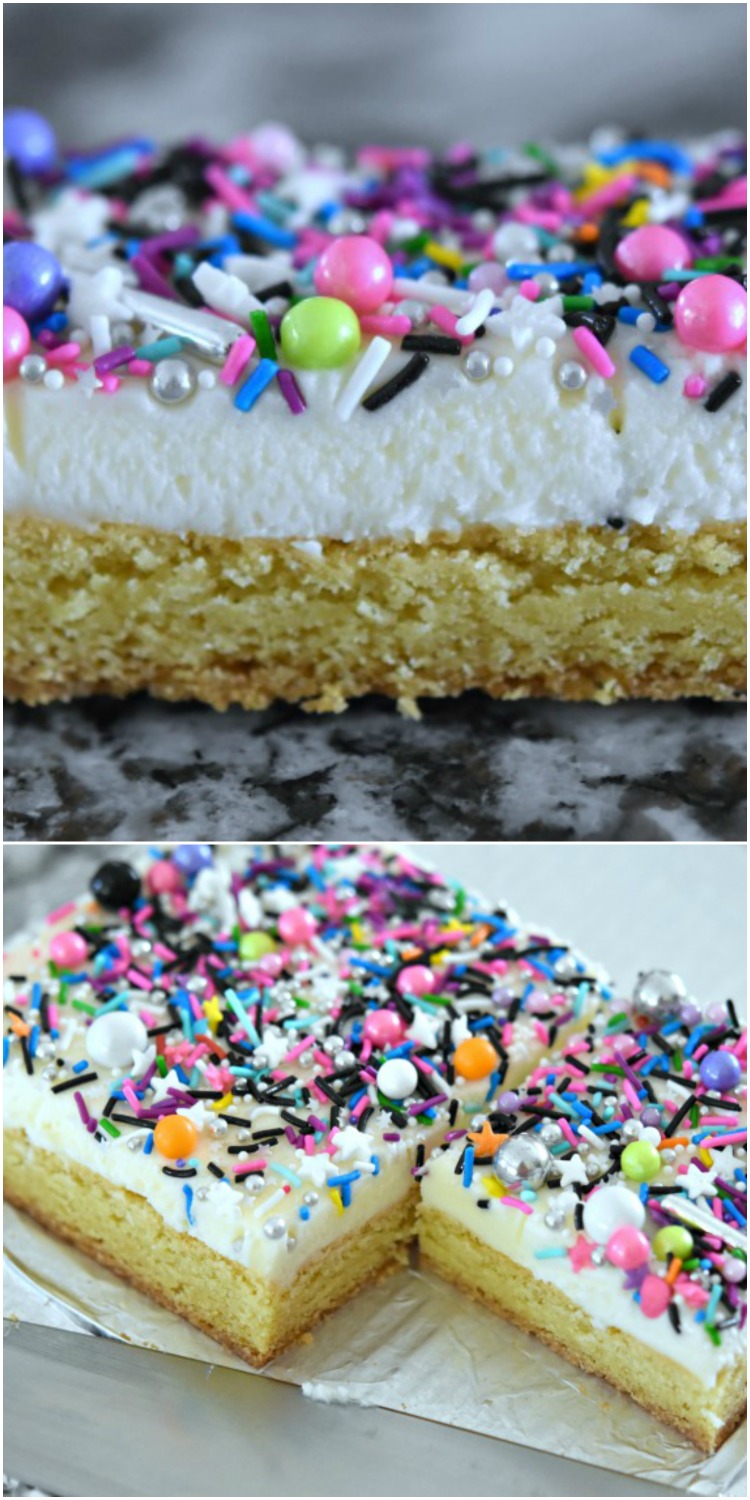 You May Love These, Too! XOXO