Hot Cherry Cobbler
This hot cherry cobbler and is delicious and beyond simple to prepare. The batter mixes together in a matter of minutes and the cheat of using canned cherry pie filling is genius! This bakes up in less than an hour and is wonderful topped with fresh whipped cream. I imagine vanilla ice cream on top would be pretty amazing, too! You may also love  Cherry Cheesecake Brownies
and Cherry Cream Cheese Danish.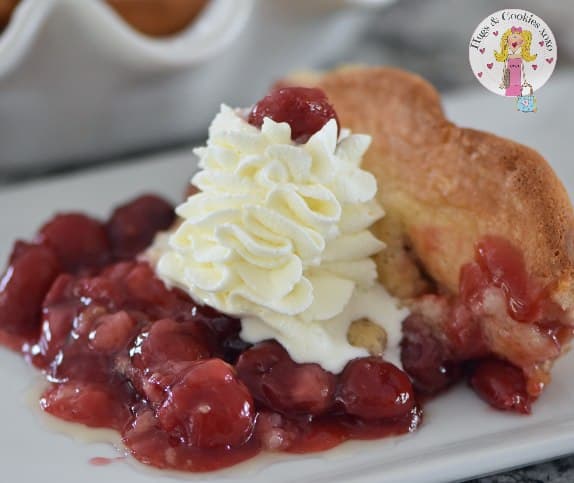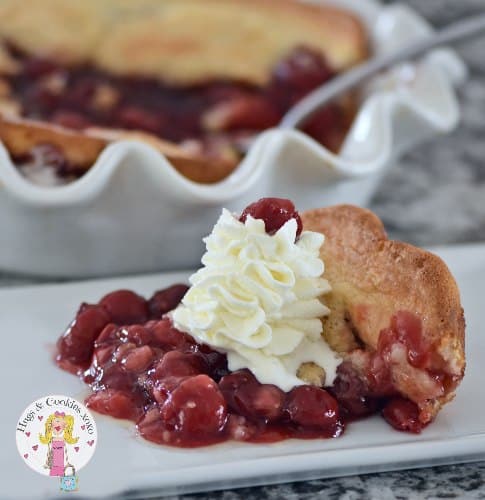 Hot Cherry Cobbler
Ingredients
4 T. butter
1 c. flour
1 c.sugar
1 tsp. baking powder
1 c. milk
1 can cherry pie filling
Instructions
Preheat oven to 350 degrees.
Put butter in a 9×9 inch baking dish and place in oven until butter is melted. Remove.
Stir together the flour, sugar, and baking powder.
Stir in milk and then pour this mixture right on top of the melted butter.
Do not stir this mix.
Use a spoon to dollop the cherries all over the top avoiding the edge.
Bake 50-60 mins until golden brown.
Serve with freshly whipped cream.
Adapted from
Yummly