Have you tried my Magic custard cake yet from this post? How about my Chocolate version?  Well, this is third version, equally delish! A reader on my first post had suggested strawberries on top for some added sweetness. I thought that was genius. I decided to macerate the berries to make them extra wonderful and it worked wonders! This cake is perfect with a dusting of powdered sugar and some coffee! Best part? It realllllly is magic! You are using one batter yet this cake turns out with 3 very different layers. You have to make it and eat it to believe it!! Such a fun cake to make!

You will need:
Magic Custard Slice With Strawberries
Ingredients
8 Tablespoons salted butter-melted and slightly cooled
2 cups lukewarm milk
4 eggs-separated
1¼ cups powdered sugar
1 Tablespoon water
1 cup all purpose flour
1 teaspoon vanilla extract
powdered sugar for dusting
1 cup sliced berries
1-2 Tablespoons sugar (depending how sweet your berries are)
whipped cream, optional
Instructions
Preheat the oven to 325°F
Spray 8x8 pan with Pam with flour
Using whip attachment, beat whites to stiff peaks.
Set aside and beat yolks with powdered sugar until pale yellow.
Add butter and water.
Add flour, mixing well.
Slowly add milk and vanilla.
Mix in whites a little at a time until pretty well blended. Some lumps may remain.
Bake 40-50 mins.
Top should be browned and center wiggly.
While cooling, stir berries and sugar and let sit until cake is cooled.
Once cool, cut squares, dust with powdered sugar and top with berries!
Add whipped cream if desired!
Cake Adapted from OMG Chocolate Desserts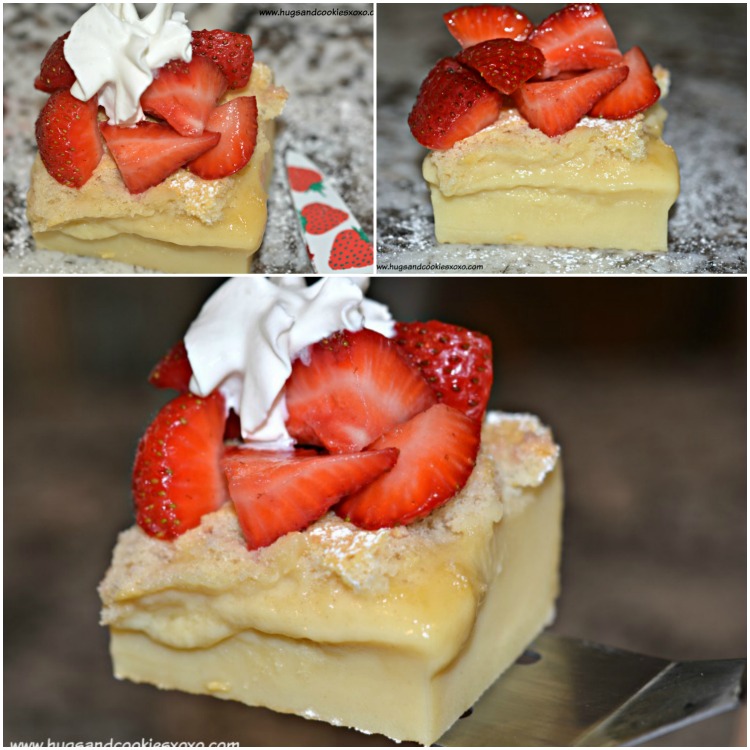 You May Love These, Too! XOXO