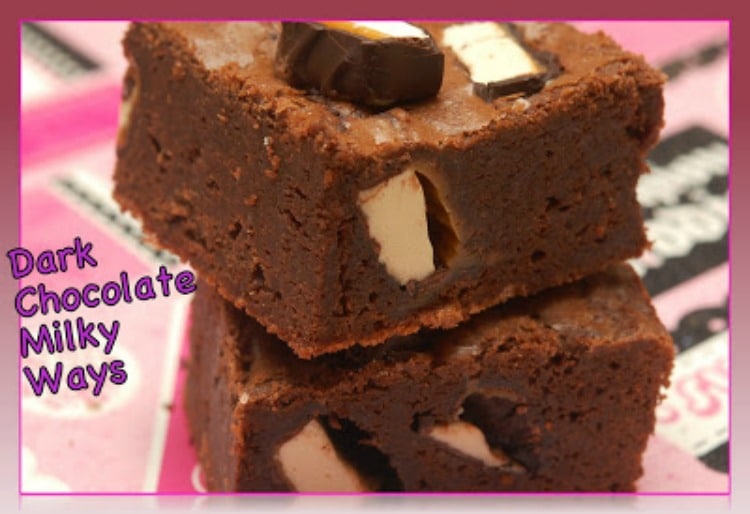 Dark Chocolate Midnight Milky Way Bars!!1 BAG MILKY WAY MIDNIGHT MINIS (OR USE REGULAR MILY WAYS IF U PREFER) UNWRAP AND FREEZE-I CUT A FEW IN HALF TO LAY ON THE TOP
1 1/4C. FLOUR
1/4 C. COCOA POWDER
DASH SALT
2 STICKS BUTTER
4 OUNCES UNSWEETENED CHOCOLATE
4 EGGS
2C. SUGAR
2 TSP. VANILLADIRECTIONS:
PREHEAT OVEN 325
MELT BUTTER AND UNSW. CHOCOLATE IN MICROWAVE. COOL. IN MIXER, BEAT EGGS. ADD SUGAR AND VANILLA. ADD COOLED CHOCOLATE/BUTTER MIXTURE. ADD ALL DRY INGREDIENTS. MIX IN FROZEN MILKY WAY MINIS (SAVE CUT ONES FOR TOP) AND POUR INTO A NONSTICK FOIL LINED 9X9 PAN. SPRINKLE THE FEW CANDIES YOU CUT IN HALF ON THE TOP. BAKE 35-40MINS. COOL 1 HOUR. REFRIGERATE 2 HOURS. I KNOW, I KNOW SOOOOOO LONG!! YOU CAN DO IT!! LOL CUT INTO BARS! HAPPY BAKING EVERYONE!!!!