Mother's Day Piano Cake
You can certainly wow your Mom with this cake and it is easier than it looks! A double layer chocolate cake with the best frosting!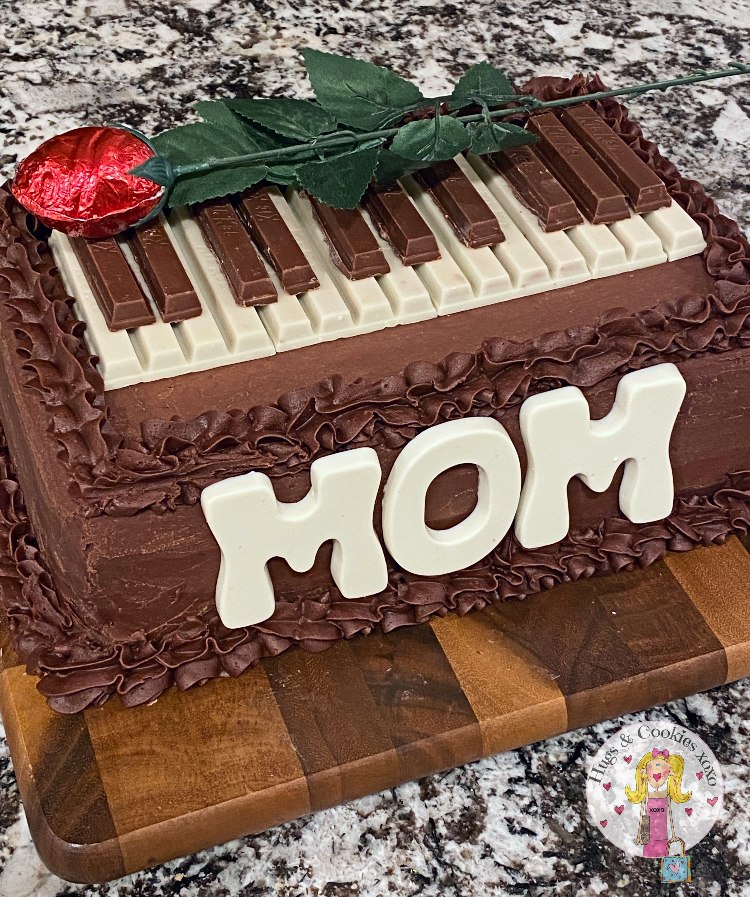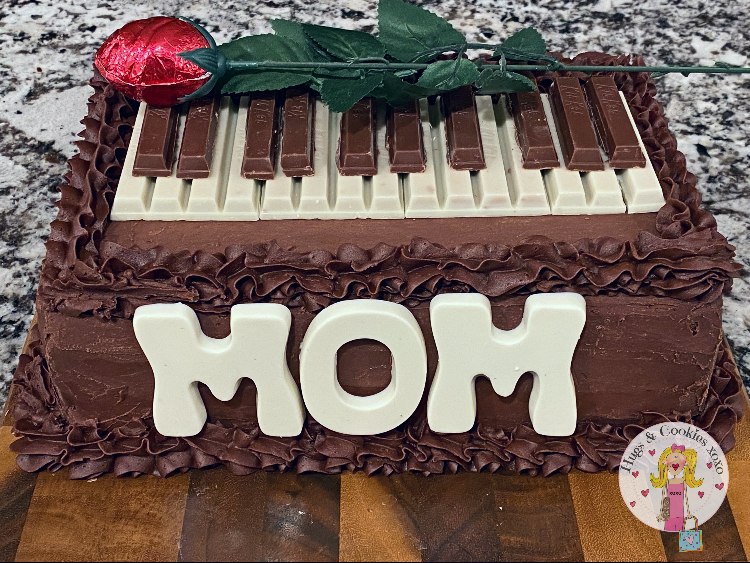 Cake adapted from Recipe Tin
You may need:
Mother's Day Piano Cake
Ingredients
Cake (This makes one 9x13 cake.) For a double layer like this piano cake, make this recipe twice or double and divide between 2 pans.)
1¾ c. flour
¾ cup unsweet. cocoa powder
1½ tsp baking powder
1½ tsp baking soda
2 cups sugar
1 tsp salt
2 eggs
1 cup milk
½ cup canola
2 tsp vanilla extract
1 cup boiling water
Chocolate Buttercream Frosting
6 sticks butter, room temp
1½c. sifted cocoa powder, unsweetened
¾ tsp. salt
7½c. powdered sugar
¾c. heavy cream
12 ounces melted chocolate, cooled (I used Ghirardelli bars)
Mom letters
super white merckens disks
Instructions
Cake
Preheat oven to 350°F
Line 9x13 pan with nonstick foi.
Sift flour, cocoa, baking powder and baking soda into a large bowl.
Add sugar and salt.
Whisk in eggs, milk, oil and vanilla by hand.
Add water.
Pour into pan and bake approx 35-38 mins until cake tester comes out clean.
Let cool -then freeze so frosting the layers will be easier.
If making 2 layers, time very edge of cakes around all 4 sides. Layer the cakes with frosting between apply a crumb coat, chill and then frost the entire cake.
Frosting (This is enough for a two layer cake.)
Beat butter until creamy.
Add cocoa and salt.
Add powdered sugar alternating with cream.
Pour in chocolate last on low until blended.
Finish by mixing with rubber spatula to remove air bubbles.
Once frosted use extra to pipe a ruffles around the edges. I used a 1M tip.
Lay white Kitkat bars across the top.
Trim a bit off the chocolate ones and lay on top.
I used a drop of meted chocolate to secure the chocolate bars on top of the white.
Top with a chocolate rose and white chocolate Mom letters.
Mom letters
melt chocolate and fill molds-pop in freezer until set.