Oreo Brownie Cheesecake
This Oreo Brownie Cheesecake is the cake I made for my brother's 50th birthday! 50 is definitely easier to take when you are distracted with an Oreo brownie cheesecake! You can decorate this however you'd like. I used homemade whipped cream and chocolate sauce on top of the ganache. Hot fudge and chopped oreos would also be scrumptious! This cheesecake is simple to bake and just requires several hours for chilling. You can even make it up to two days in advance which is always a pleasure and time saver!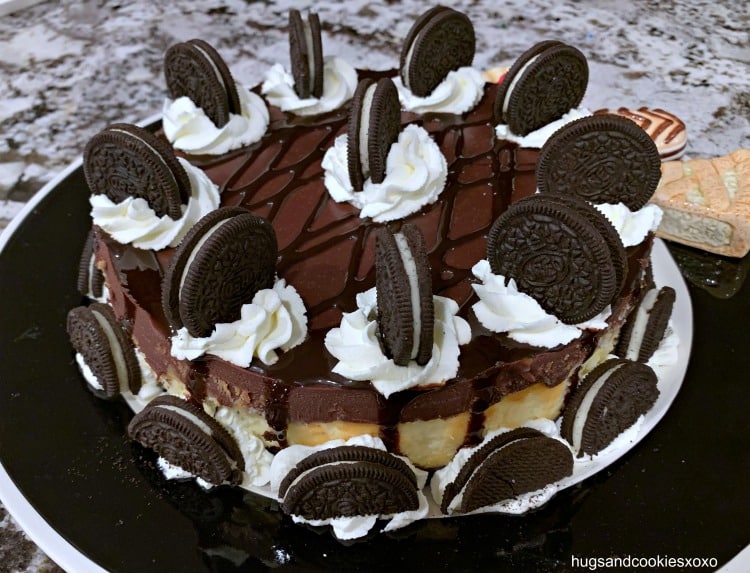 Oreo Cheesecake
Ingredients
Brownie Bottom:

4

ounces

bittersweet chocolate chips

1

stick butter

8Tablespoons

¾

cup

sugar

3

eggs

½

cup

unsweetened cocoa powder

Cheesecake Batter:

Four 8-ounce packages PHILADELPHIA cream cheese

at room temperature

1 ⅔

cups

sugar

¼

cup

cornstarch

1

tablespoon

pure vanilla extract

2

extra-large eggs

¾

cup

heavy whipping cream
Chocolate Ganache
8

oz.

heavy whipping cream

2

oz.

butter

8

oz

semi-sweet chocolate

¼

cup

confectioners' sugar
Instructions
Brownie Bottom:

Melt butter and chocolate chips together in the microwave.

Whisk in sugar.

Whisk in eggs.

Gently stir in cocoa.

Grease bottom only of 9 inch springform pan.

Pour in batter and set aside while preparing the cheesecake batter.

Cheesecake:

n a large bowl, using an electric mixer fitted with the paddle attachment, beat 1 package of the cream cheese, 1/3 cup of the sugar, and the cornstarch together on low until creamy, about 3 minutes, scraping down the bowl several times.

Blend in the remaining cream cheese, one package at a time, beating well and scraping down the bowl after each.

Increase the mixer speed to medium and beat in the remaining sugar, then the vanilla.

Blend in the eggs, one at a time, beating well after each.

Beat in the cream just until completely blended.

The filling will look light, creamy, airy, and almost like billowy clouds. Be careful not to overmix! Gently spoon the batter over the brownie crust.

Bake the cake at 350 for 60 mins. Shut oven off and let cake sit inside for 30 mins. Remove and cool on counter. Then chill in fridge.
Ganache
Heat cream and butter on stove until just before boiling.

Remove from stove and pour over chocolate. Stir until completely combined.

Add confectioners' sugar and beat with a wire whisk until combined and smooth.

Pour over cooled cheesecake.

Chill for 4 hours or overnight.
Assembly
Decorate with whipped cream, chocolate sauce and oreos