This peanut butter and jelly cheesecake is just ridiculous. It is better than any peanut butter and jelly sandwich you have ever eaten yet reminds you of the most comforting one! I used strawberry jelly and the fun part is "injecting" it into the cake with a piping bag! Totally cool cheesecake STUFF! All peanut butter fanatics went bonkers for this cake and I know you will, too! Serve it up with a tall glass of milk!
This amazing recipe is adapted from Cookie Dough and Oven Mitt!   Please check out this wonderful blog! I know you will find many other wonderful recipes to try, as well!
Definitely check out this Cheesecake Moat-I use it for every single cheesecake and it eliminates having to create a water bath with a large roasting pan and foil. Makes cheesecake life a lot easier!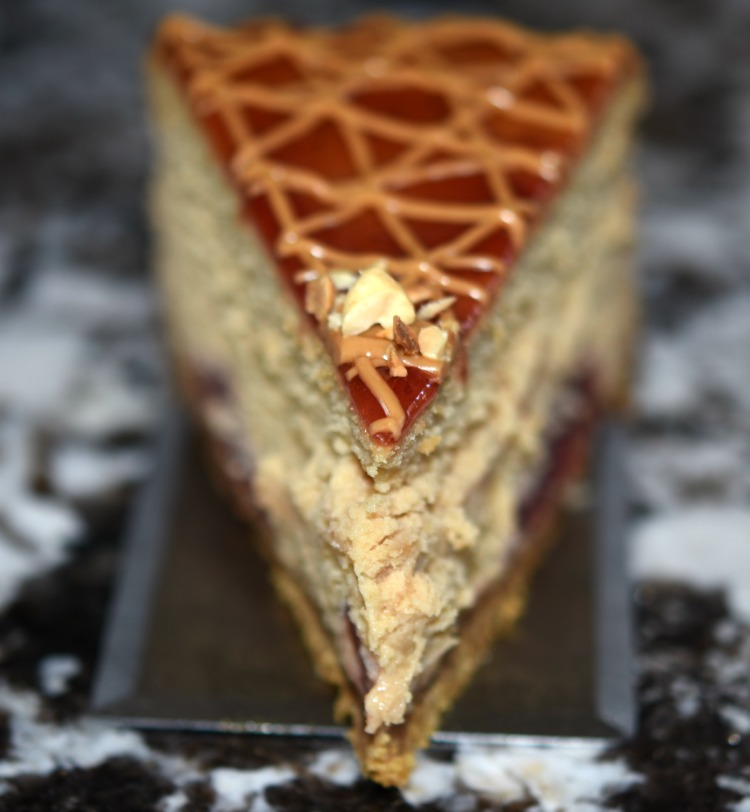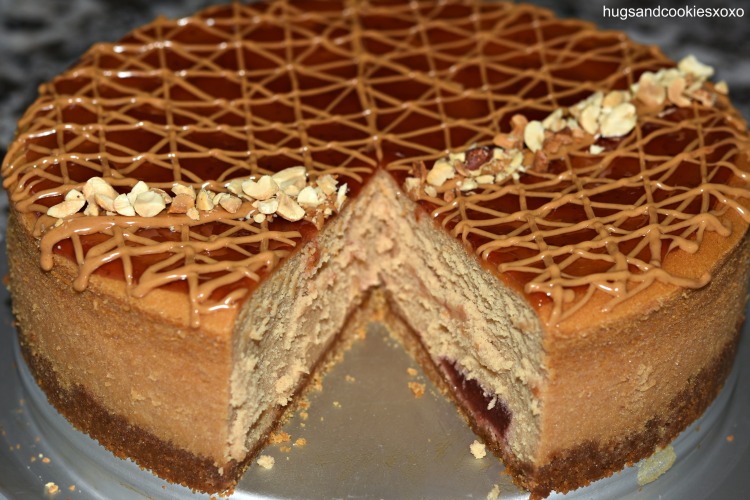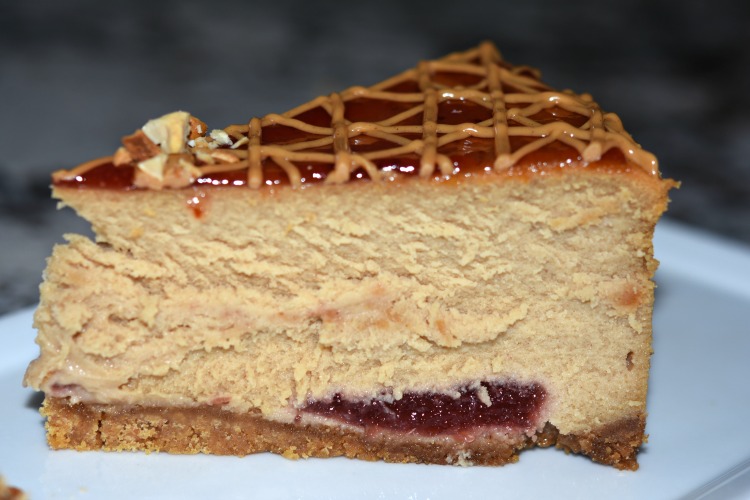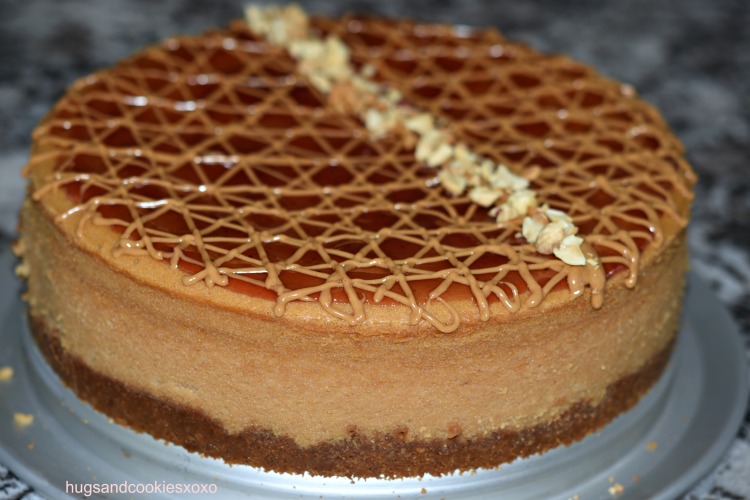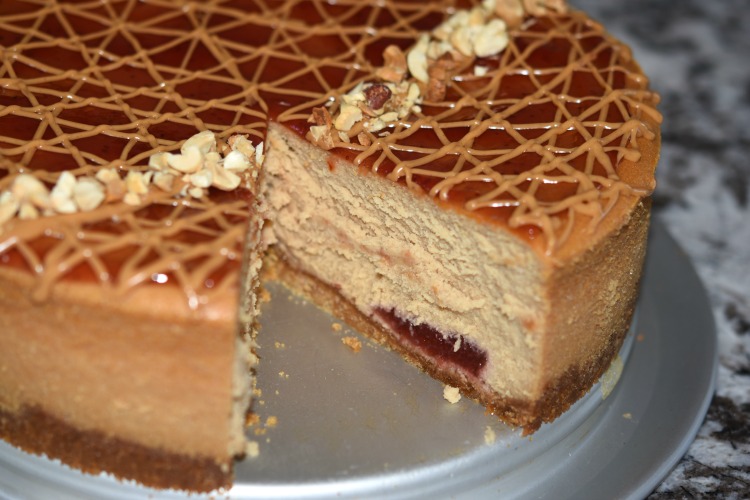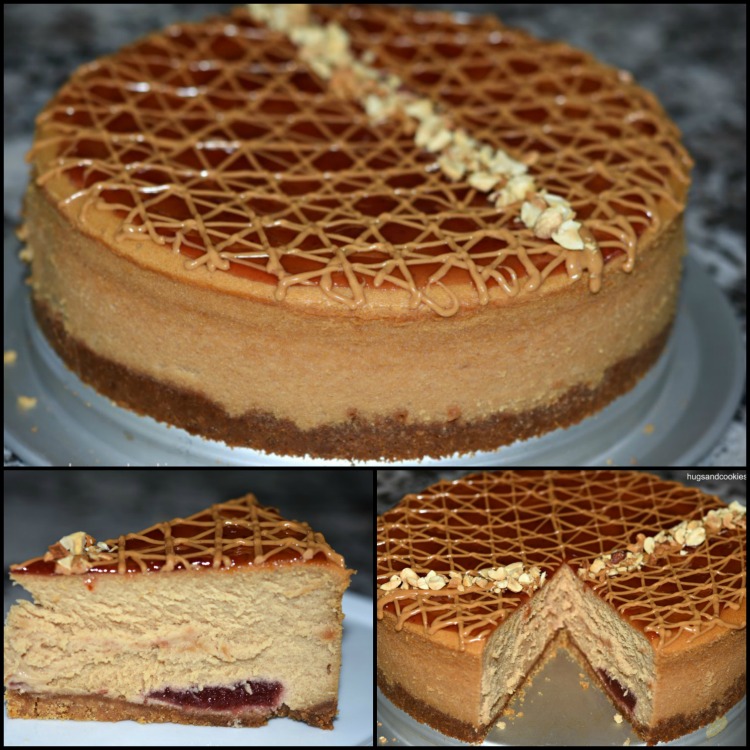 Peanut Butter and Jelly Cheesecake
Ingredients
Crust
6 T. melted butter
1 T. sugar
1½ cups graham cracker crumbs
Cheesecake
20 ounces room temp cream cheese
1½ cups creamy peanut butter
1 cup granulated sugar
¾ cup light brown sugar
4 eggs
1 cup sour cream
½ cup heavy cream
1 cup strawberry jam
Topping
¼ cup strawberry jam
¼ cup creamy peanut butter
handful of salted & roasted peanuts, chopped
Instructions
Crust
Mix all together and press into the bottom of a 9 inch springform pan. Bake for 8 minutes at 350.
Let cool and lower oven to 325 for the cheesecake!
Cheesecake
Beat cream cheese and peanut butter.
Add both sugars. Mix well.
Add eggs, one at a time.
Add sour cream and heavy cream.
Mix well and scrape sides as needed.
Wrap outside of the pan with heavy duty tin foil. (Or use a cheesecake moat!)
Pour the cheesecake filling into the cool crust.
Place jam in a piping bag and use the tip to push down into the batter and add dollops of jam around the cheesecake.
Place the springform pan in a slightly larger baking pan if you are not using a moat and Fill the larger pan with hot water.
Bake 1 hour 45 mins-2 hours until only the center wiggles a bit.
Let cool to room temp and then chill.
Topping
Stir the jam and spread on top.
Melt the peanut butter and use a piping bag to drizzle it on top of the jam.
Garnish with peanuts.
Keep chilled!