Pumpkin, Brownies and Cheesecake? All in ONE? SCORE!!!!! I think you are really going to love this treat!!! Be sure to line your pan with nonstick foil for easy removal. It's just about the best baking stuff ever invented! Hope your family enjoys this treat as much as mine did!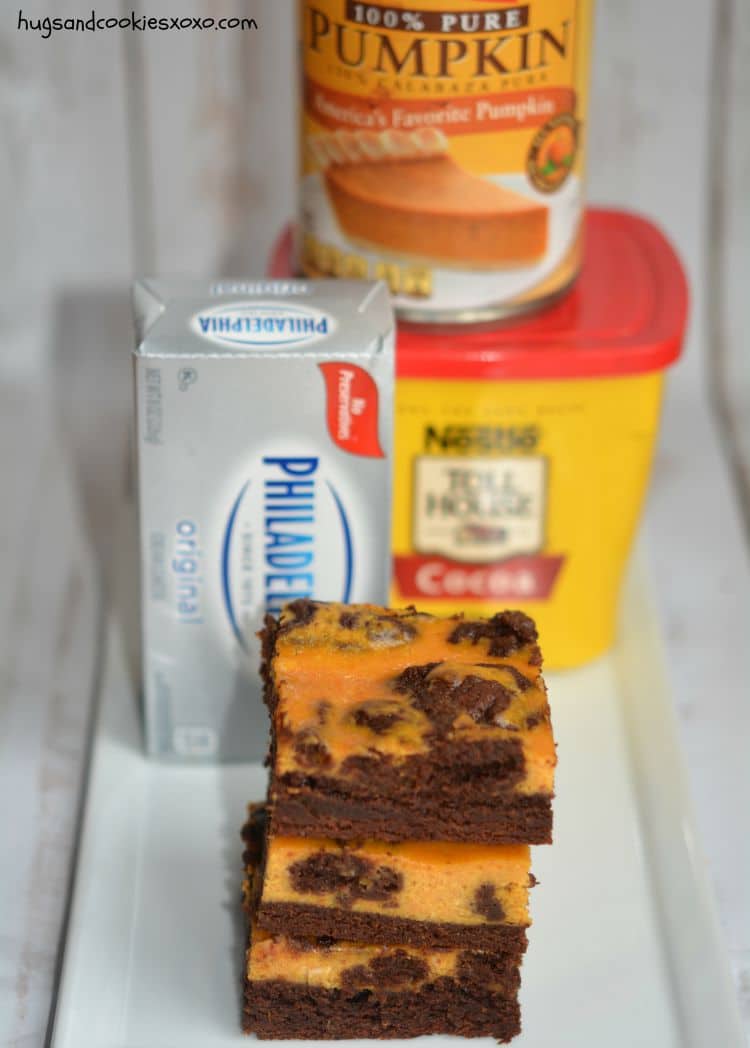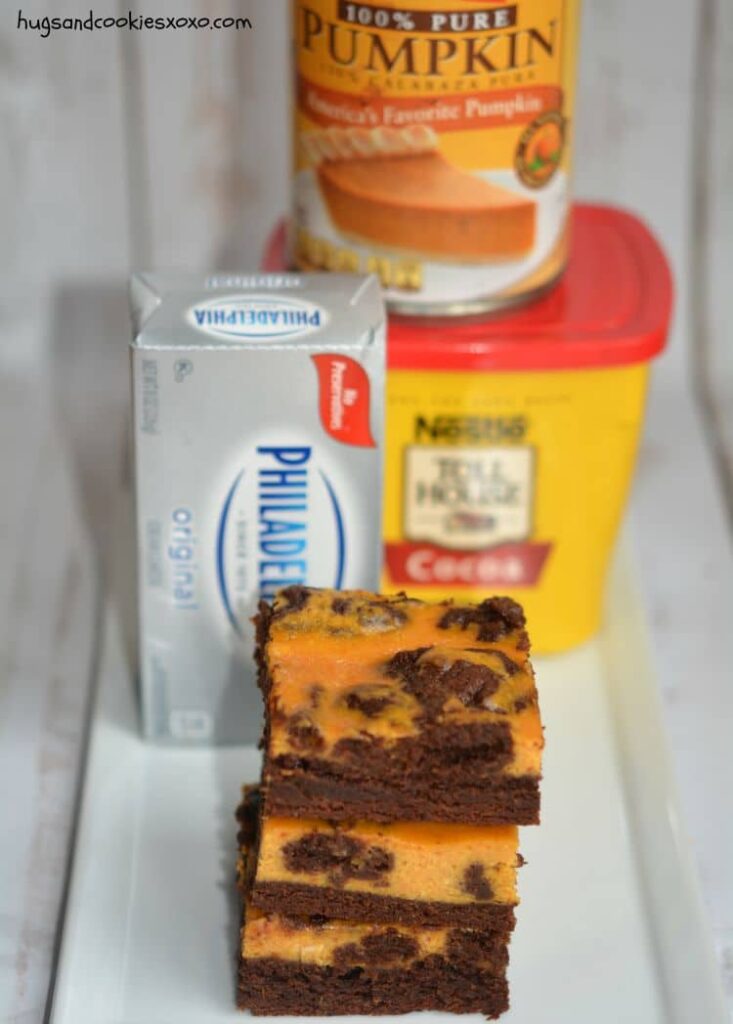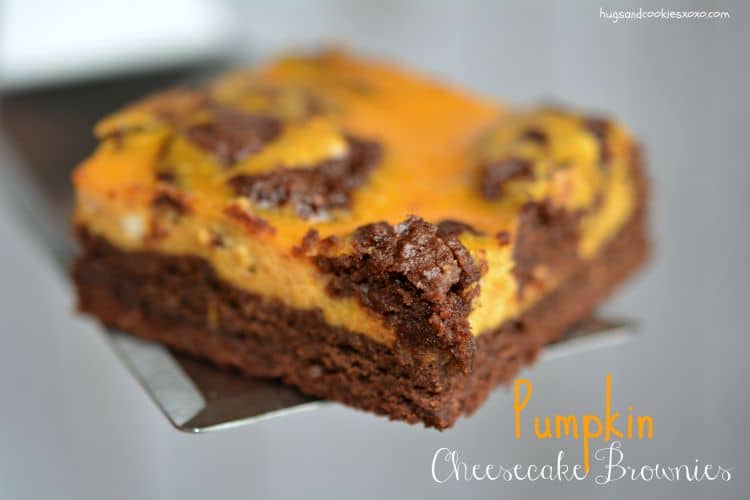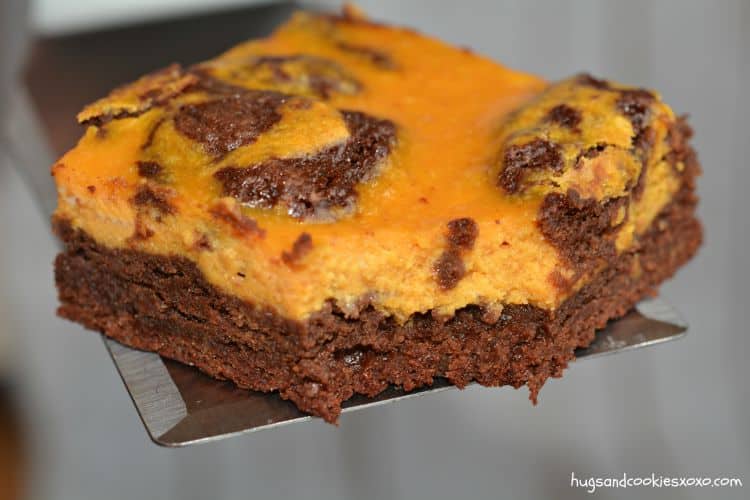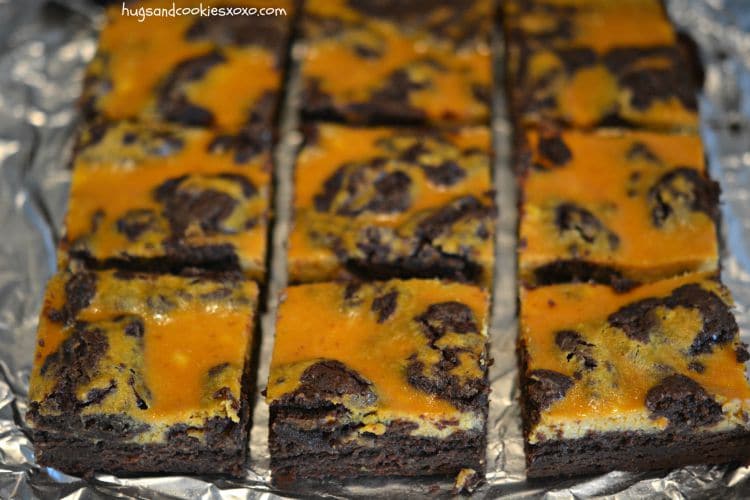 You'll Need:
Pumpkin Cheesecake Brownies
Ingredients
Brownies
4 eggs
1¼ cups unsweetened cocoa powder
1 teaspoon salt
1 teaspoon baking powder
1 Tablespoon vanilla extract
1 cup butter
2¼ cups sugar
1½ cups all purpose flour
Pumpkin Cheesecake Filling
6 ounces cream cheese, softened
1 cup canned pumpkin
2 eggs
¼ cup plus 2 Tablespoons sugar
1½ teaspoons ground cinnamon
Instructions
Pumpkin Cheesecake Filling:
Electric mix cream cheese and pumpkin smooth.
Add eggs.
Add sugar and cinnamon.
Set aside.
Brownies
Preheat oven to 350 and line 9″x13″ pan with nonstick foil.
In a large bowl, add 4 eggs, and beat with cocoa, salt, baking powder, and vanilla.
Stir until fully combined and smooth.
In the microwave, melt butter.
When melted, add sugar, and stir to combine.Add warm butter/sugar mixture to the egg/cocoa mixture, stirring until smooth.
Add the flour and stir until fully incorporated.
Spread ¾ batter into prepared pan.
Pour on pumpkin cheesecake batter.
Plop on rest of brownie batter in small clumps.
Bake brownies about 40 minutes.
Cool and Cut.