Red Velvet Fudge
There is s0-so fudge and then there is FUDGE! This is the kind of fudge you would buy in the candy store. The type that keeps you coming  back for more and more and more! The vanilla combined with the red velvet makes an irresistible treat! Perfect for git giving, too!
It is time for another month of Two Sweetie Pies! Another month of 2 Sweetie Pies with That Skinny Chick Can Bake means another wonderful dessert! Always a success when you bake from Liz's blog! Each month we bake up a recipe from each other and keep it a secret until reveal day! Super fun! Thanks for this prefect holiday fudge, Liz!
You can visit Liz on her social media channels here:
You may also like: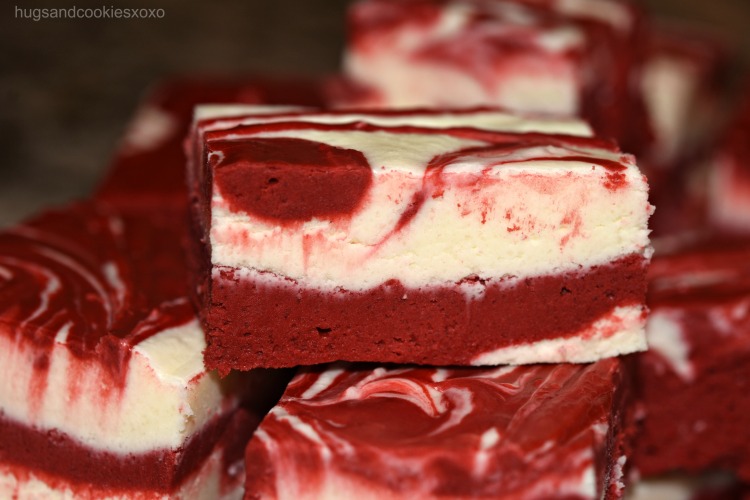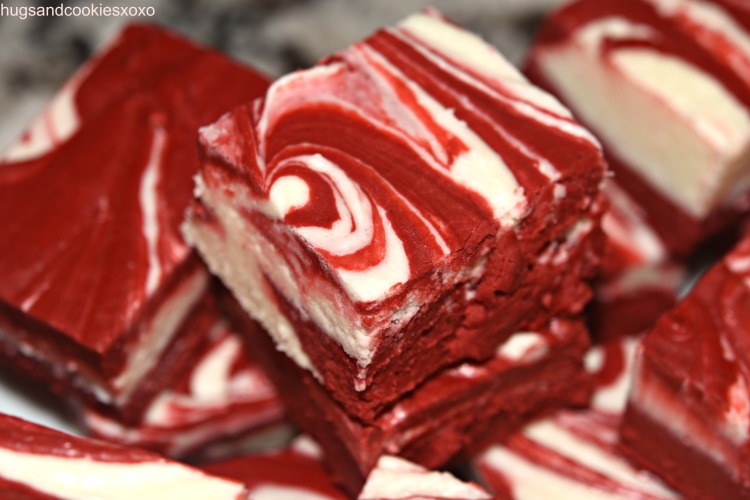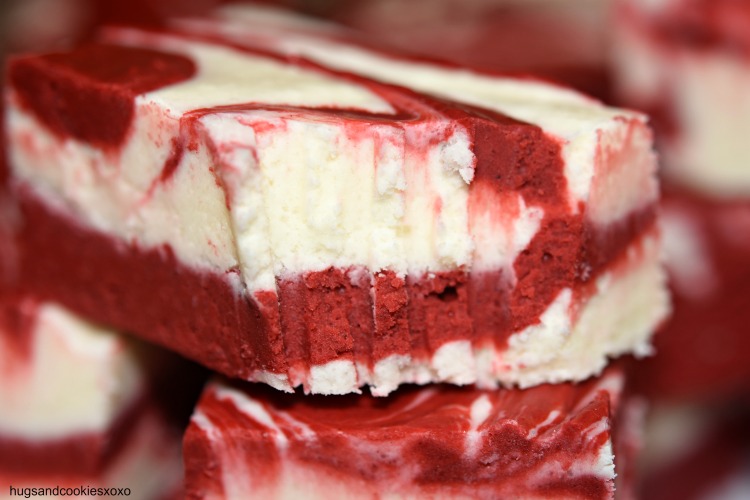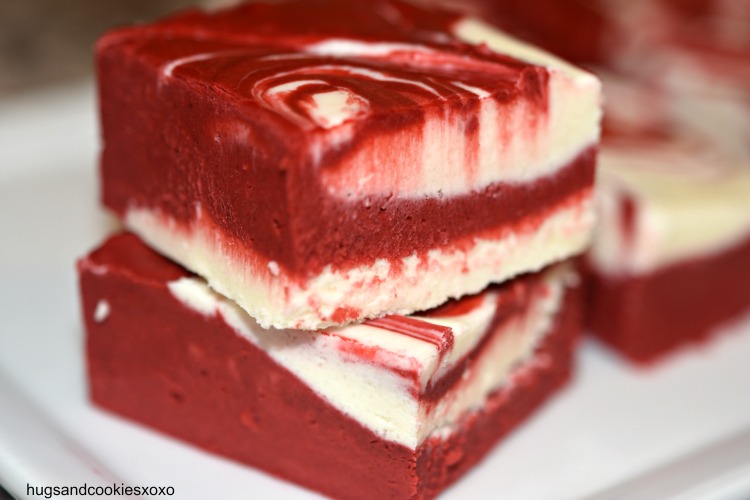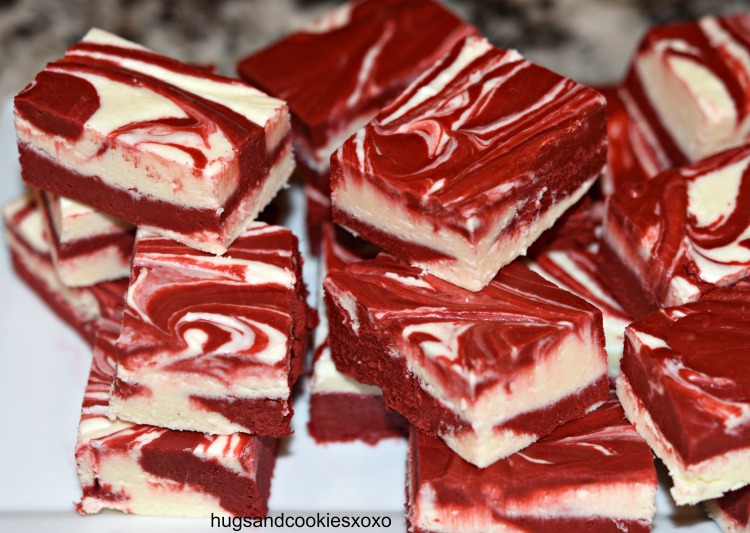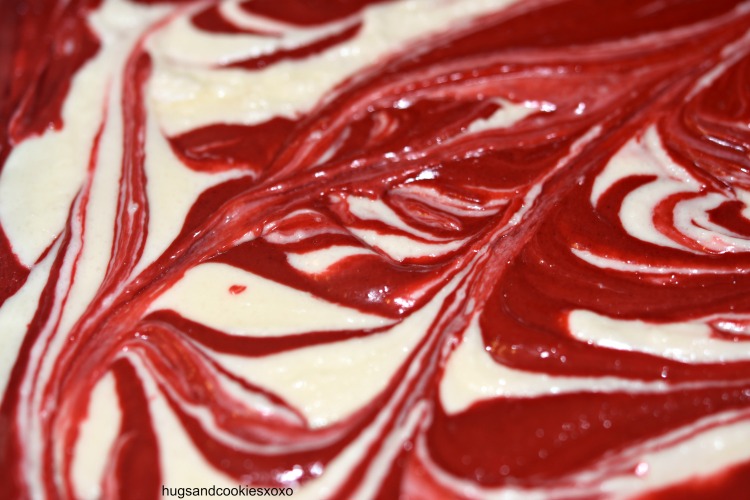 You'll Need:
Red Velvet Fudge
Ingredients
3 cups sugar
¾ cup butter
⅔c. evaporated milk (or half & half)
1 12-­ounce bag white chocolate chips
1 7-­ounce jar marshmallow creme
1 teaspoon vanilla
1 cup semisweet chocolate chips
3 tablespoons red food coloring
Instructions
Line a 9 x 9 inch pan with non-stick foil. Set aside.
Place semi-sweet chocolate chips and food coloring in a heat safe bowl and set aside.
In a large, heavy saucepan, combine, sugar, butter and half and half.
Cook to 234º, stirring occasionally. Immediately add white chocolate chips, marshmallow cream and vanilla. Mix to combine.
When well mixed, scrape half of the white chocolate fudge into the bowl with the semi-sweet chocolate chips and mix till melted and smooth.
Using two medium cookie scoops or tablespoons, place scoops of red and white fudge in the prepared pan, alternating flavors.
Drop pan from a few inches above counter a couple times to remove any air pockets.
With a knife, swirl though the fudge to give a marbelize appearance.
Allow to cool at room temperature. When cool, remove from pan using foil and cut into squares.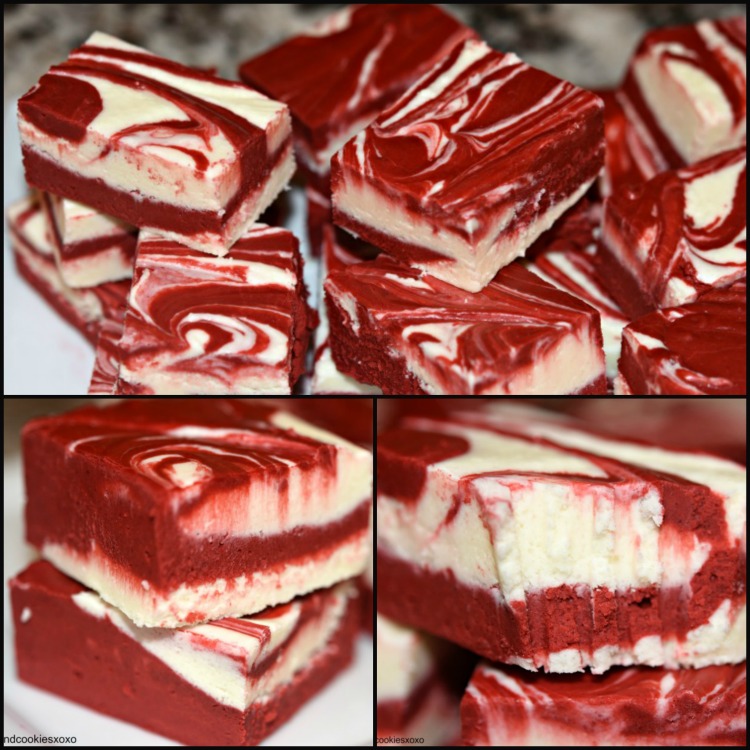 You May Love These, Too! XOXO