THIS CAKE IS A TRIBUTE TO HOSTESS. IT'S A PLAY ON THE DING DONG, AND GOES ONE STEP FURTHER INCLUDING A DARK CHOCOLATE SALTED CARAMEL GANACHE IN BETWEEN. THIS IS ONE OF THE MOST DELICIOUS CAKES EVER! TRULY, A MUST TRY, NO MATTER HOW YOU DECIDE TO DECORATE IT IN THE END!
 
CAKE RECIPE (BEST CHOCOLATE CAKE EVER!) FOLLOW THIS RECIPE IF YOU WANT TWO LAYERS. I DOUBLED THIS TO MAKE 4 LAYERS-I USED 3 LAYERS FOR THIS CAKE AND SAVED THE FOURTH IN THE FREEZER FOR ANOTHER CREATION!


For the Cake
2 cups sugar
1 3/4 cups all-purpose flour
3/4 cups cocoa powder
2 teaspoons baking soda
1 teaspoon baking powder
1 teaspoon salt
1 cup buttermilk
1 cup hot coffee
1/2 cup canola oil
2 large eggs
2 teaspoon pure vanilla extract
Adjust oven rack to the middle position. Preheat oven to 350 degrees F. Butter and line 2, 8-inch baking pans with parchment paper. Set aside.
In the bowl of a stand mixer fitted with the paddle attachment, add the dry ingredients & mix.
Add in the buttermilk, hot coffee, oil, eggs, and vanilla. Mix on medium speed until well combined 1-2 mins.
Divide batter among cake pans and bake until a toothpick inserted comes out almost clean, about 35 to 40 minutes. Let cake cool in pans about 10 minutes then remove from pans and cool on a cooling rack until completely cooled. I froze mine at this point, overnight.
BEFORE MAKING THIS CAKE, YOU'LL WANT TO HAVE 8 OUNCES OF MY HOMEMADE CARAMEL READY TO GO! CLICK HERE FOR THE RECIPE. IT WILL STORE IN THE FRIDGE FOR WEEKS SO YOU CAN MAKE IT WAY IN ADVANCE!!! 
NEXT, MAKE THE CHOCOLATE CARAMEL GANACHE. JUST MELT 10 OUNCES GHIRARDELLI DARK CHIPS IN THE MICROWAVE AND STIR IN YOUR 8 OUNCES OF COLD CARAMEL. WHISK UNTIL SMOOTH. SET ASIDE TO THICKEN (SPEED THIS IN FRIDGE OR REHEAT IF TOO THICK)
VANILLA BEAN WHIPPED CREAM FILLING:  
2 tablespoons cold water
1 1/4 teaspoons unflavoured gelatin
1 1/2 cups chilled heavy cream
3/4 cup powdered sugar
1 vanilla bean, split lengthwise
Add the cold water to a small bowl, then sprinkle the gelatin over it. Allow to sit for about 10 minutes, until it has set.
In a small skillet, add about 1/2-inch of water, and heat over medium-high heat. Place the small bowl with the gelatin directly inside the skillet. Stir the gelatin until it is melted, about 2 minutes. Remove the bowl from the skillet.
In the mixer, use whisk attachment and beat the heavy cream, powdered sugar, and vanilla bean seeds. Beat on high to soft peaks. Add in the melted gelatin mixture and continue to beat until stiff peaks have formed.
Assembly
Take the first cake layer and place it on a cake plate. Spread a layer of ganache  over the cake. Top with vanilla bean whipped cream. Repeat in between each layer you use. Chill cake.
Make ganache to pour on top:
Heat 1 c. heavy cream and pour over 8 ounces dark chips. Whisk smooth and pour over cake!
Decorate with chocolate dipped Twinkies, chocolate dipped marshmallows or anything else you like! 
 CHILL FIRM BEFORE CUTTING!!!!!
NOW, WHO WANTS TO LICK THE WHISK?
adapted from epicurious & portugesegirlcooks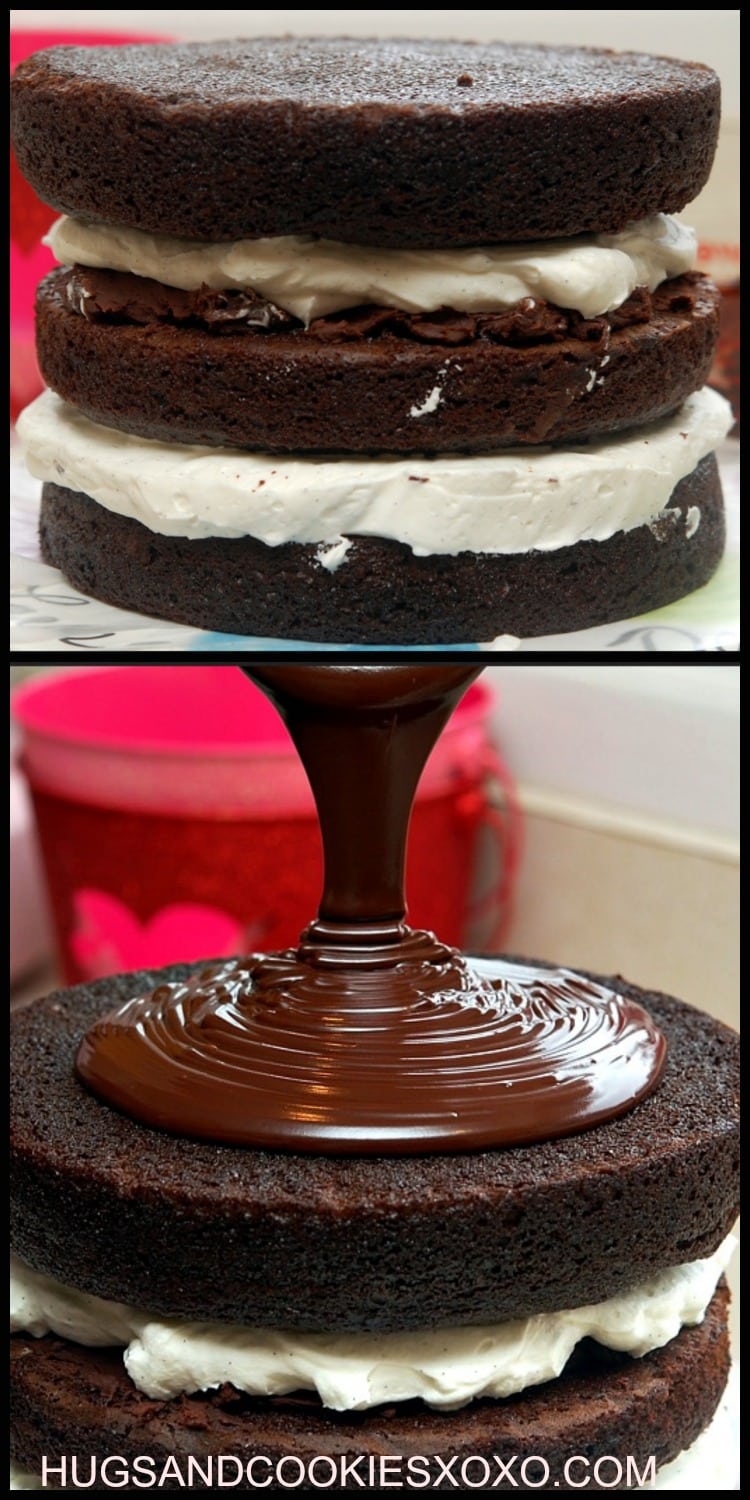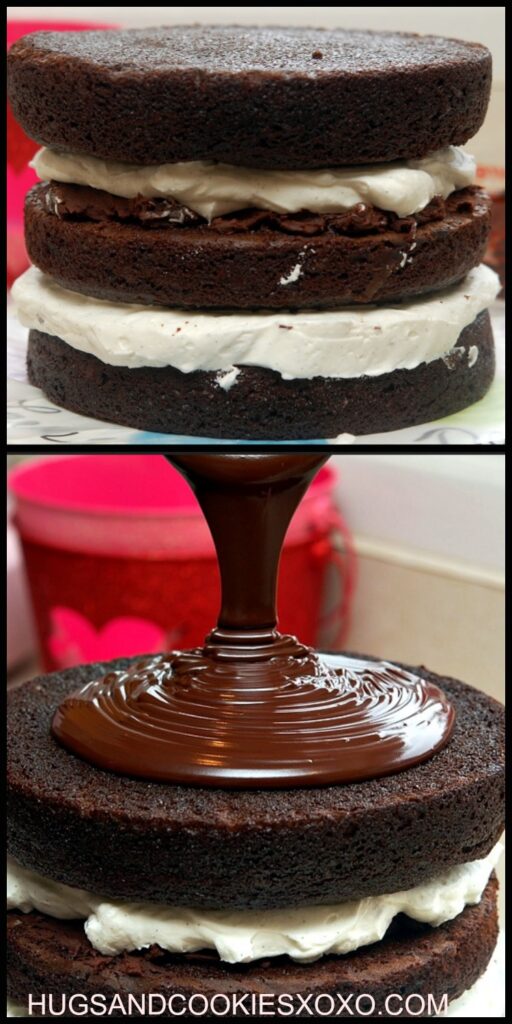 You May Love These, Too! XOXO