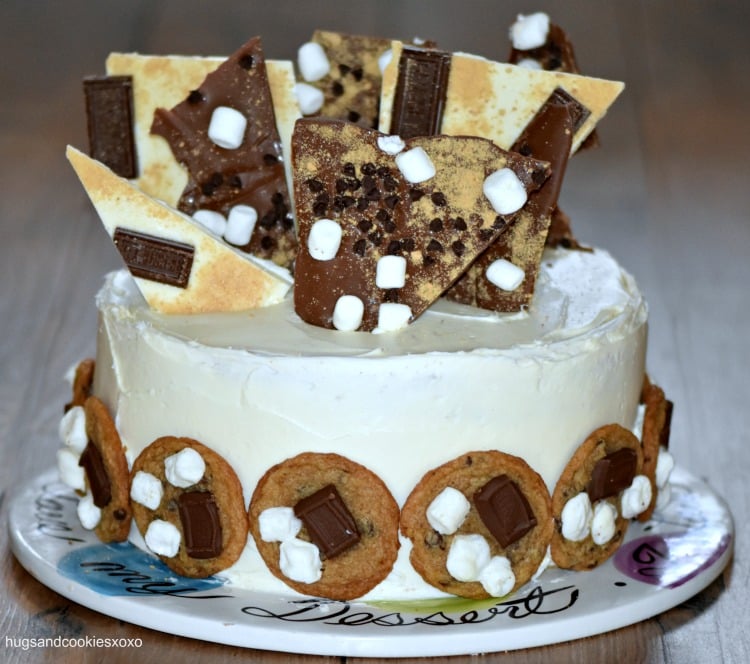 My son requested smookies for his birthday this year-as he does every year and also a homemade cake. So, I combined both and surprised him with a Smookie Cake! I used funfetti cake mix for the layers because let's face it, kids go crazy for boxed cake mixes! I also used containers of vanilla frosting, another kid's fave! I baked up some mini smookie cookies (3/4 ounce each) to decorate the edges and made vanilla and chocolate smookie barks to top off the cake. This was a huge hit and my son went crazy for it! A successful birthday cake!
Click here for my Smookie Cookie Recipe
For this cake, bake and frost a 3 layer cake.
For the Barks, I used my favorite brand of melting disk- Chocoley.  They are called Bada Bing—how fun is that to say! The quality of these chocolates is far superior to those I have tried from the craft stores. These actually melt. Yes, melt! No clumping, no gobs of thick chocolate mess! The white chocolate is amazing to melt as it comes out just beautifully! White chocolate can sometimes be tricky to melt but not with Chocoley!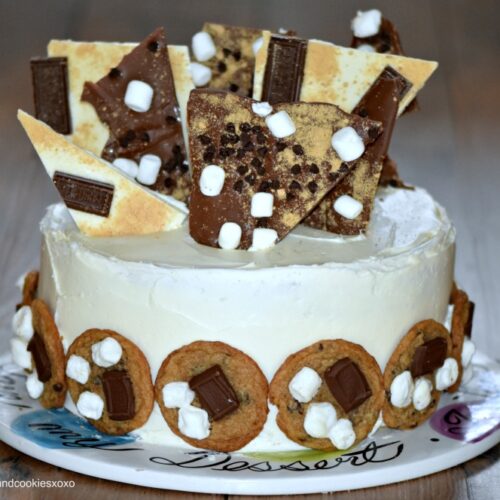 Bark
Ingredients
Chocoley White Chocolates

Chocoley milk chocolates

graham cracker crumbs

chocolate bars

broken into small pieces

mini msrshmallows

mini chocolate chips
Instructions
Gently melt the chocolates in a double boiler.

Pour onto a cookie sheet lines with wax paper.

Spread fairly thin with an offset spatula.

Top the white chocolate bark with chocolate bar pieces and graham cracker crumbs.

Top the milk chocolate with mini marshmallows, mini chips and graham cracker crumbs.

Chill until set and break into pieces!