RECIPE:
3 CUPS SUGAR
1 CUP OIL
4 EGGS
15 OUNCE CAN PURE PUMPKIN
3 1/2 CUPS FLOUR 
2 TSP. BAKING SODA
1 TSP. BAKING POWDER
1 TSP. KOSHER SALT
1 TSP. CINNAMON
2/3C. WARM WATER
1C. KRAFT MINI MARSHMALLOW BITS
4 FULL SHEETS OF GRAHAM CRACKERS
20 MINI HERSHEY BARS
PREHEAT OVEN 350 AND GREASE TWO 9X5 LOAF PANS.
BEAT THE FIRST 4 INGREDIENTS. ADD THE DRY INGREDIENTS. SLOWLY ADD THE WATER. FOLD IN THE MARSHMALLOW BITS. POUR SOME BATTER INTO THE BOTTOM OF EACH PAN. TOP WITH GRAHAM CRACKERS AND THEN COVER THEM WITH HERSHEY BARS. POUR ON THE REST OF THE BATTER, FILLING 3/4 OF THE WAY. BAKE FOR APPROX 70 MINUTES. LET COOL COMPLETELY BEFORE TURNING OUT OF PANS. GARNISH WITH EXTRA MARSHMALLOW BITS, GRAHAMS AND CHOCOLATE!
INSPIRED BY PICKY PALATE'S S'MORES BANANA BREAD!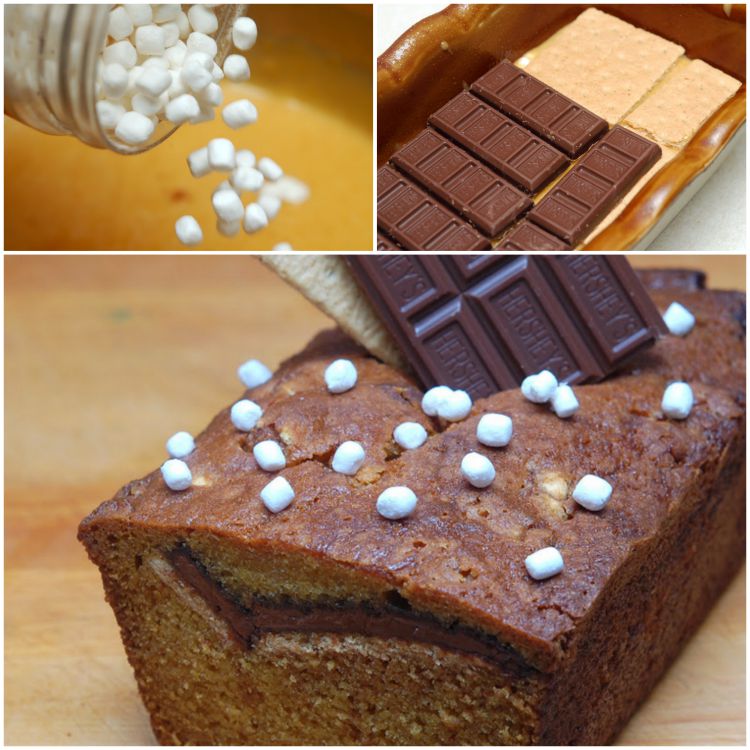 You May Love These, Too! XOXO