Steak Au Poivre Soup
This is one of the best soups we have ever eaten! A bit of work to prepare but the outcome is amazing!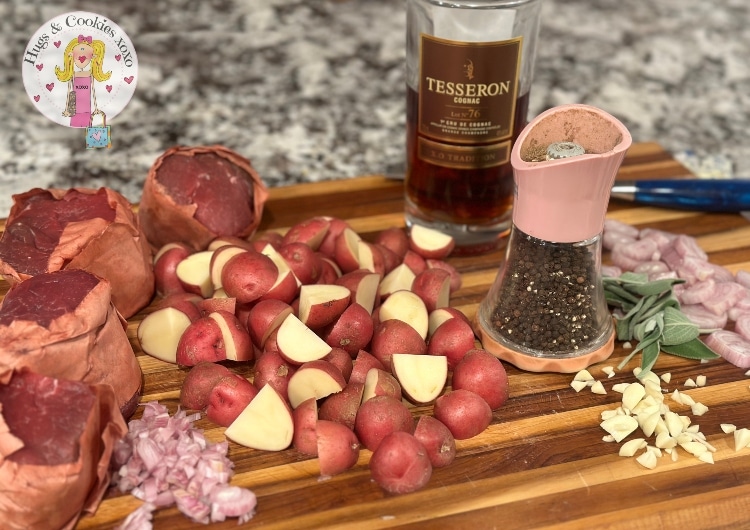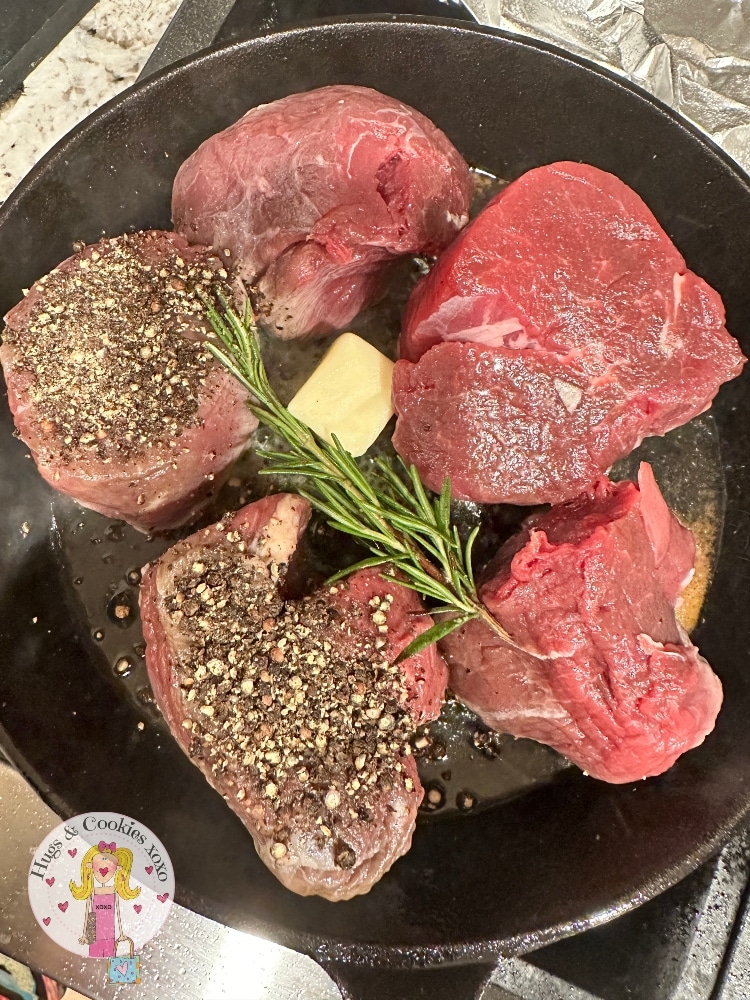 Steak Au Poivre Soup
Ingredients
3 T whole black peppercorns, smashed/ground coarsley
4 filet mignons
Kosher salt
2 T. extra-virgin olive oil for steaks
½c. oil (for shallot slices)
4 T. butter
2 sprigs rosemary
2 large shallots, 1 finely chopped, 1 sliced into rings
3 cloves garlic, finely chopped
¼ c. flour
¼ c. Cognac (or Brandy)
5 c. beef broth
1½ lb. waxy baby potatoes, quartered
1 c. heavy cream
2 T. Worcestershire sauce
Instructions
Season steaks on both sides kosher salt/peppercorns. (Push in the pepper to stick!)
In a skillet, heat 2T. oil on medium high.
Once hot, brown steaks about 3 mins on one side.
Flip steaks, add the butter and rosemary.
Spoon butter over steaks and cook until 135° internally.
Move to cutting board to rest (covered)
Clean out any excess pepper and keep oil in pan.
Add chopped shallots for 2 mins.
Add garlic.
Stir in flour for 2 mins.
Whisk in cognac, then broth.
Add potatoes and bring up to a simmer.
Cook about 15 mins to soften potatoes.
Lower heat and add cream along with Worcestershire.
Cook 5 mins more, stirring to combine.
In another skillet, cook sliced shallots in ½c. oil to crisp. Drain on paper towel and season with salt.
Divide soup among bowls. Cut steak into slices, then top bowls with steak and fried shallots.