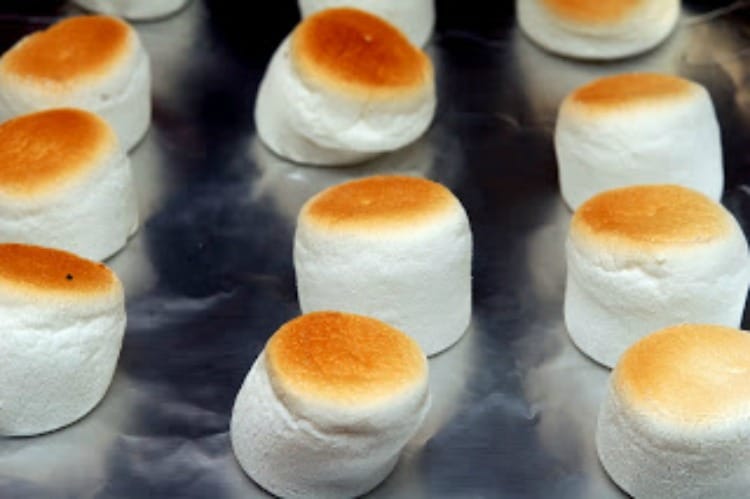 CHECK THESE OUT! THEY GO INNNN THE FILLING! YUP, YOU READ THAT CORRECTLY!!!!HERE IS THE CAKE CREATION! SHE IS A RICH CHOCOLATE CAKE WITH A CHOCOLATE MALTED FROSTING AND TOASTED MARSHMALLOW FILLING. THE SIDE SWIRLS WERE PIPED FREE HAND AND THE TOP CURLS WERE HANDMADE. I HEART CHOCOLATE CURLS!!!!!!!!! MORE ON THAT THIS WEEK ♥

A CLOSE UP OF THE HANDCRAFTED CURLS…
THE CAKE HAS BEEN SLICED AND IT LEFT MANY PEOPLE WITH A BIG SMILE ON THEIR FACE! CAN WE JUST TALK ABOUT HOW GOOD TOASTED MARSHMALLOW FILLING IS FOR A MINUTE???????????????!!!!!!!!!​ AND THE CHOCOLATE CAKE? SOOOOO MOIST!!! ANYONE WANT A SLICE???
NEXT TIME I WILL USE MY FAVORITE CHOCOLATE CAKE WITH THIS FROSTING.
THIS CAKE RECIPE CAN BE FOUND HERE!! http://sweetapolita.com/2011/02/campfire-delight-6-layer-rich-chocolate-malted-toasted-marshmallow-cake/
frosting:
Toasted-Marshmallow Frosting
Ingredients:
16 large white marshmallows
1 cup icing sugar (confectioners' or powdered)
1/2 lb butter (2 sticks, or 1 cup) at room temperature
1/2 teaspoon pure vanilla extract
8 oz of Kraft Jet-Puffed Marshmallow Cream (or Marshmallow Fluff)
Method:
Place marshmallows on cookie sheet lined with parchment paper. Place on lower rack of oven, and broil marshmallows until nice and brown. Be sure to keep an eye on them–they burn very, very quickly. Combine butter and icing sugar in electric mixer fitted with paddle attachment, on low until blended (about 1 minute). Add vanilla and mix on high for about 3 minutes. Add marshmallow cream and toasted marshmallows, and mix on lowest setting for about 1 minute.
You May Love These, Too! XOXO