What could be more fun than a cake filled with sprinkles inside? This spill cake is a blast! It is fun to make but even more fun to watch  everyone's face as you remove that first slice! Be sure to use super fun sprinkles for this one as they are the stars of the show!  You can use homemade cake layers or box mixes (funfetti is a nice touch!) for this one.  Same with the frosting-homemade or canned.  The real fun is in the sprinkles spilling. I actually used a combo of homemade cakes and box mixes here and homemade frosting.  Feel free to tint the cakes to match any special themes you are showcasing. Ex: college colors, school colors, birthday child's favorite colors!  Go crazy with the candies on top because candy makes everything look festive and increases your wow factor with the kiddies!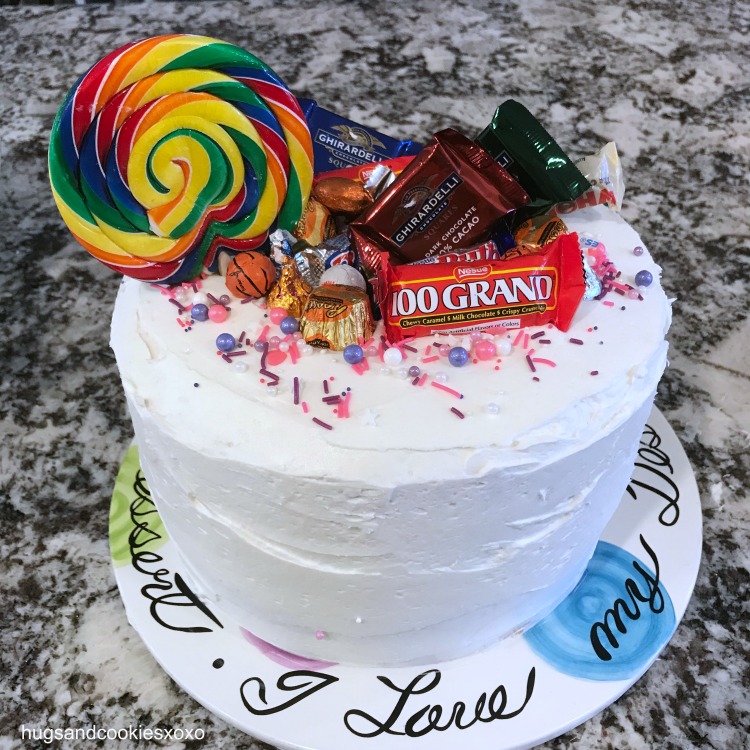 You'll Need
Spill Cake
Ingredients
5 8 inch cake layers, baked and completely cooled (I like to use them when frozen)-can be homemade or box mixes
Vanilla frosting (ready made or homemade your choice-enough for a 5 layer cake)
Sprinkles-lots and lots of sprinkles!!!!
Candies to decorate the top
Instructions
Lay the first layer on your cake plate.
For the next 3 laters, use a large round cookie cutter to cut circles into the center. Place them on top of the bottom layer, one at a time as you frost between each layer. Also, frost the center cavity where you removed the circle shapes.
Pour in enough sprinkles to fill the entire cavity!! Press them gently into the frosting around the sides of the circe cut outs.
Place layer number 5 on top and frost the entire cake,
Decorate with candies!
Cut while everyone is paying attention for the big SPILL!