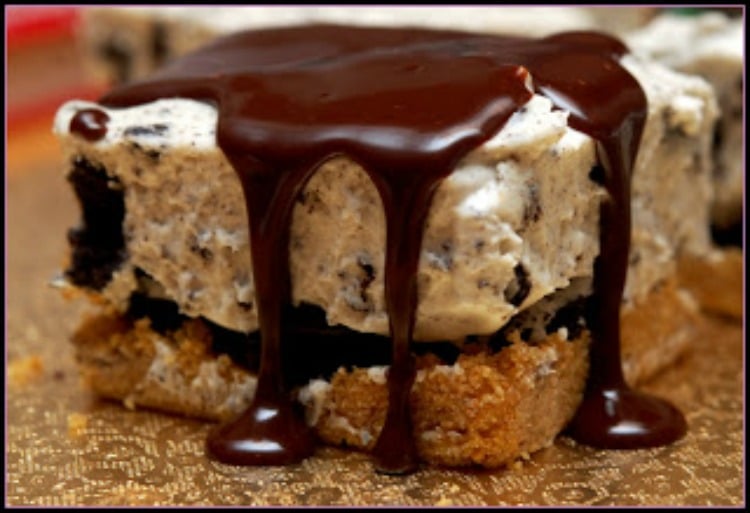 RECIPE TIME!! NO BAKE TO BEAT THE HEAT!!
Crust
1 1/2 c. graham cracker CRUMBS
1/4 c. light brown sugar
7 T. melted butter
EXTRA OREOS, BROKEN INTO LARGER PIECES
Combine graham cracker crumbs with sugar. Add butter and when combined, press into the pan you are using. At this point i laid the extra Oreo chunks right on top of the graham crust as a nice surprise layer!!! Now set aside while u make the filling.
PAN CHOICES: I used a williams sonoma pan that had 12 individual square compartments with removable bottoms. You could use a 9 inch springform. (I am thinking this would probably also work in a 9×13 dish lined with nonstick foil or in cupcake liners, right?)
WHIPPED CREAM CHEESECAKE FILLING
2 ¼ c. heavy cream
16 oz. cream cheese, softened
2/3 c. sugar
½ tsp. salt
1 c. Oreos, crushed
Instructions:
Beat heavy cream until medium peaks. Set aside. In a different bowl, beat the cream cheese, sugar, salt until well combined and smooth! Add this mixture to the heavy cream and beat until combined. Carefully stir in the Oreos. Place your filling on top of your crust or crusts (depending on pan choice).
Refrigerate 7 hours or even better ….overnight! (STOP YELLING-SORRY!!!!! It will be worth the wait!!)
Once your bars or cut-or popped out of individual pans it's time to add the ganache!!!! I like to pop them in the freezer while making the ganache. In fact, i think these are delish served frozen!!!!
GANACHE
2/3 c. dark chocolate chips (ghiradhelli yum!)
2 T. heavy cream
4 T confectioner's sugar
2-3 T. warm water
Instructions:
Place chocolate and heavy cream in a bowl and microwave just 30 seconds or so until melty. Stir to combine. Add the sugar and stir. Add the water slooooowly until you reach a pouring consistency and slowly pour over the tops of your cheesecakes!!! I store mine in the freezer!!!