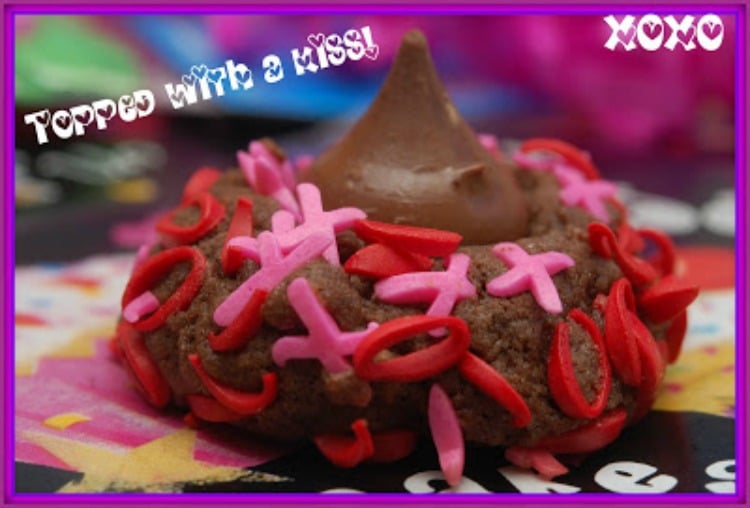 Valentine Thumbprint Cookies
about 20 cookies
Ingredients
2/3 cup soft butter
1/2 cup sugar
1/4 cup unsweetened cocoa powder
1/4 teaspoon baking soda
1/8 teaspoon salt
1 egg
1 teaspoon vanilla
1 and 1/4 cups all-purpose flour
LOTS of sprinkles!! I used Valentine themed sprinkles-sold in Michaels! Regular sprinkles would be cute too! (Or both!!!!!!!)
20 (or however many cookies you wind up making….) Hershey kisses, unwrapped
Instructions
1. Preheat oven to 375 degrees. Line cookie sheets with parchment paper.
2. Beat butter on medium-high speed for 30 seconds.
3. Add sugar, cocoa powder, baking soda, and salt. Mix until combined.
4. Beat in egg and vanilla.
5. Beat in the flour.
6. Roll dough into 1 inch balls. If too soft, chill in fridge a few minutes but mine was ready to roll.
7. Roll dough balls in sprinkles to coat.
9. Place on cookie sheets, and, using your thumb, make an indentation in the center of each cookie.
10. Bake for 7 to 8 minutes or until edges are firm. Remove from oven and immediately press a chocolate kiss into each cookie's center. Let cool!!!
You May Love These, Too! XOXO