Cake Pops
Cake pops are such a fun treat to make. This batch was made by my son and my niece. These are easy enough for kids to do and fun enough to keep them entertained! I started with a vanilla box mix baked according to the box directions. Of course, you can use chocolate but son #1 in this house is not a fan, so vanilla won out! The cake needs to completely cool before proceeding, too! Once cool, I cut the cake into quarters and place each quarter in its own bowl. We used our hands to then break up the cake into crumbles. Do this gently because you want loose crumbs, not compact. Then, it was time to add the frosting. I advise a LITTLE at a time because you can always add more. Use a fork in the frosting just until the cake is moist enough to hold a ball shape. You do not want it too wet from frosting or it won't taste great! At this point, roll the cake into balls and place on a wax paper lined cookie sheet. Melt some white chocolate disks (or chocolate if using chocolate cake) and dip one end of a lollipop stick into the chocolate and insert gently into the cake balls. Pop in freezer as long as kids will allow without being antsy! An hour would be great. Then, you will melt your white and milk chocolates in separate bowls. Dip the pop and quickly decorate before the chocolate hardens. Store in fridge.
Cake pop topping ideas:
chopped oreos, sprinkles, min m & m's, crushed cereal, melted chocolate in piping bags for a drizzle, crushed pretzels
You may Need:
chocolate melts-I use Merckens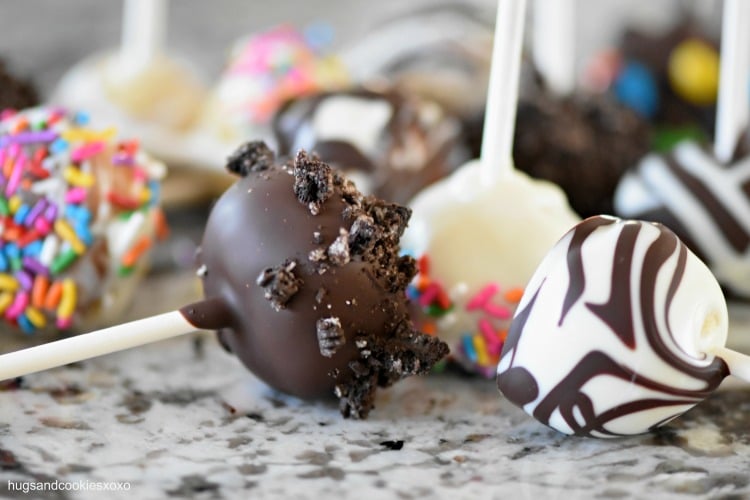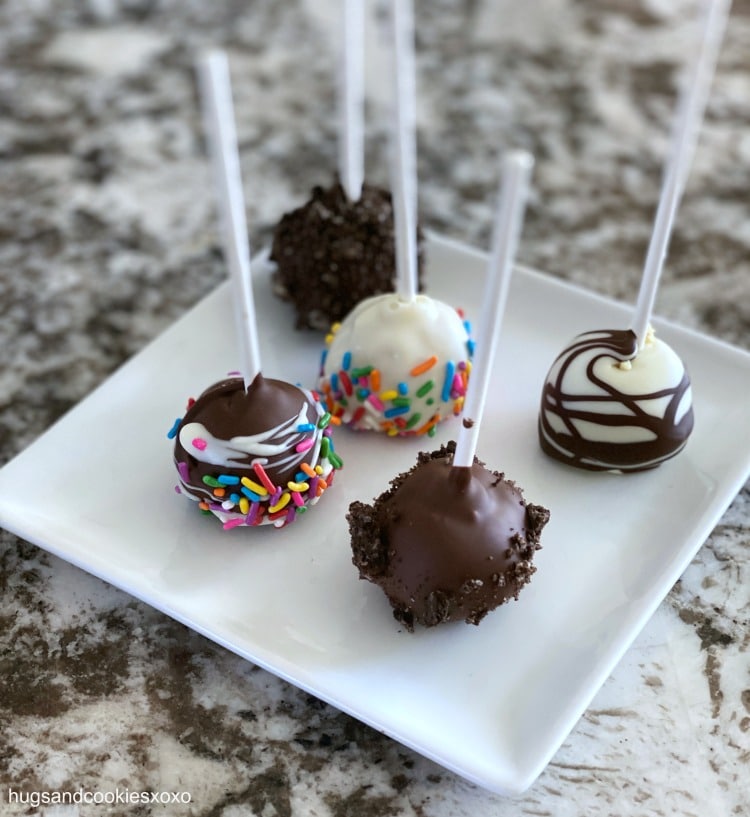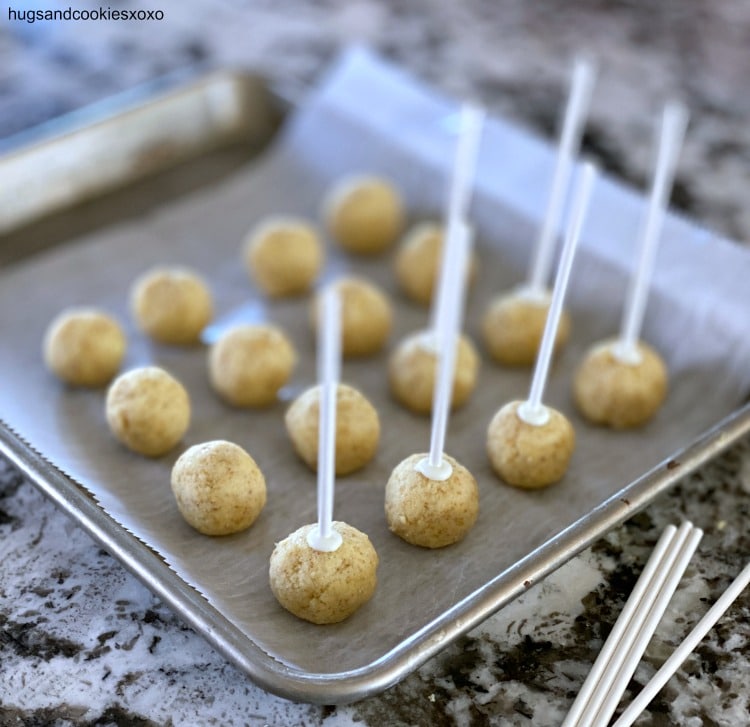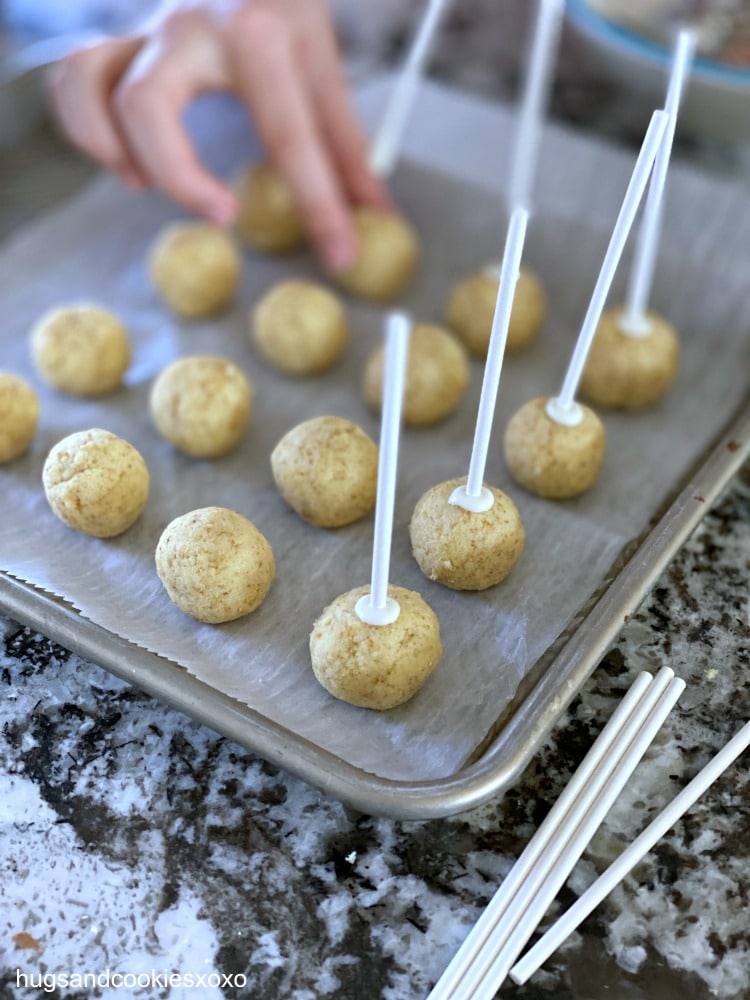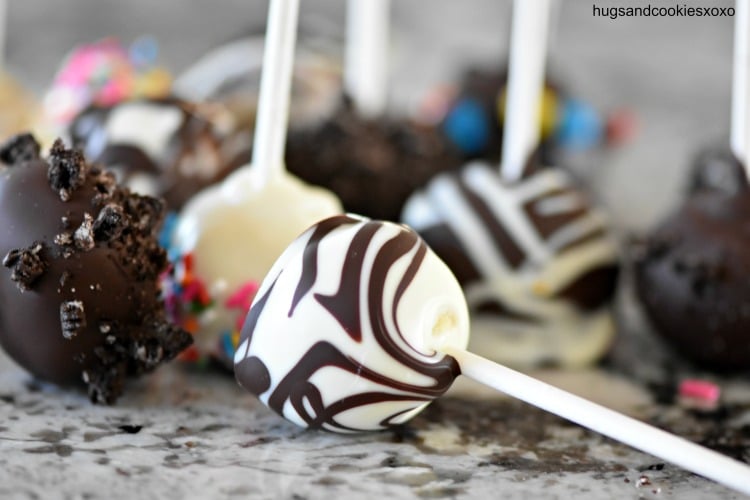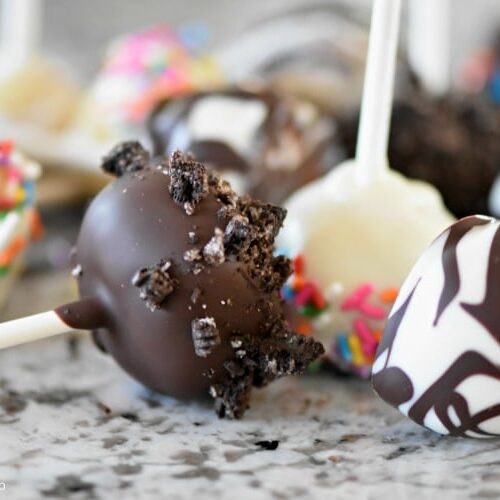 Cake Pops
Ingredients
1

box vanilla or chocolate cake mix

prepare according to box

1

container vanilla or chocolate frosting

vanilla chocolate melts

milk chocolate melts

candies/crushed cookies for decorations
Instructions
Crumble cooled cake gently.

Slowly add a little bit of frosting at a time.

Roll into balls.

Dip stick in chocolate and insert into cake ball.

Freeze

Dip pops into chocolate and decorate.
You may also enjoy:
CHOCOLATE DIPPED CHEESECAKE POPS!