Caramel Apple Cheesecake Streusel Bars
Are you smiling? I mean, just reading that title makes me smile. Caramel, apples, streusel, CHEESECAKE….what else could you possible want in a fall dessert! Okay, maybe chocolate but this is about apples today! Apples that are picked straight from the orchard (Or wholefoods-whatever you have time for-I won't judge you!) This would be a perfect addition to your Thanksgiving dessert table! These also freeze beautifully just in case you wanted to get a jump start on your fall baking!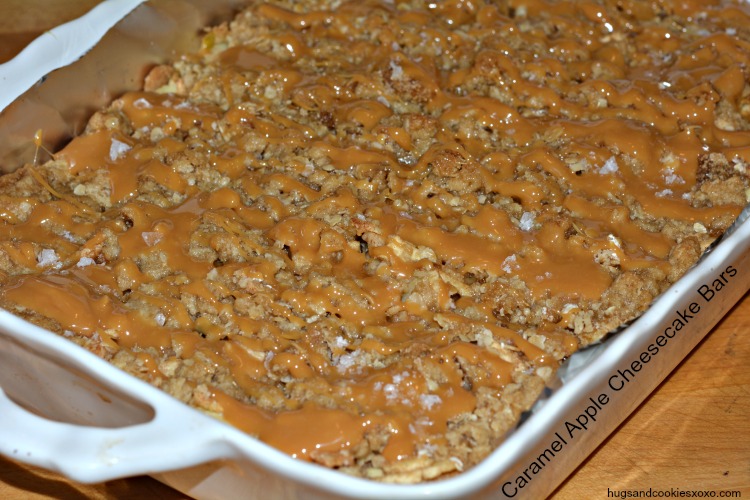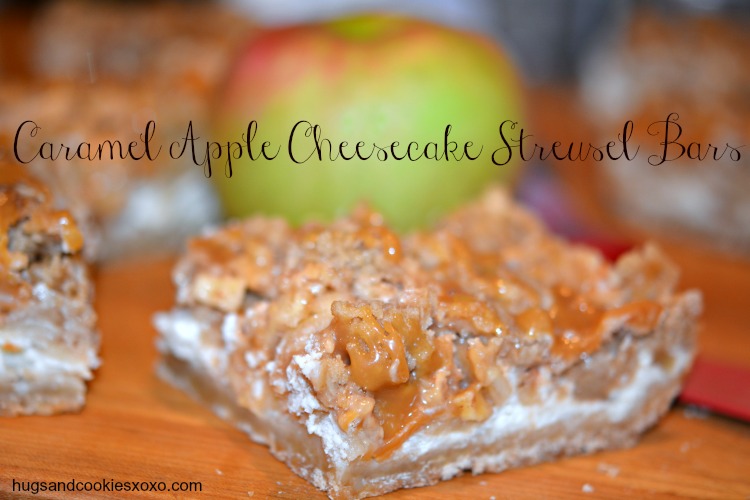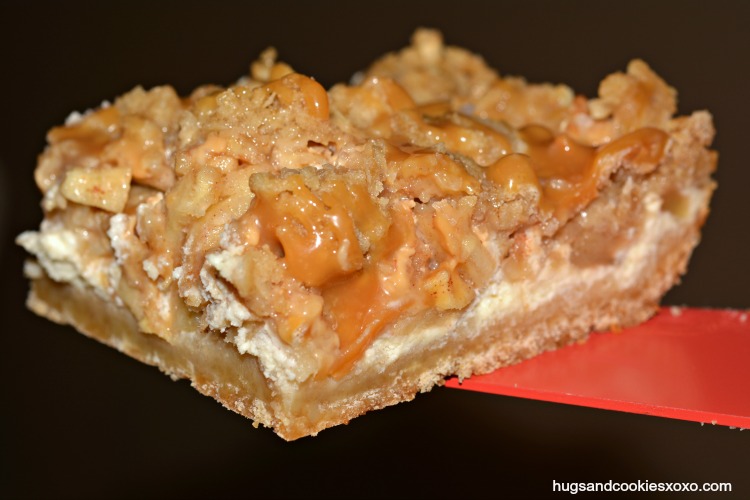 Caramel Apple Cheesecake Streusel Bars
Ingredients
2 cups all-purpose flour
½ cup firmly packed brown sugar
1 cup (2 sticks) butter, softened
2 (8-ounce) packages cream cheese, softened
½ cup sugar, plus 2 tablespoons, divided
2 large eggs
1 teaspoon vanilla extract
3 Granny Smith apples, peeled, cored and finely chopped
½ teaspoon ground cinnamon
Streusel topping
1 cup firmly packed brown sugar
1 cup all-purpose flour
½ cup quick cooking oats
½ cup (1 stick) butter, softened
Caramel
½ bag Kraft Caramels
2T. heavy cream
Instructions
Preheat oven to 350 degrees F.
In a medium bowl, combine flour and brown sugar. Add softened butter until crumbs form.
Press evenly into a 13 by 9 by 2-inch baking pan lined with nonstick foil.
Bake 15 minutes or until lightly browned.
Cheesecake filling
Beat cream cheese with ½ cup sugar in an electric mixer at medium speed until smooth.
Add eggs one at a time and vanilla.
Once smooth, pour over warm crust.
Apple Layer
Stir together chopped apples, remaining 2 tablespoons sugar & cinnamon.
Spoon evenly over cream cheese filling.
Streusel topping.
In a small bowl, combine all ingredients until crumbs form.
Sprinkle over apples.
Bake for 35-40 minutes until set. (Mine baked 45 mins)
Let cool a bit and add caramel drizzle.
Caramel
Microwave caramels and cream until smooth
Adapted from Paula Deen