Move over rice kripsy treats! There's a new wicked treat in town. Can you say…..Caramel Peanut Butter Rice Krispy Treats? They are finished off with a beautiful, thick chocolate glaze! These cut so perfectly that you will impress yourself! Just be sure to use a nice sharp knife!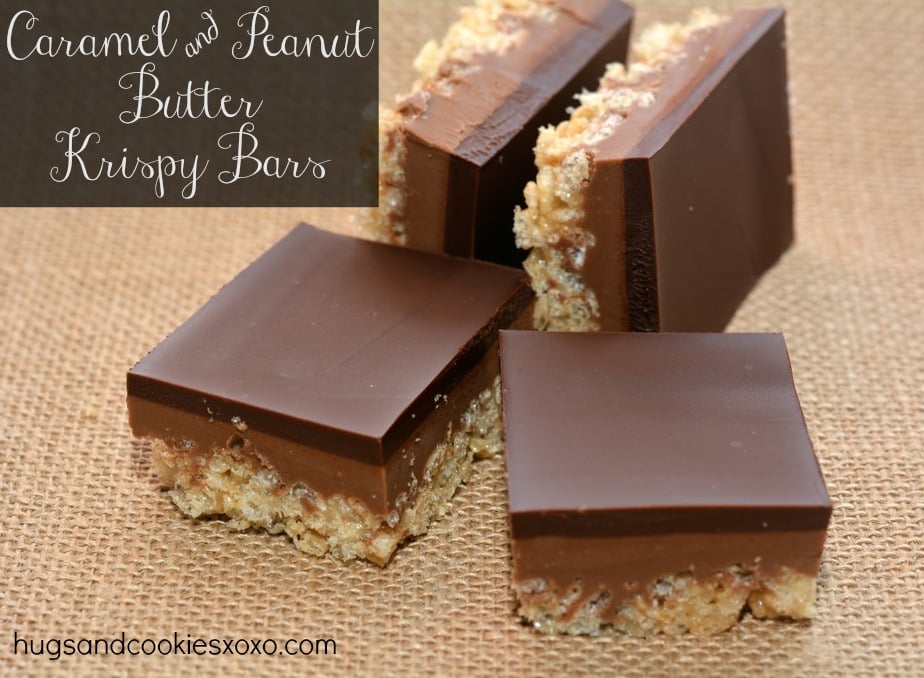 WELCOME TO ANOTHER MONTH OF 2 SWEETIE PIES!! I LOVE THIS DAY! MY BLOGGING BUDDY LIZZIE (FROM THAT SKINNY CHICK CAN BAKE) AND I EACH BAKE FROM THE OTHER'S BLOG AND SURPRISE EACH OTHER…AND YOU-WITH WHAT WE MADE!!! THIS MONTH I MADE HER CARAMEL PEANUT BUTTER RICE KRISPY BARS TOPPED WITH A THICK, CHOCOLATE GLAZE. I AM SURE YOU CAN IMAGINE HOW DELICIOUS THESE ARE AND YOU'D BE RIGHT!!! EVERYTHING I TRY FROM LIZZIE IS WONDERFUL AND THIS RECIPE IS NO DIFFERENT….IT'S PERFECT! THANKS FOR ANOTHER KEEPER, LIZZIE!



RECIPE:
You'll Need:
Ingredients
For the Krispy layer

:
1 3/4 cups Rice Krispies cereal
1/4 cup water
1/4 cup sugar
3 tablespoons light corn syrup
3 tablespoons melted butter 
For the milk chocolate peanut butter layer:

5 ounces milk chocolate, coarsely chopped
1 cup creamy peanut butter 
For the dark chocolate top layer

:
4 ounces semisweet chocolate, coarsely chopped
1 tablespoon light corn syrup
4 tablespoons butter
Instructions
Line 8 x 8 inch pan with non-stick foil.
Pour the water into a small pot and carefully add the sugar and corn syrup into the center of the pan. Stir with a spoon until it reaches  235º on a candy thermometer.
Remove from heat, stir in the melted butter and pour the mixture over the cereal in a bowl. Stir to coat and press into the pan using a silicone spatula. Stick in the freezer to cool.
For the chocolate peanut butter layer: In a microwave safe bowl, melt the peanut butter and chocolate. Stir to combine and pour over the crust. Stick back in the freezer until firm.
Make the dark chocolate glaze: In a microwave safe bowl, heat the chocolate, corn syrup and butter till melted. Stir and spread over the peanut butter layer. Chill again!
Cut into squares. Keep squares chilled. 
Adapted from That Skinny Chick Can Bake who adapted from Baked Explorations

PLEASE GO SHOW LIZZIE SOME LOVE AND TELL HER I SENT YOU!
You can also visit Lizzie on:
Facebook  
Pinterest  
Google +  
Twitter