Lemon Bar Cheesecake
This lemon bar cheesecake is such a perfect summery dessert. It is light and refreshing even though it is cheesecake. The candied lemon slices are a super fun topping and add the perfect amount of zing and sweetness. Serve this up at your next party to your lemon lovers. You may also enjoy Lemon Raspberry Bread Pudding and Lemon Bars. I hope you try this lemon bar cheesecake soon.

How about a slice of lemon bar cheesecake?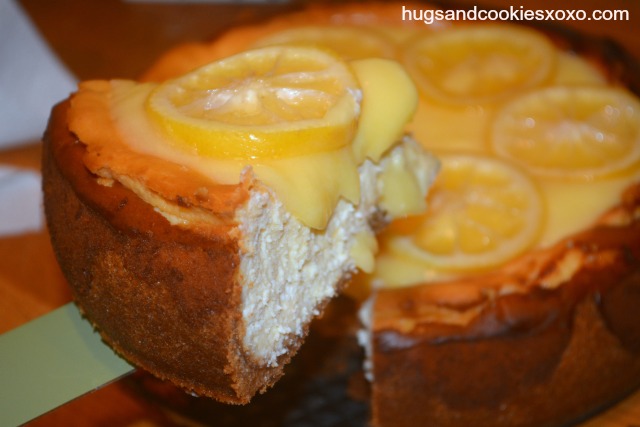 Lemon Bar Cheesecake
Ingredients
For crust:

8

ounces

vanilla wafers

processed to crumbs

3

tablespoons

sugar

7

tablespoons

butter

melted

For filling:

4

8-oz. packages cream cheese, softened

1

cup

granulated sugar

4

large eggs

2

teaspoons

vanilla extract

For lemon curd:

6

lemons

½

cup

butter

softened

2

cups

sugar

4

eggs

For candied lemons:

2

small lemons

1

cup

sugar

2

tablespoons

fresh lemon juice

¾

cup

water
Instructions
Make lemon curd:

Grate zest from lemons to equal 2 tablespoons. Cut lemons and squeeze to get 1 cup lemon juice.

Beat butter and sugar with a hand mixer on medium until blended. Add eggs, 1 at a time, beating just until blended after each addition. Gradually add lemon juice to butter mixture, beating at low speed just until blended after each addition, then stir in zest. Mixture may look curdled.

Transfer mixture to a large saucepan. Cook over medium-low heat, whisking constantly, 14 to 16 minutes.

Place plastic wrap directly on warm curd (to prevent a film from forming), and chill at least 4 hours.

Make candied lemons:

Cut lemons into 1/8-inch-thick slices, removing any seeds. Stir together sugar, lemon juice, and water in a large skillet over medium heat until sugar is dissolved. Add lemon slices, and simmer gently, keeping slices in a single layer and turning occasionally, 14 to 16 minutes or until rinds are soft. Remove from heat. Place slices in a single layer in a wax paper lined pan. Cool completely, then cover and chill for up to 2 days.

Make the crust:

Position a rack in the center of the oven and heat the oven to 375°F.

In a medium bowl, stir together the vanilla wafer crumbs and 3 tablespoons sugar. Mix in the melted butter until the crumbs are evenly moistened. Transfer the mixture to a 9-inch springform pan and press onto the bottom and about 2 inches up the sides of the pan (to press, use plastic wrap or a flat-bottom measuring cup). Bake until the crust is slightly browned, 9 to 12 minutes. Let the pan cool on a rack.

Lower oven temperature to 325°.

Make the cheesecake:

Beat cream cheese at medium speed with an electric mixer 3 minutes or until smooth. Gradually add granulated sugar, beating until blended. Add eggs, 1 at a time, beating just until yellow disappears after each addition. Beat in vanilla.

Pour two-thirds of cheesecake batter (about 4 cups) into prepared crust; dollop 1 cup lemon curd over batter in pan, and swirl in with a knife. Spoon the rest of the batter into pan.

Bake at 325° for 1 hour to 1 hour and 10 minutes or just until center is set. Turn oven off. Let cheesecake stand in oven for 15 minutes longer. Remove cheesecake from oven, run a knife around inside of pan, but keep pan latched.Cool completely in pan on a wire rack (about 1 hour). Cover and chill 8 to 24 hours.

Remove sides of pan and place cheesecake on a serving platter. Spoon 1 cup lemon curd over cheesecake, and, if desired, top with candied lemons.

Note: You will need to make the lemon curd well in advance so it can chill for at least 4 hours. Also note that cheesecake needs to chill at least 8 hours. If you have any leftover lemon curd, store it in a covered container in your refrigerator up to 2 weeks. I hope you love this lemon bar cheesecake as much as I did!!!!
Adapted from That Skinny Chick via Southern Living