Just look at these magical bars!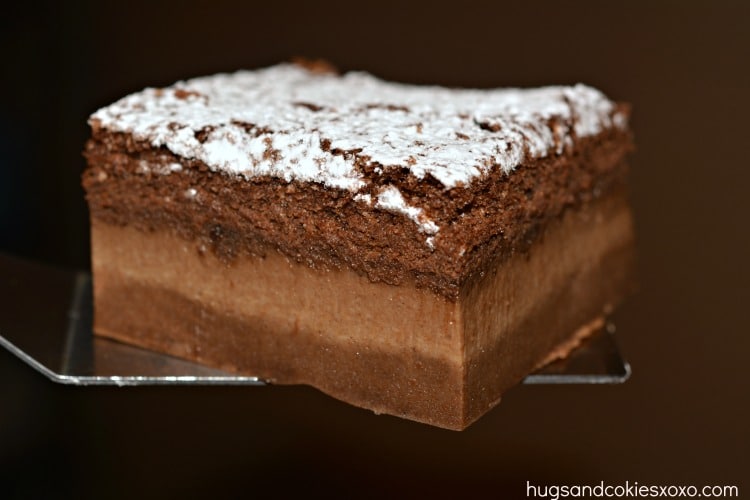 Do you remember my magic custard cakes? Well, I will let you in on a little secret. This chocolate version is even better. I know, it's hard to believe but trust me! Somehow this batter magically creates three layers in the oven. Once cooled and chilled you will top them with a huge dusting of powdered sugar. Yes, it is necessary and yes, I mean huge! You will then bite into this dessert and wonder how you ever lived without it. It has been my basic food group for the past three days now! hee hee  I am also now proud to now be a WHOoter! I created this recipe especially for their kitchen. Like them on Facebook HERE.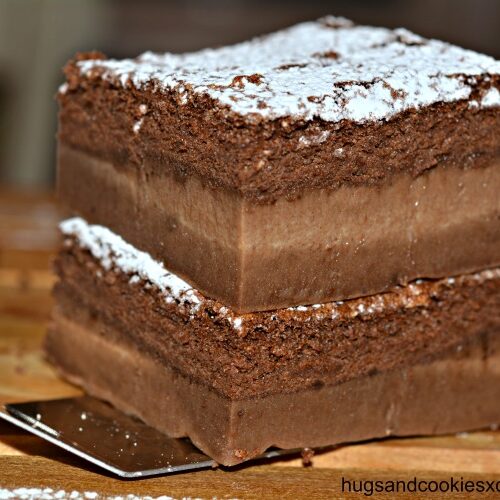 Chocolate Magic Custard Cakes
Ingredients
4

eggs

whites separated from yolks, room temp

1

tsp

vanilla extract

¾

cup

sugar

8

Tablespoons

butter

melted

¾

cup

all purpose flour

½

cup

cocoa powder

2

cups

milk lukewarm

powdered sugar for dusting cake
Instructions
Preheat oven to 325 F degrees.

Line 8 inch x 8 inch baking dish with parchment.

Separate eggs and add the egg whites to a mixer and beat egg whites stiff. Place egg whites in a bowl and set aside.

Beat the egg yolks & sugar until light. Add butter and vanilla. Beat for two mins.

Add the cocoa and flour and mix it in until fully incorporated.

Slowly start adding the milk and beat until everything is well mixed together.

Add the egg whites, a third at a time and gently fold them in using a spatula, repeat until all egg whites are folded in.

It will be hard to fold them, but just keep trying until you no longer have large egg white clumps. Pour batter into baking dish and bake for approx 60 minutes or until the top is lightly golden.

Cool to room temp and then chill.

Dust heavily with powdered sugar.

Enjoy this spectacular and magical treat!