THE TART….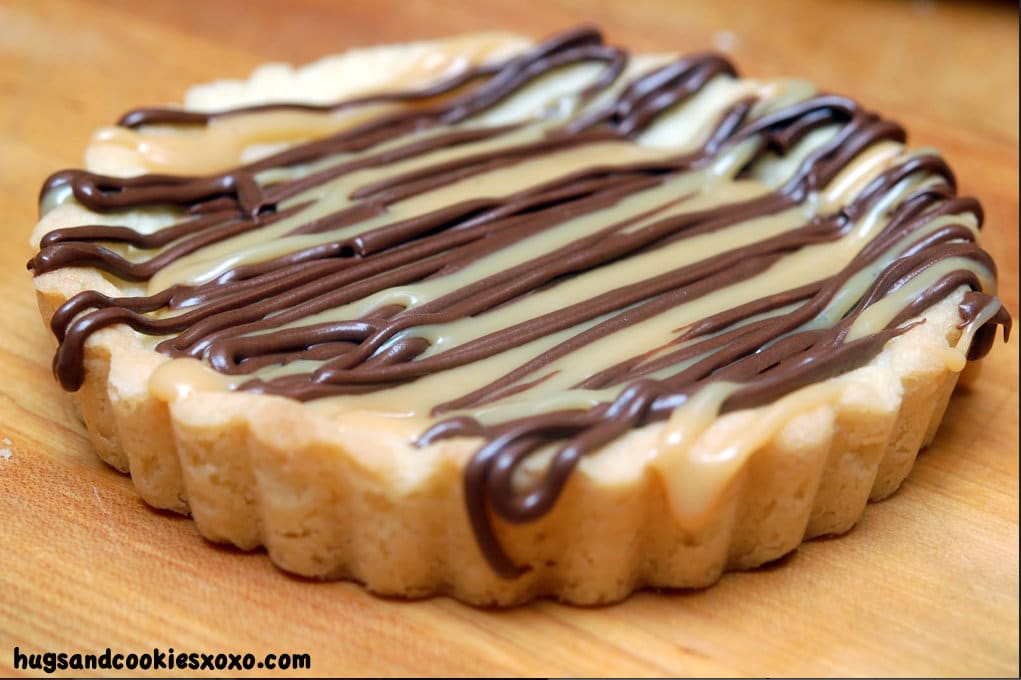 THE THUMBPRINT COOKIES…



WHEN I MADE HOMEMADE TWIX BARS, I KNEW I HIT A HOMERUN! WELL, IF THOSE ARE A HOMERUN, THESE ARE A DOUBLE HEADER! WOW, IS ALL I CAN SAY ABOUT THESE LITTLE BITES OF HEAVEN!

NOW, LET'S START BY MAKING HOMEMADE DULCE DE LECHE…DON'T BE SCARED-THIS IS EASSSSY!!!!

DULCE DE LECHE- PREHEAT OVEN TO 425. POUR 1 CAN SWEETENED CONDENSED MILK IN AN 8X8 PAN AND PLACE IN A LARGER PAN – FILL WITH HOT WATER SO IT'S HALFWAY UP THE PYREX. COVER THE 8X8 WITH FOIL AND BAKE 60-90 MINS. I NOW PREFER THE 90 MINS! LET COOL.
COOKIE TIME:
2 sticks butter
2/3 cup white sugar
1/4 tsp salt
2 1/4 cups all purpose flour
dulce de leche (recipe above)
milk chocolate chips, melted
Cream butter and sugar until fluffy. Add salt and flour until soft dough forms. Roll into balls and press centers to indent with thumb or kitchen tool. I used the end of my gnocchi maker for this-hee hee! Here's a pic:

Bake at 350 for about 15-20 minutes. Cool.
Once cooled, fill the centers with the dulce de leche and drizzle melted chocolate across the tops.
For fun, I used some of the dough to make a Twix Tart! I used mini tart pans from Williams Sonoma! Just press in the dough and bake for 15 mins or until set and lightly golden. Then fill as you would the cookies!!!! If using mini pans that do not have removable bottoms, pop the out of the tins when cool-before filling!! Yummmmmmy
recipe inspired from black peppercorn
You May Love These, Too! XOXO