If you feel like you have just died and gone to heaven you may be right. Eating this slice at the Cheesecake Factory is quite an experience. BUT….being able to make it at home, whenever you want…..well, that is hard to beat!!! This recipe definitely has quite a few steps but none that are really "difficult," you'll just need some time. Luckily, everything chills in the fridge so you can make this over the course of a few days!!!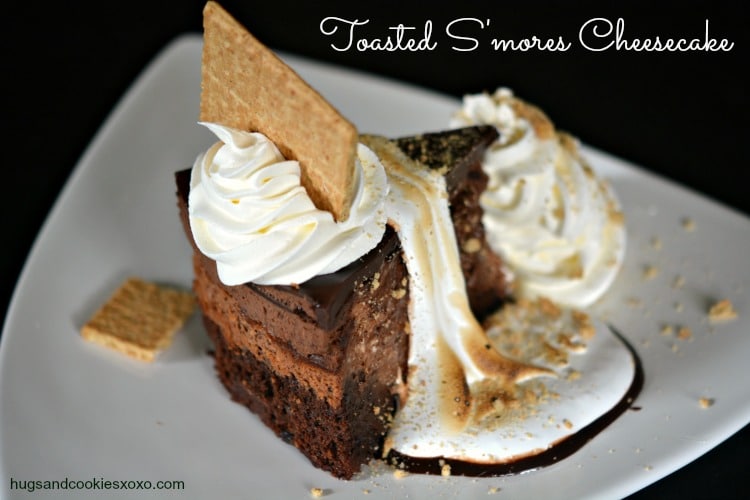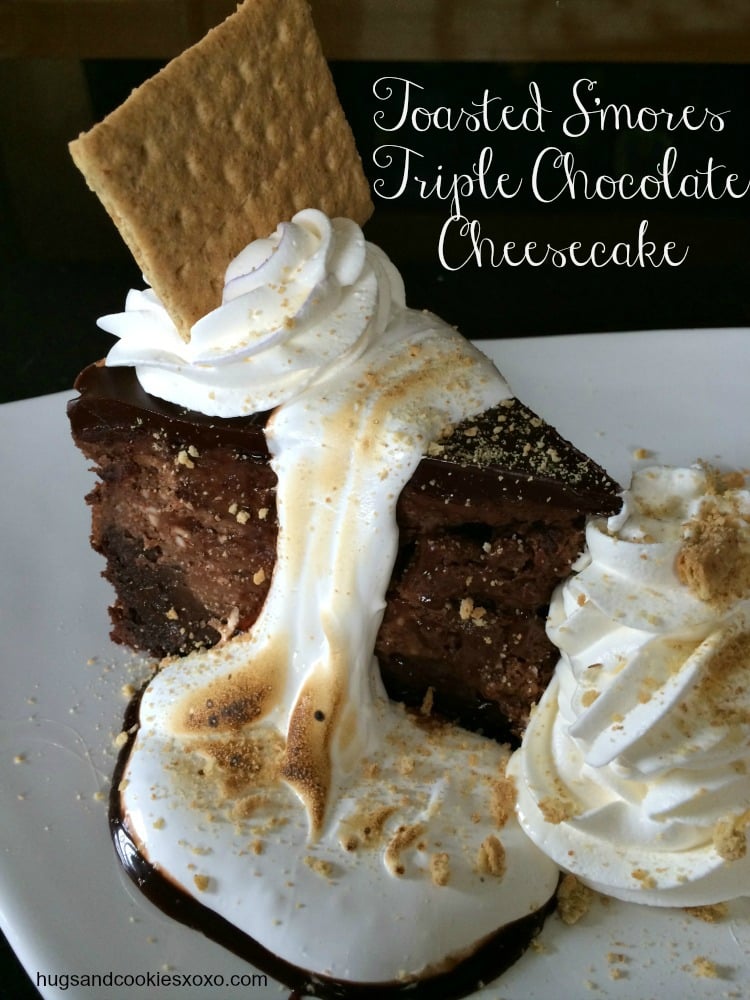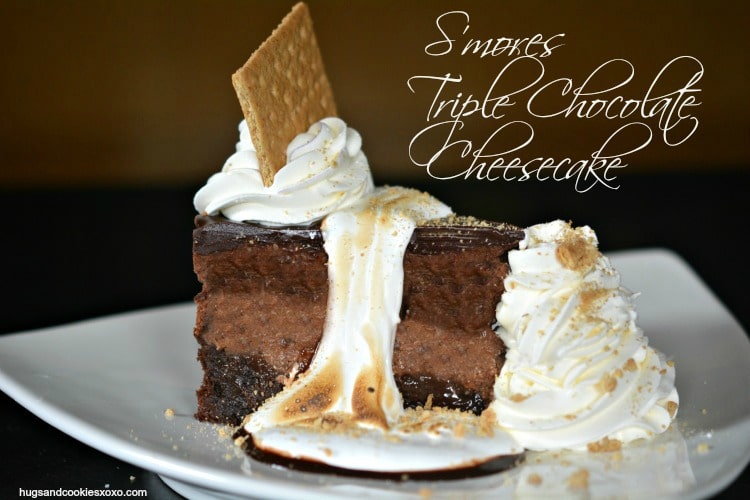 Hugs & Cookie's Copycat Cheesecake Factory Toasted S'mores Chocolate Cheesecake-gluten free!
1. Flourless Cake
Preheat oven to 350. Grease 9 inch springform pan.
In microwave, melt:
4 ounces bittersweet chocolate chocolate chips
1 stick butter (8 Tablespoons)
Once melted, stir in:
3/4C. sugar
3 eggs
Whisk well.
Add 1/2C. unsweetened cocoa powder. Best to sift it in! Pour into the springform and set aside while preparing cheesecake layer.
2. Chocolate Cheesecake Layer
1 pound cream cheese, must be softened to room temperature
1/2 cup sugar
3 eggs
1/2 cup chocolate chips, melted (I used semisweet) and cooled a bit
Beat the cream cheese until fluffy. Add sugar and mix well. Add eggs one at a time. Pour in the cooled melted chocolate and mi to blend all. Carefully spread over the flourless cake layer. Bake the cake at 350 for 50-60 minutes. Let cool and then chill a few hours in the fridge.
3. Mousse Layer
1 1/4 cups semi sweet chocolate chips, melted in microwave and cooled a bit
2 cups heavy cream
Beat the cream in the mixer until almost soft peaks. Add the chocolate and mix just until combined and thick. Spread over the chilled cheesecake and chill again while preparing the glaze.
4. Glaze
12 ounces chocolate chips
1 cup butter
1 Tablespoon light corn syrup
Melt the chocolate and butter in the microwave until melted. Stir in corn syrup. Let cool a bit before pouring on cake. Pour on and spread and chill. Remove cake from fridge before serving so it can come up to room temp a bit. Cut with a hot knife and clean knife between slices. The top layer is thick and will be too hard to cut directly from the fridge. After a few minutes it is perfect and beyond delicious!
5. Marshmallow Topping (Note: this does contain raw egg whites so make sure they are safe for you and your guests) Recipe for marshmallow adapted from What's Cooking America.
Ingredients:
3 egg whites
2 cups light corn syrup
1/2 teaspoon salt
2 cups powdered sugar
Directions:
In a mixer, beat egg whites, corn syrup, and salt. Beat on high speed for 5 minutes or until doubled. On low, add powdered sugar. Place some in a piping bag and pour over each slice of cheesecake you are serving. Use a creme brulee torch to toast the marshmallow quickly. This makes a ton of marshmallow (fluff) so you can store the rest in the refrigerator for 2 weeks.