Slow Cooker Raspberry Fudge
Slow cooker fudge? Crockpot fudge? Fudge in the slow cooker is absolutely delish. Many wonder why I'd bother melting the ingredients in a slow cooker as opposed to the microwave. Why make a mess in the slow cooker? Well, it has something to do with the end product. The fudge comes out creamier, yummier and extra smooth. Definitely worth a dirty slow cooker! If you don't like raspberry, feel free to add other mix-ins that you like! Maybe some oreos, peanut butter chips, Reese's or why not all three of those together! This raspberry fudge will make a perfect gift for friends and family, too!
Have you signed up for emails yet? Don't miss a dish!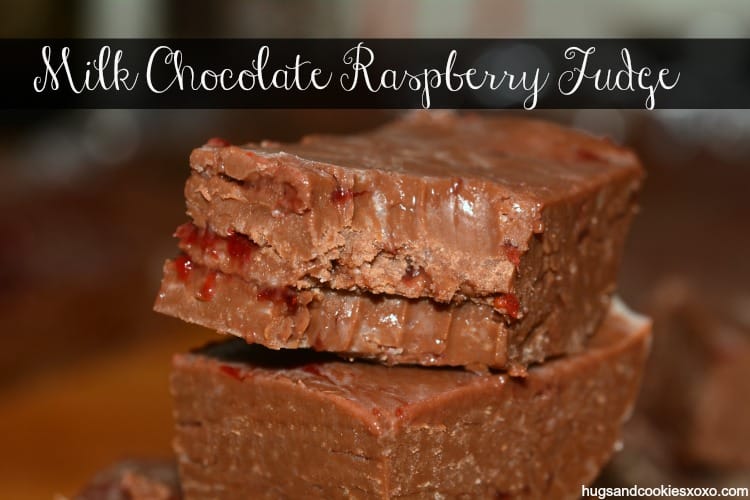 Milk Chocolate Raspberry Fudge
Ingredients
1 14-ounce can sweetened condensed milk
3 cups milk chocolate chips (I had best results with Ghirardelli chips!!!)
1 Tablespoon butter
¼ cup jam, room temp
Instructions
Place first 3 ingredients in the slow cooker on low.
Stir every 10 minutes to avoid burning and do NOT put the lid on.
After 40 mins it should be all melted and thick.
Turn off the heat.
Pour into a 9×11 pan lined with nonstick foil.
Drop jam by teaspoons on top and swirl through the fudge.
Let chill in fridge a few hours-loosely covered.
Cut into squares and enjoy!
Keep wrapped in fridge.

You May Love These, Too! XOXO