Creamy Crustless Cheesecake
Creamy Crustless Cheesecake is a wonderful treat for anyone including those looking to ditch the crust calories.
You may need:
Creamy Crustless Cheesecake
Ingredients
32 oz cream cheese, soft
5 eggs, room temperature
2 cups sour cream, room temperature
8 T. soft butter
1½ c. sugar
2 T. cornstarch
1 tsp. vanilla
blueberry sauce
13 ounces blueberries
2 T. water
½ c. sugar
½ tsp vanilla
1½ tsp. cornstarch
2T. water
Instructions
Coat inside of a 10 inch springform pan generously coat inside of pan with butter.
Preheat oven to 300º F.
Beat cream cheese and butter until smooth.
Add eggs one at a time.
Add sour cream.
Add sugar, cornstarch and vanilla- beat 2 minutes.
Pour into springform pan.
Fill a small cake pan with hot water and place in oven next to the springform to add moisture.
Bake for 1 hour 15 mins. or until just has only a slight jiggle in the center.
Shut oven off and Crack open door for 30 mins.
Then remove to counter to cool.
Cover and refrigerate until well chilled.
Serve plain or with blueberry sauce.
Blueberry Sauce
Place 1 c. berries, vanilla sugar, water in saucepan.
Over medium, stir and bring to a simmer.
Simmer 7 mins breaking down berries.
Mix cornstarch and water and stir into the pan.
Add rest of blueberries.
If too thick, add a bit of water off the heat.
Cheesecake Adapted from Art and the Kitchen
Blueberry sauce adapted from Recipe Tin Eats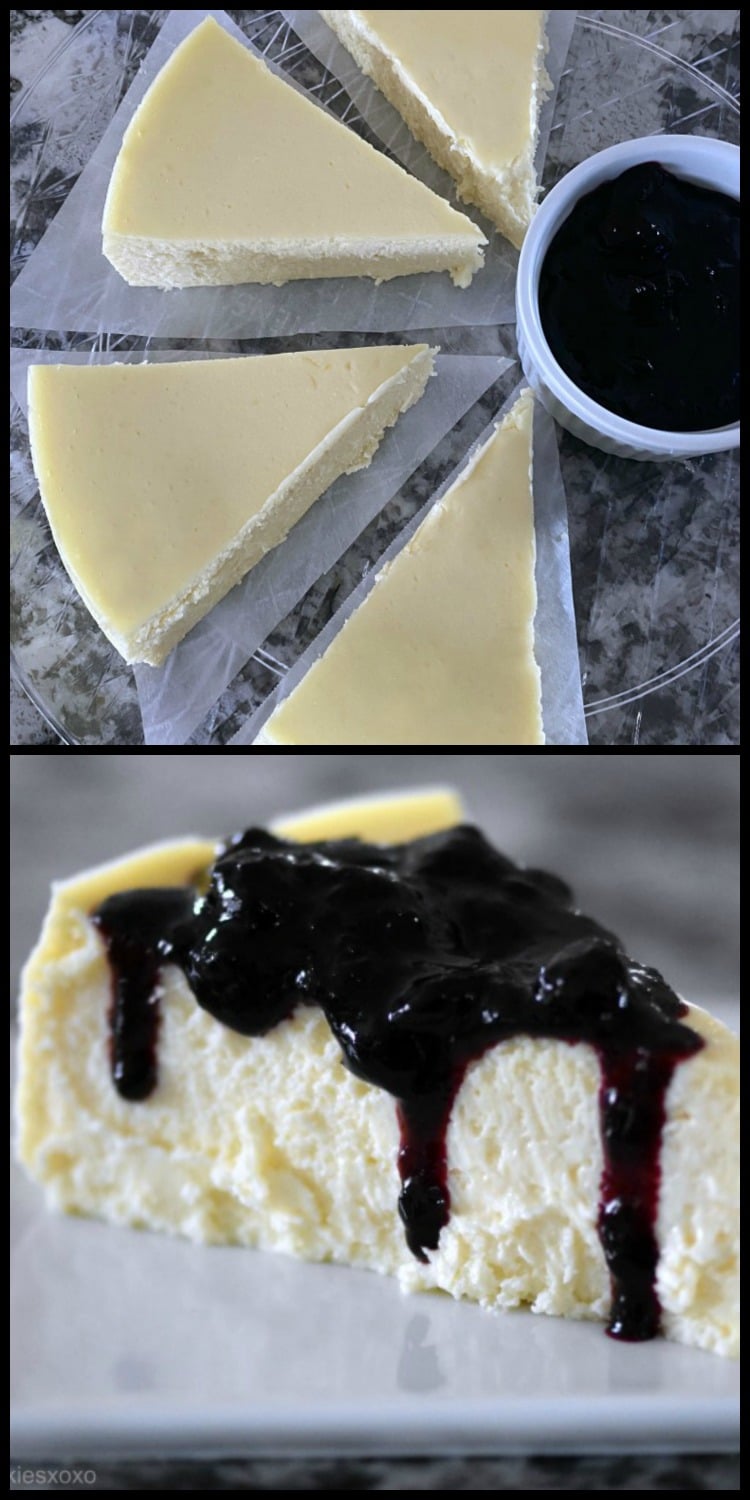 You May Love These, Too! XOXO