DEATH BY COOKIE IS THE PERFECT NAME FOR THESE RICH AND DELICIOUS COOKIES! EACH ONE IS JAM-PACKED WITH JUST ABOUT AS MUCH CHOCOLATE AS ONE COOKIE CAN POSSIBLY TAKE. I MADE THESE FOR A SPECIAL FRIEND WHO IS A CHOCOLATE FREAK CHOCO-HOLIC!!! 
THESE TASTE BEST ONCE COOLED!!!!
POURING ALLLLL THE CHIPS INTO THE DOUGH!
 HEADING INTO THE OVEN!
 COOLING TIME!
makes about 2 dozen

DEATH BY COOKIE!!! 5 KINDS OF CHOCOLATE IN ONE COOKIE!!!
Ingredients
1 cup + 1 Tbsp all-purpose flour
¼ cup unsweetened cocoa powder
1 tsp baking powder
¼ tsp salt
8 ounces semi-sweet chocolate chips
2 eggs
1 tsp vanilla extract
5 Tbsp unsalted butter, softened to room temperature
¾ cup light brown sugar
¼ cup sugar
1 cup dark chocolate chips
½ cup milk chocolate chips
½ cup semisweet chocolate chips
Instructions
Sift together flour, cocoa powder, baking powder and salt in a medium bowl. Set aside.
Melt the 8 ounces of chocolate chips in the microwave until smooth.
In a small bowl, whisk the eggs and vanilla. Set aside.
With an electric mixer, beat the butter until smooth and creamy – about 1 minute.
Beat in the sugars.
Mix in the beaten egg/vanilla until incorporated.
Add the chocolate and beat until combined. Add the dry ingredients on slow speed.
Fold in the chocolate chips.
Chill dough for at least 30 minutes.
Preheat oven to 350 degrees F.
Scoop about 2 Tbsp of dough and roll into a ball.
Bake for about 10 minutes, or until the cookies have just begun to set with the centers still appearing very soft. They will firm up as they cool.
Allow cookies to cool on baking sheet for at least 5 minutes before transferring to a wire rack to cool completely.
adapted from Cooks Illustrated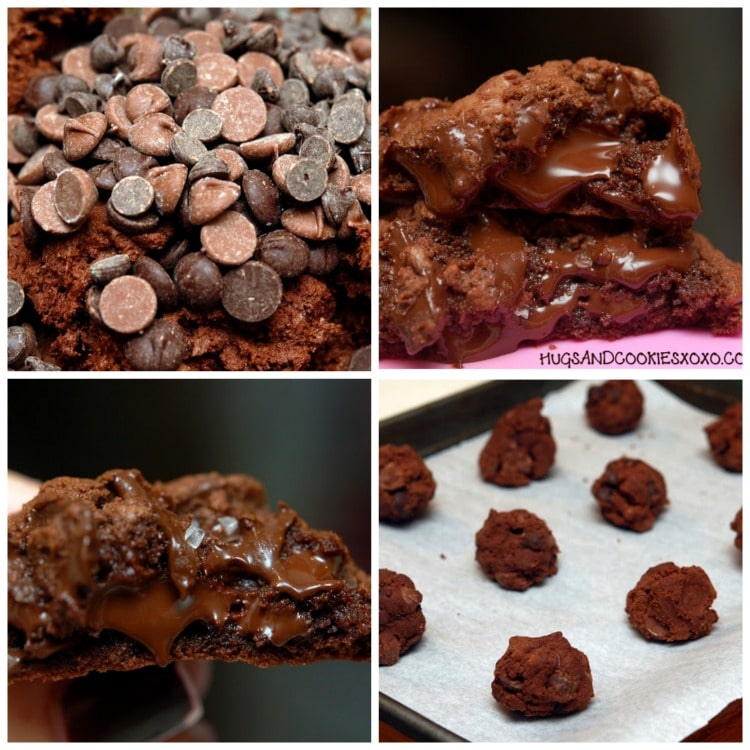 You May Love These, Too! XOXO