These Death By Reese's Cheesecake Brownies are seriously to die for. Yes, they are rich! Yes, they are packed with candy! Yes, they are a peanut butter lover's dream! Yes, they are perfection! Grab a tall glass of milk when you sit down with one of these bars! These would feed a nice crowd since you only need a small piece.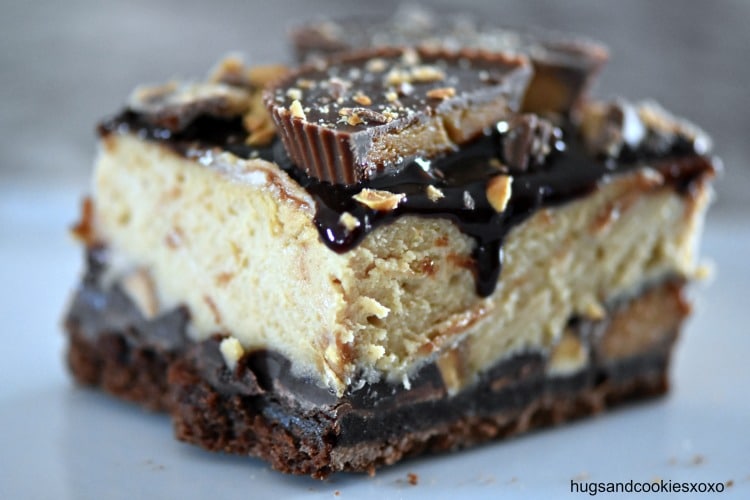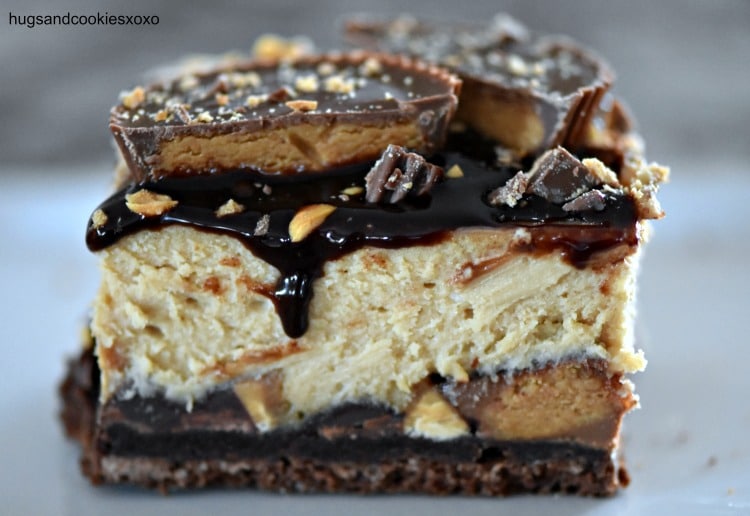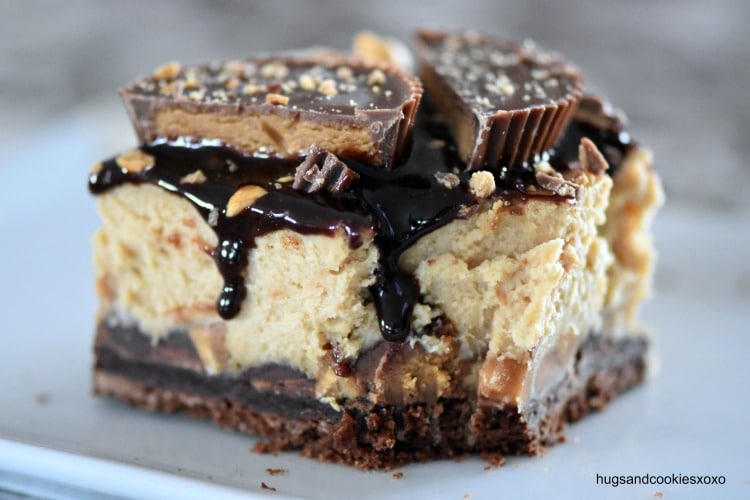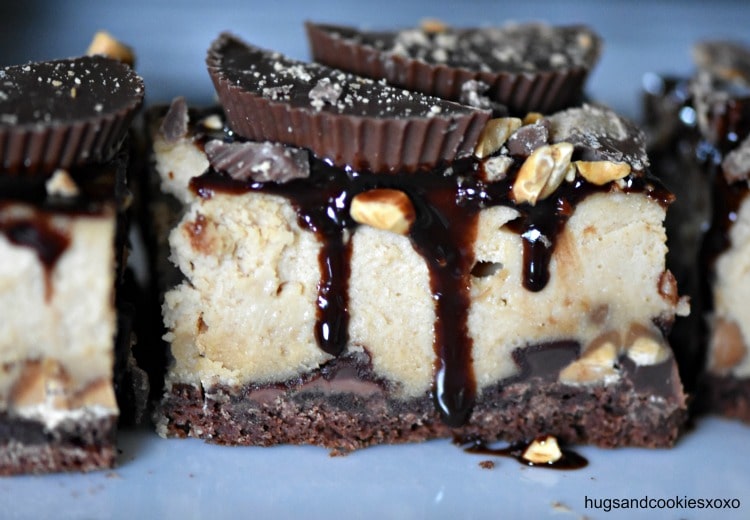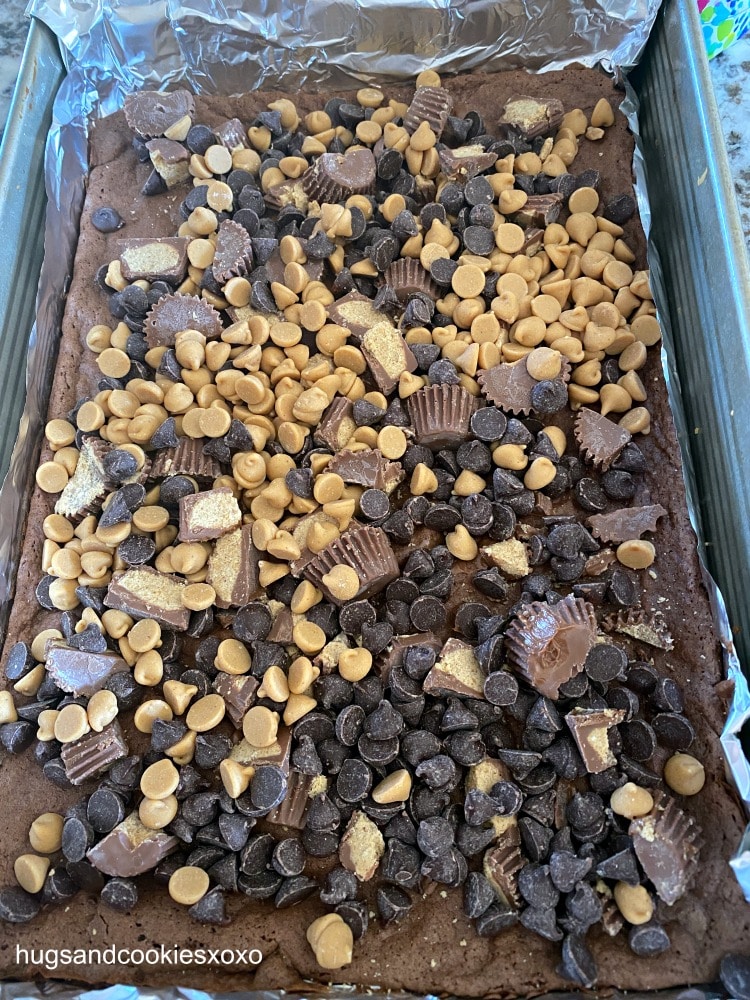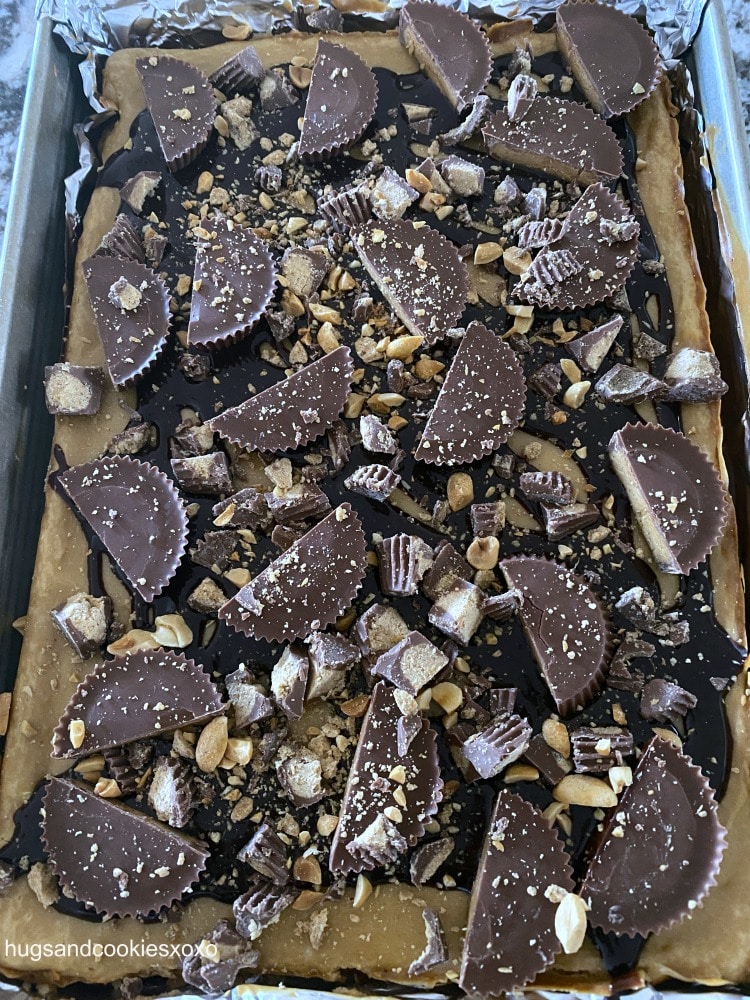 Death By Reese's Cheesecake Brownies
Ingredients
Brownie Crust:
6 Tablespoons Butter, melted
1-¼ cup Sugar
1 Tablespoon Vanilla
2 Eggs
1 cup plus 2 Tablespoons Flour
⅓ cup Unsweetened Cocoa
½ teaspoons Baking Powder
½ teaspoons Salt
1 cup Semi-Sweet Chocolate Chips
1 cup Peanut Butter Chips
20 mini pb cups, chopped
Cheesecake Batter:
2 pounds Cream Cheese, Soft
5 eggs
1 ½ cups Brown Sugar, Firmly Packed
1 cup creamy Peanut Butter
½ cup Heavy Cream
1 Tablespoon vanilla
Topping:
chocolate sauce
10 full size Peanut Butter Cups, Cut In Half
10 mini pb cups chopped
handful of peanuts, chopped
Instructions
brownie
Preheat oven to 350°F.
Line 9x13 pan with nonstick foil.
Stir together butter, sugar and vanilla in a bowl.
Add eggs.
Stir in flour, cocoa, baking powder and salt.
Spread in prepared pan. Bake about 15-20 minutes.
Remove from oven and sprinkle on choc chips, peanut butter chips and the peanut butter cups. Pour the cheesecake batter right on top (directions below)
cheesecake
Beat cream cheese in bowl of mixer until smooth.
Add eggs, one at a time.
Add sugar, peanut butter and cream. Mix until smooth.
Add vanilla.
Pour filling into pan.
Bake for 40-50 mins. (I placed a small cake pan filled with some water in the oven to prevent cracking.)
Open oven a crack, shut oven off and cool 30 mins, Chill.
Topping
Drizzle on the chocolate sauce and top with candies/nuts.
Recipe adapted from Christine's Kitchen