Extra Decadent Chocolate Raspberry Cookies
This recipe is adapted from the amazing Cupcake Jemma videos on youtube. The catch is that the weights are in grams but to be honest, get a food scale-these cookies are worth it!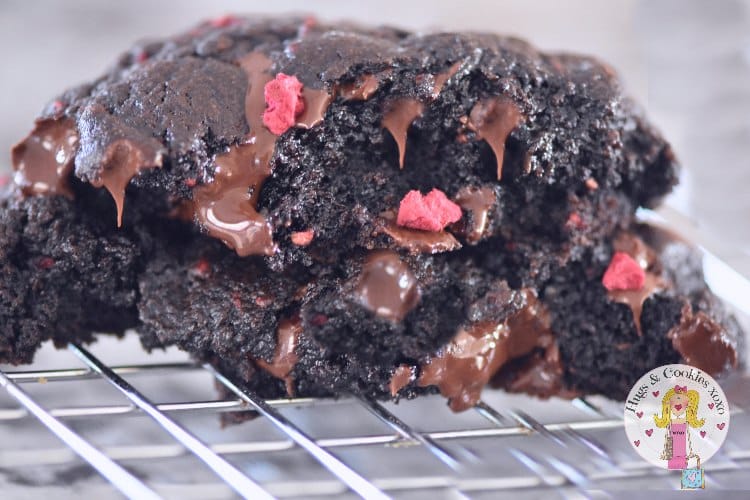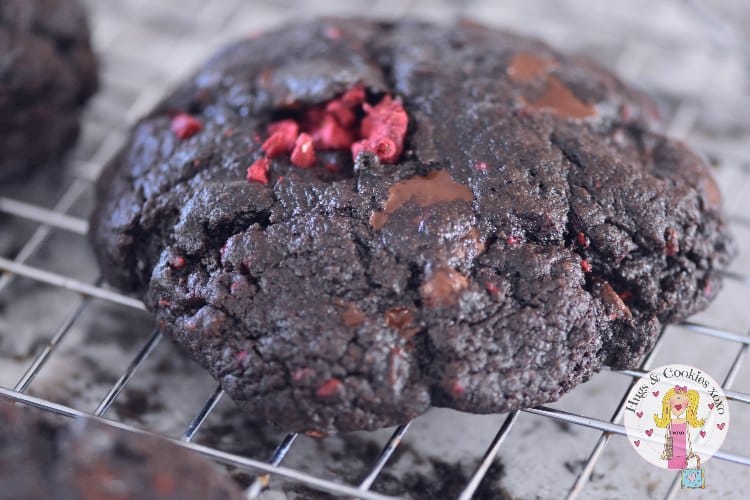 Extra Decadent Chocolate Raspberry Cookies
Ingredients
16 T. salted butter
160g caster sugar (extra fine)
160g light brown sugar
200g Ghirardelli dark Chocolate Chips
200g Ghirardelli semi sweet chips (or use all dark chips if you prefer)
25g freeze dried raspberries
35g cocoa powder
35g black cocoa powder
300g all purpose flour
130g self-rising flour
2 tsp baking powder
1 tsp kosher salt
15g freeze dried raspberry powder (I made this by grinding up some freeze dried rasp in food processor.)
3 eggs
Instructions
Preheat oven 350
In a mixer, beat butter to break it up.
Add sugars and mix to combine.
Add chips and dried raspberries.
Add cocoas, , flours, powder, salt, rasp powder.
Add eggs until dough forms on beater.
Weigh out mounds of 125 grams. (Can shape in a disk or leave tall-both spread about the same.)
Preheat a jelly roll pan 5 mins without parchment.
Remove hot pan and place 6 mounds of dough spaced apart on the sheet.
Bake 13-14 mins and cool on sheet.
Cookies will firm up as they sit.