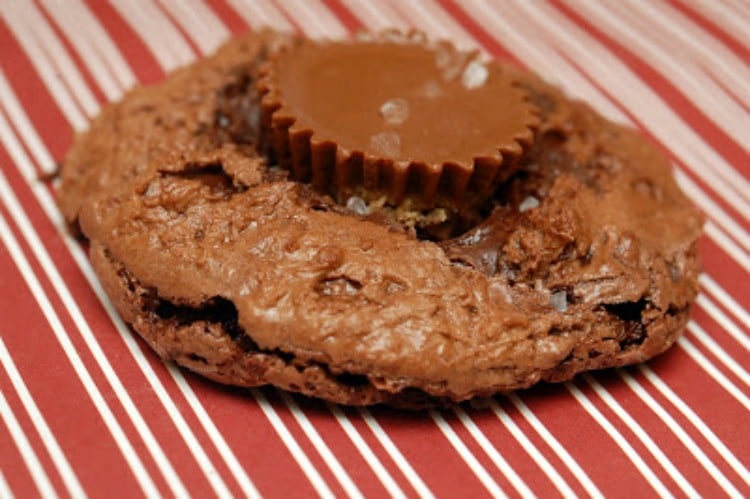 IT'S TIME FOR THE SECRET RECIPE CLUB REVEAL AGAIN!!! FOR THE SECRET RECIPE CLUB, EVERYONE IS GIVEN THE NAME OF A BLOG (SECRETLY) AND YOU CHOOSE ONE RECIPE TO MAKE FROM THAT BLOG. THEN, EVERYONE POSTS AT THE SAME TIME ON THE SAME GIVEN DAY….TODAY!!!! IT IS FUN TO DISCOVER WHO HAD YOUR BLOG AND TO REVEAL THE ONE YOU WERE SECRETLY BAKING/COOKING FROM ALL ALONG!
I GO CRAZY WHEN I RECEIVE MY NEXT BLOG ASSIGNMENT. SO RIDICULOUSLY EXCITING TO PERUSE THE OTHER BLOG AND DECIDE WHAT I'LL MAKE!
AS SOON AS I SAW A GF RECIPE I KNEW IT WAS FOR ME…..AND FOR MY HUBBY! BEING A PEANUT BUTTER CUP LOVER, I DECIDED TO ADD A MINI PB CUP IN THE CENTER OF EACH ONE DURING THE LAST 2 MINUTES OF BAKING TIME! THANKS FOR THIS RECIPE DENISE!
Ingredients
3 cups powdered sugar
2/3 cup unsweetened Dutch-processed cocoa powder
1/4 tsp sea salt
3 large egg whites, at room temperature
1 Tbsp pure vanilla extract
2 cups semi-sweet chocolate chips (I USED MINI PB CUPS INSTEAD AND ADDED THEM IN FOR THE LAST 2 MINS OF BAKING TIME.)
Instructions
Preheat oven to 350.
In a large bowl, mix together powdered sugar, cocoa powder and sea salt. Add in vanilla. Whisk in egg whites until just moistened. Add in chocolate chips.
Spoon thick fudgy batter onto cookie sheets in small mounds. Chill for 5 or so minutes to keep them from spreading when they bake.
Bake for 14 minutes or until tops are glossy and lightly cracked.
Notes
These cookies are considered "gluten-free" if using gluten free chocolate chips.