GANACHE TOPPED CUPCAKES DECORATED WITH GUM BALLS
HERE IS HOW I MADE MINE.
1. BAKE A BOXED MIX FOR CUPCAKES BUT FILL A LITTLE LESS THAN HALF FULL. YOU NEED ROOM IN THE CUPS FOR THE GANACHE LATER! BAKE AS DIRECTED AND COOL.
2. GANACHE
1/2 cup heavy cream
8 ounces good semisweet chocolate chips
MICROWAVE THESE TOGETHER TO MELT. STIR UNTIL MELTED AND POUR ON TOP OF THE CUPCAKES. CHILL TILL FIRM.
3. MAKE BUTTERCREAM AND PIPE WITH 1M OR 2D TIP. IF YOU DON'T HAE TIPS, PUT IT IN A ZIPLOC-SNIP CORNER AND PIPE!
2 sticks butter (room temperature)
1 teaspoon pure vanilla extract
1 1b. powdered sugar
1-3 teaspoons HALF & HALF
Using a mixer, cream softened butter and vanilla until smooth.
Add sugar gradually, allowing butter and sugar to cream together before adding more.
If you want your frosting a little creamier, add a teaspoon of milk at a time and beat on high until you get the right texture.
4. IMMEDIATELY SPRINKLE THE TOPS WITH SPRINKLES SO THEY STICK. CUT PIXIE STICK SHORTER AND INSERT. TOP EACH WITH A HUGE GUMBALL!
ADAPTED FROM BAKERELLA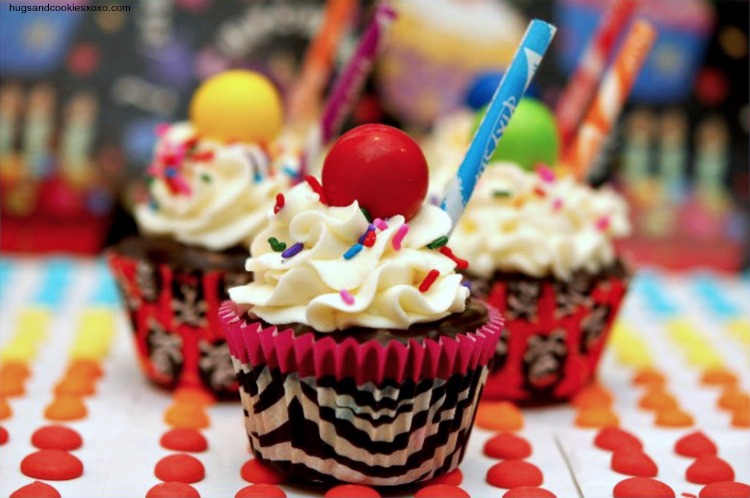 You May Love These, Too! XOXO