Oooooooh…..winner winner!!!! This cake was absolutely outrageous. This was made for Christmas 2017. We had so many appetizers that we decided to skip dinner (or rather push it off for a few hours) and dive into this cake! Wise choice my friends. I like to freeze my layers before assembling. This also allows you to create this cake over the course of a few days!
It is time for another month of Two Sweetie Pies! Another month of 2 Sweetie Pies with That Skinny Chick Can Bake means another wonderful dessert! Always a success when you bake from Liz's blog! Each month we bake up a recipe from each other and keep it a secret until reveal day! Super fun! Thanks for this prefect Hershey's Black Out Candy Bar Cake, Liz!
You can visit Liz on her social media channels here:
Hershey's Black Out Candy Bar Cake……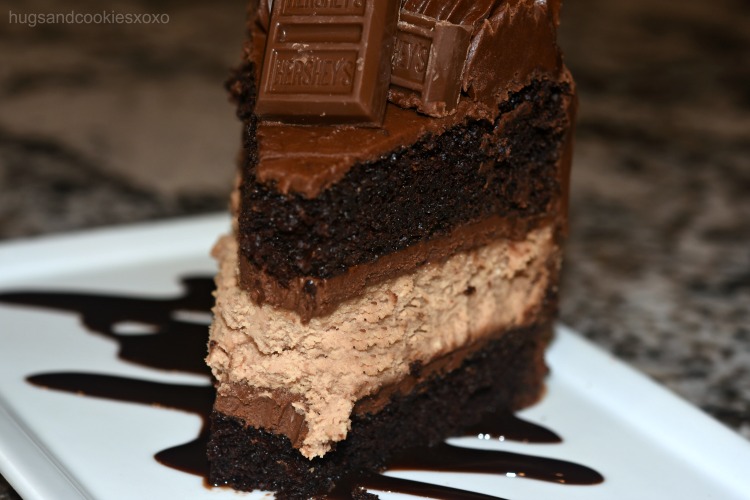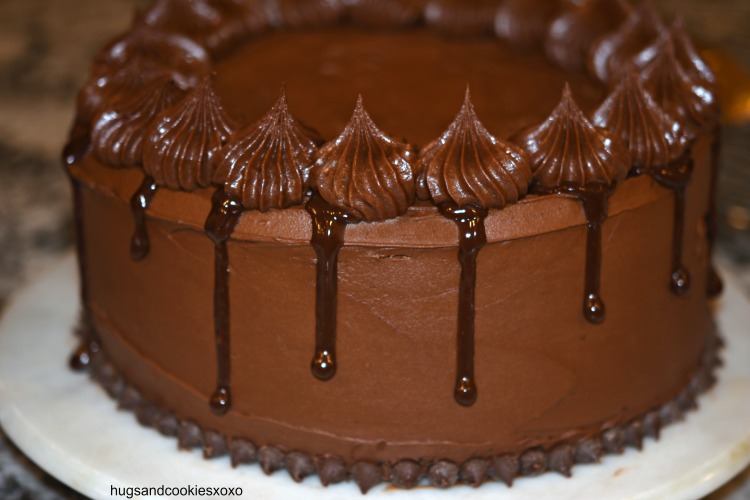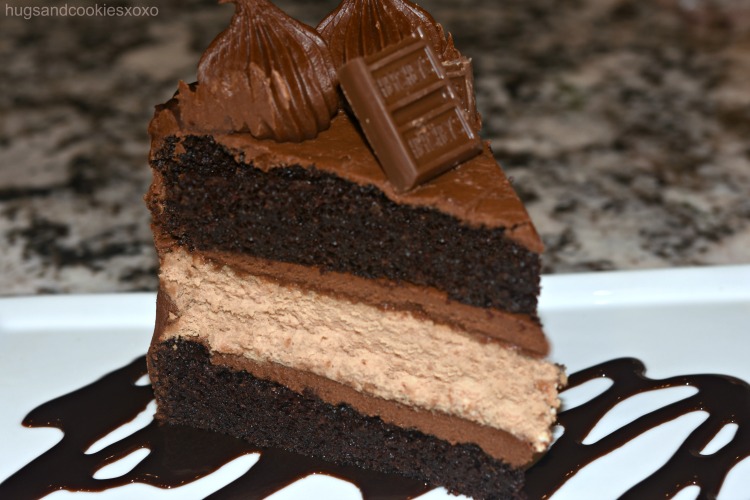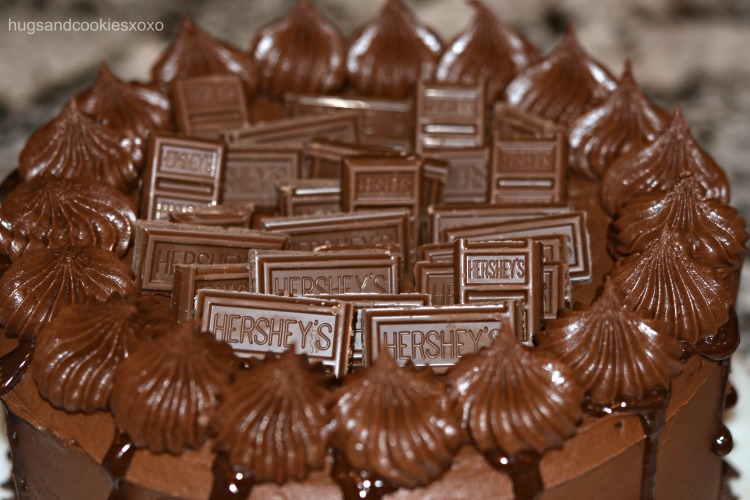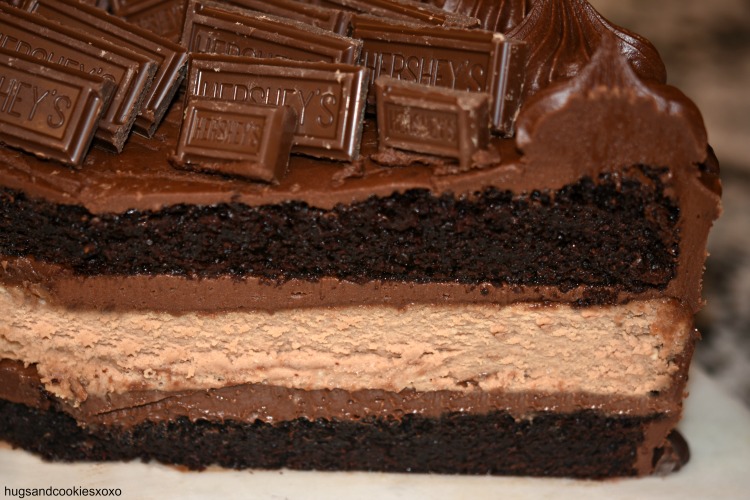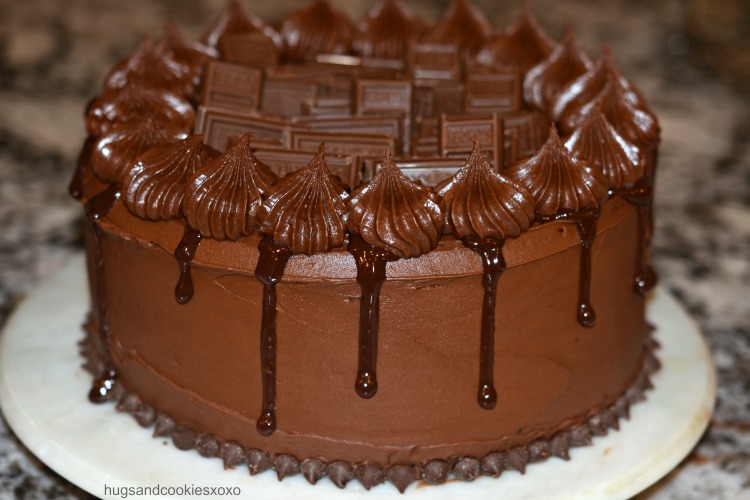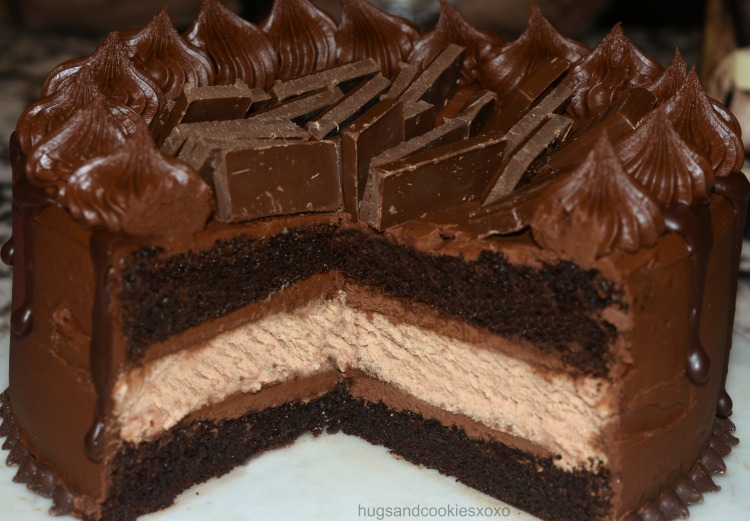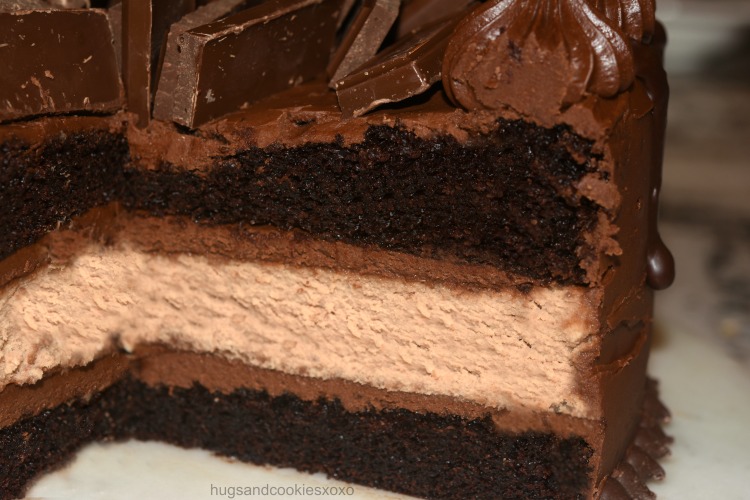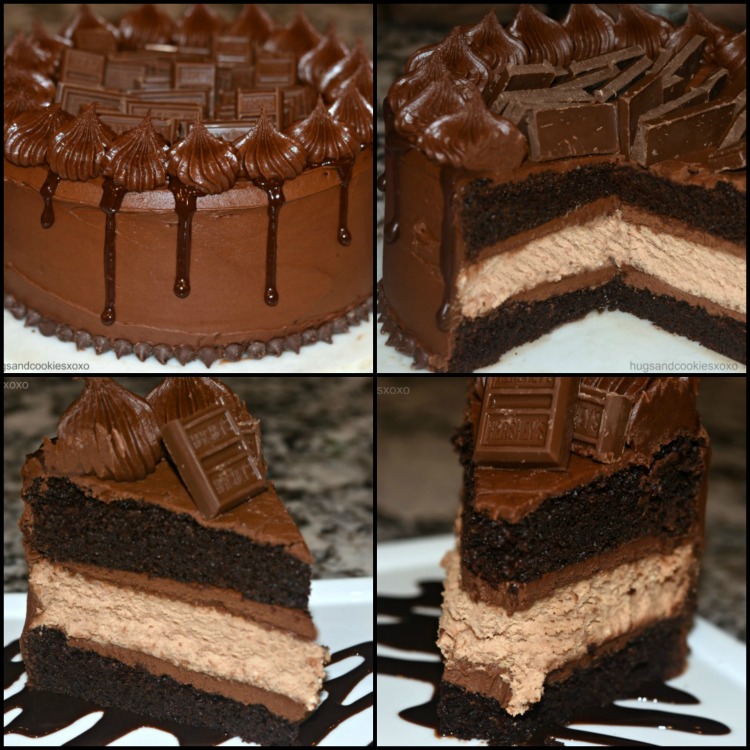 Hershey's Black Out Candy Bar Cake
Ingredients
Cheesecake
2 (8-ounce) packages cream cheese, at room temperature
½ cup sugar
3 eggs, at room temperature
¼ cup sour cream, at room temperature
1 tsp vanilla extract
4 ounces chopped milk chocolate, melted
Chocolate Cake
2 cups sugar
1-3/4 cups all-purpose flour
¾ cup cocoa powder
1-1/2 teaspoons baking powder
1-1/2 teaspoons baking soda
1 teaspoon salt
2 eggs
1 cup milk
½ cup vegetable oil
2 teaspoons vanilla extract
1 cup boiling water
Chocolate Frosting (I tripled the original recipe-below are the tripled amounts I used)
3 sticks butter
2 cups cocoa
9 cups powdered sugar
1 cup milk
3 teaspoons vanilla extract
1 cup Milk Chocolate Chips to decorate along the bottom
Ganache
1 cup semi-sweet chocolate chips
½ cup heavy cream
Garnish
Different sized hershey bar pieces
Instructions
Preheat oven to 325º.
Line a 9-inch round baking pan with non-stick aluminum foil. Let the edges of foil extend over sides of pan.
Beat cream cheese, sugar and vanilla extract at medium speed with an electric mixer until creamy and smooth.
Mix in eggs, one at a time. Blend just until eggs are incorporated.
Stir in sour cream and melted chocolate.
Pour batter into prepared pan.
Bake for 45 minutes, or until the top just starts to turn golden.
Let the cheesecake cool completely in its pan on a wire rack. Place in freezer to firm.
Chocolate cake
Preheat oven to 350°.
Grease and flour two 9 inch pans. Line with parchment rounds.
Whisk together sugar, flour, cocoa, baking powder, baking soda and salt in large bowl.
Add eggs, milk, oil and vanilla; beat on medium speed of mixer 2 minutes.
Stir in boiling water (batter will be thin).
Pour batter into prepared pans.
Bake 35 to 37 minutes or until wooden pick inserted in center comes out clean.
Cool 10 minutes; remove from pans to wire racks. Cool completely. Wrap and place in freezer.
Chocolate frosting
Melt the butter in the microwave in a heat safe bowl.
Whisk in cocoa.
Alternately add powdered sugar and milk, beating to spreading consistency.
Add small amount additional milk, if needed.
Stir in vanilla.
To assemble, use an offset spatula to spread ⅓ of frosting on top of one chocolate cake layer.
Lay cheesecake on top and spread with another ⅓.
Lay second cake on top and frost entire cake with rest of frosting.
Decorate the bottom edge with more chips.
Keep chilled but take out of the refrigerator 1-2 hours before serving.
Ganache Drizzle
Heat cream to a boil in microwave.
Place chocolate in heat proof bowl and pour cream over it.
Cover 2 mins and then stir.
Let cool a bit and drizzle down sides.
Place Hershey Bars in center.