Homemade Gnocchi with Tomato Sauce
My youngest son and I took a gnocchi cooking class together this summer. Best time ever! Making homemade gnocchi is a lot simpler than you would think. This sauce was also outrageous. The flavors married together beautifully and it was so easy to prepare.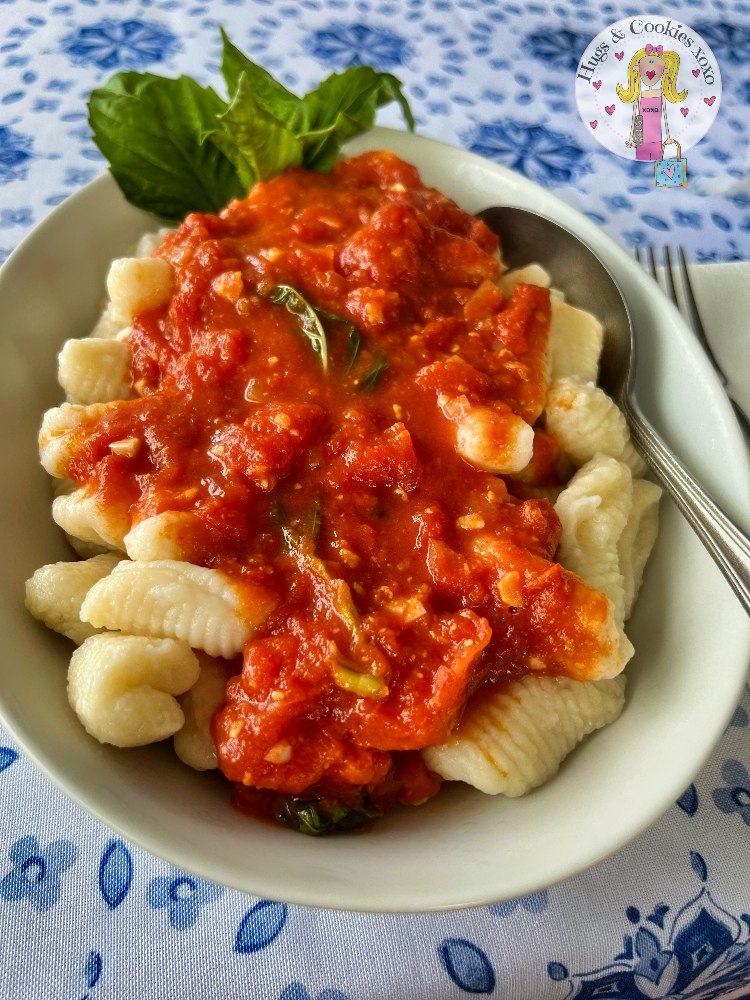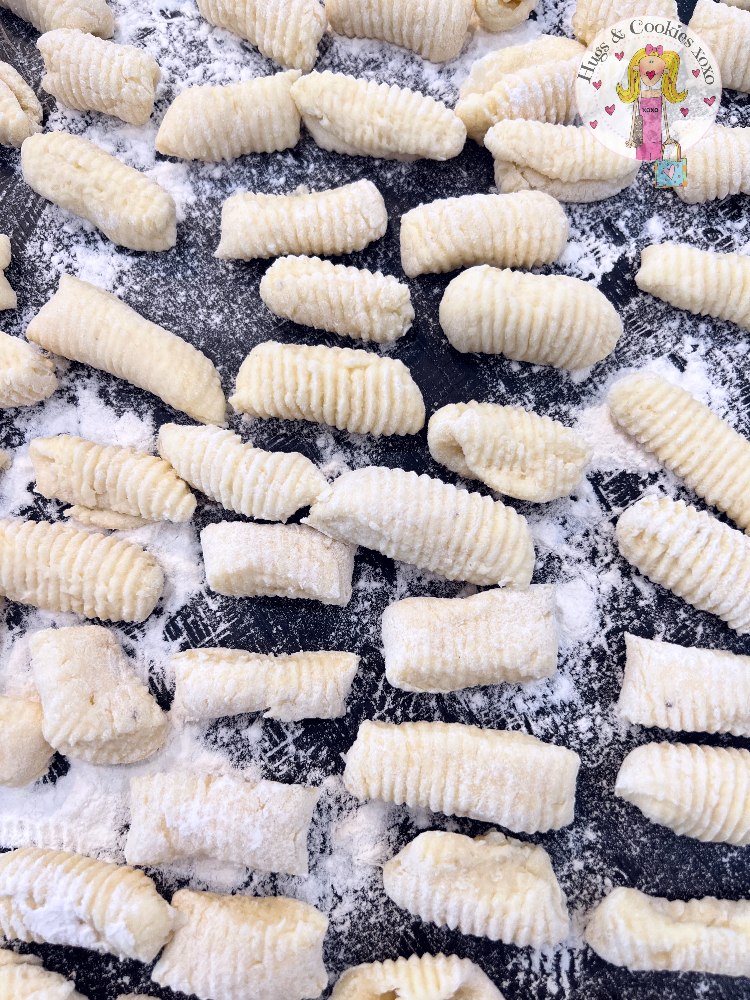 You may need:
Homemade Gnocchi with Tomato Sauce
Ingredients
Gnocchi
2 medium russet potatoes
1½ cups all purpose flour (or can try double zero flour)
½ c. whole milk ricotta (or impastata)
¼c. finely grated Parmesan cheese
1 egg
1 tsp. kosher salt
¼ tsp. fresh pepper
1 T. olive oil
Tomato Sauce
¼c. olive oil
1 finely chopped onion
4 chopped garlic cloves
1 pinch crushed red pepper
1 28-ounce can whole peeled tomatoes, crushed by hand
kosher salt
3 sprigs fresh basil
2 T. butter, cubed
¼ c. finely grated Parmesan cheese
Instructions
Gnocchi
Preheat oven to 400 and line a baking sheet with nonstick foil.
Pierce the potatoes and bake 1 hour.
Let cool a bit and scoop out the flesh.
Pass potatoes through a ricer.
Strain the ricotta in cheesecloth to remove moisture.
In a bowl, mx ricotta, cheese, egg, salt, pepper.
Put flour in a large bowl and use a fork to gently mix in the potatoes.
Once the potatoes are coated, make a well in the center and add the cheese mixture.
Fold in the cheese and once it comes together dump on a floured surface, knead a few mins and form a ball.
Cut ball into 4 equal parts.
One piece at a time, roll it into a long rope the width of your thumb.
Use a bench scraper to cut off ¾ inch (bite size) pieces.
Roll each piece down a gnocchi board and lay on a floured cookie sheet.
Cook gnocchi in boiling water 4-6 mins until they float at the top and are tender,
Serve with sauce.
Tomato Sauce
Heat oil in skillet on medium-low.
When hot, add onion and cook 10 mins until translucent.
Add garlic and stir to prevent burning for 3 mins.
Add red pepper for 1 min.
Raise heat to medium and add tomatoes and season with salt.
Cook 20-25 mins, stirring occasionally until thickened.
Add butter and cheese to combine well.
Once butter is melted, remove heat and add basil.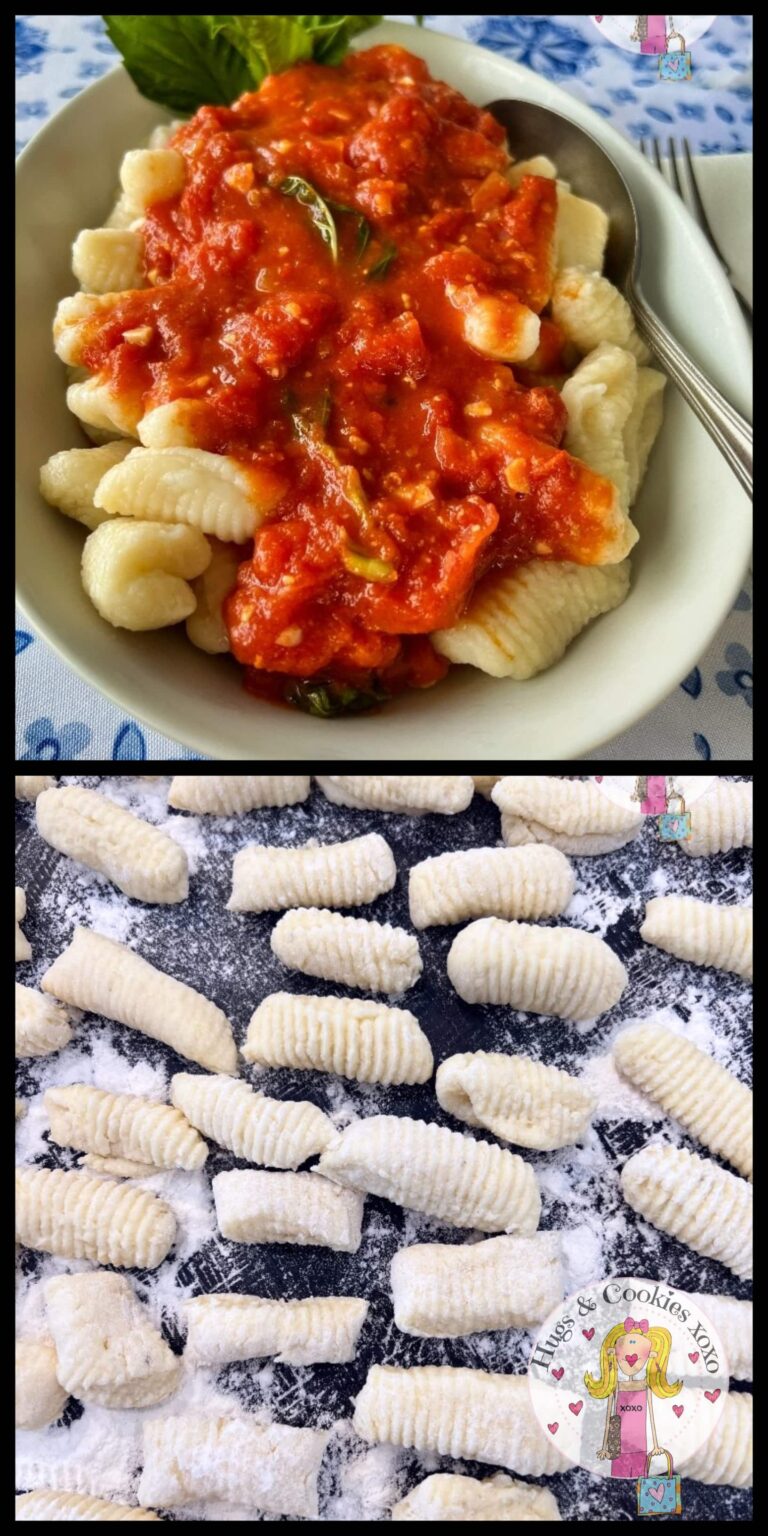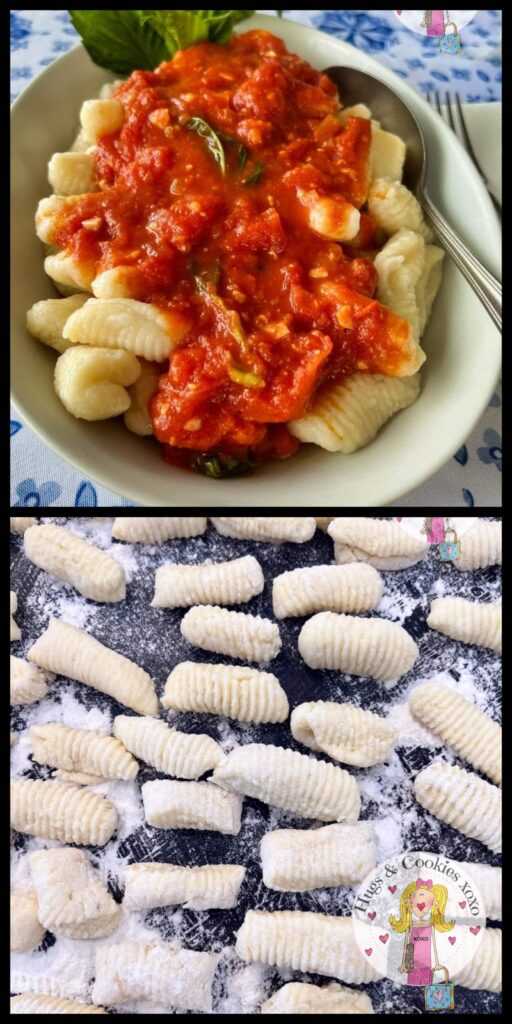 You May Love These, Too! XOXO