ALL STACKED FOR DELIVERY!A BUTTERY SHORTBREAD CRUST HOLDS THE THICK CARAMEL & SLICED MILKY WAY BARS! OOEY GOOEY GOODNESS!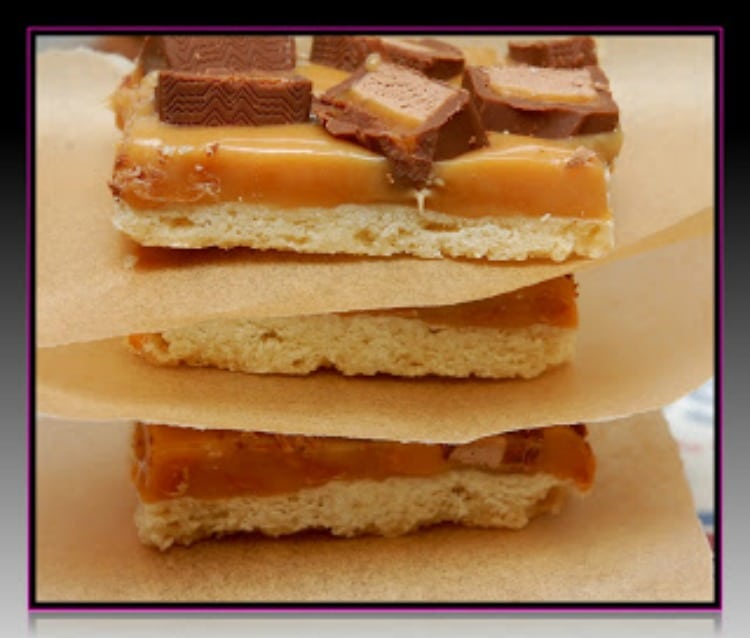 CRUST:
1 1/2c. FLOUR
1/2C. PLUS 2T. CONFECTIONERS SUGAR
1 1/2 STICKS SOFT BUTTER
ELECTRIC MIX ALL TILL CRUMBLY/COMBINED AND PAT DOWN EVENLY INTO A 9X13 PAN LINED WITH NONSTICK FOIL. BAKE AT 350 FOR 15-20 MINUTES UNTIL LIGHTLY GOLDEN.
CARAMEL:
12 OUNCES CARAMEL BITS (NO UNWRAPPING WITH THESE!) (OR USE 40 WRAPPED CARAMELS)
5 T. BUTTER
1 CAN SWEETENED CONDENSED MILK
MICROWAVE ALL OF THESE TOGETHER UNTIL SMOOTH. GO 30 SECONDS-ONE MINUTE AT A TIME AND STIR IN BETWEEN.
TOPPING:
1 BAG OF MILKY WAY MINIS CUT INTO 4 SLICES EACH. CAN ALSO USE MILKY WAY DARKS OR ANY OTHER CANDY YOU WANT LIKE PB CUPS!
LET CRUST COOL 5-10 MINUTES AND THEN POUR ON THE CARAMEL. PLACE THE CANDIES ON TO DECORATE AND CHILL COMPLETELY BEFORE CUTTING. THESE ARE EASY TO CUT WHEN VERY COLD AND SHOULD REMAIN IN FRIDGE UNTIL READY TO EAT. (CARAMEL WILL GET TOO GOOEY IF LEFT OUT.) HOPE YOU ENJOY THESE RICH OOEY GOOEY DELIGHTS AS MUCH AS WE DID!!!!!!!!
You May Love These, Too! XOXO