Nutter Butter Cake
This was our New Year's Eve cake this year and I must say it was outrageous! If you love peanut butter then you simply have to make this Peanut Butter Cheesecake Layer Cake. It feeds a crowd so think of it for your next occasion. I made this in two days to simplify the process. Day 1 I baked my three cake layers and froze them. Day 2 was frosting and ganache. Much simpler this way and well worth the effort. Definitely make this Nutter Butter Cake for the win!
This cake was adapted from Live, Love and Sugar
I have to say, RUN-don't walk to her blog. Her recipes are amazing and so are her pictures. You can find her cookbook on Amazon if you're interested in checking it out.
Peanut Butter Cheesecake Layer Cake…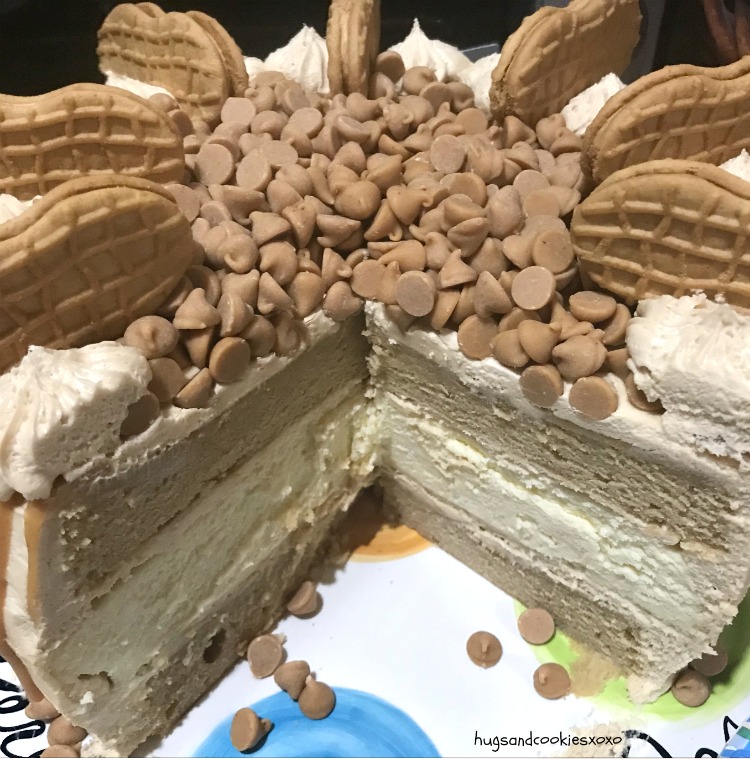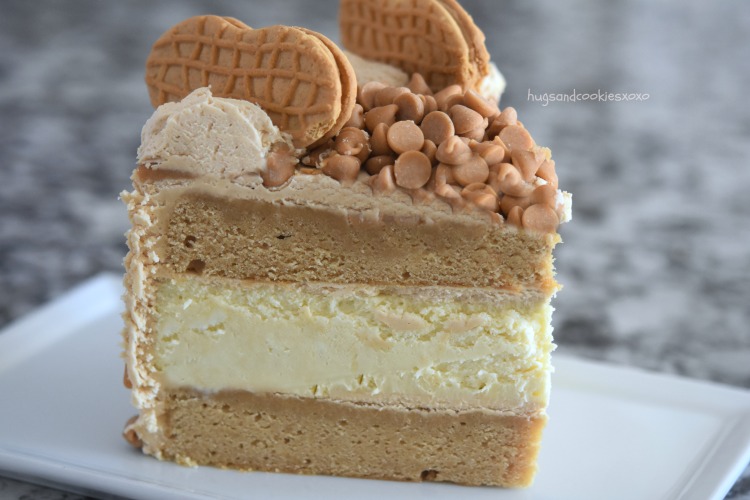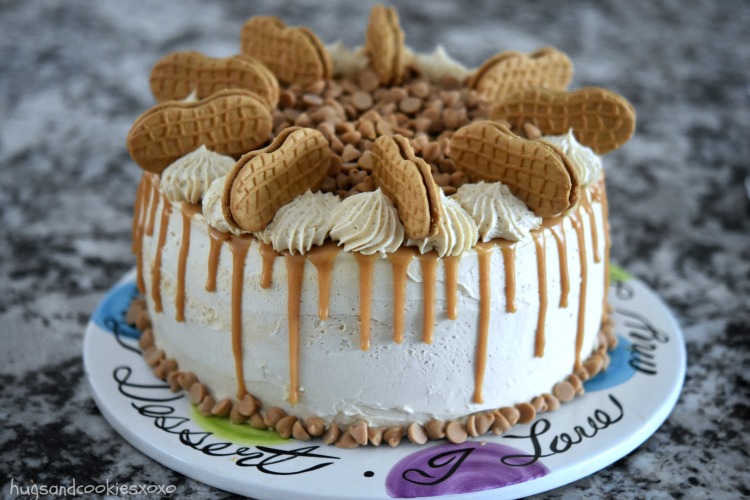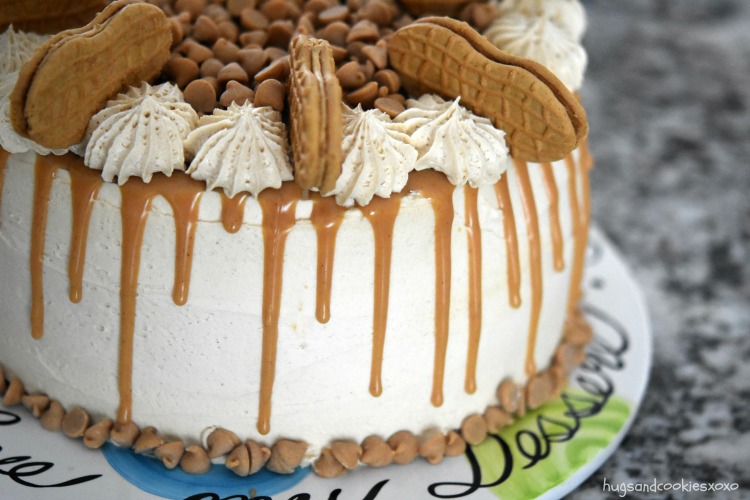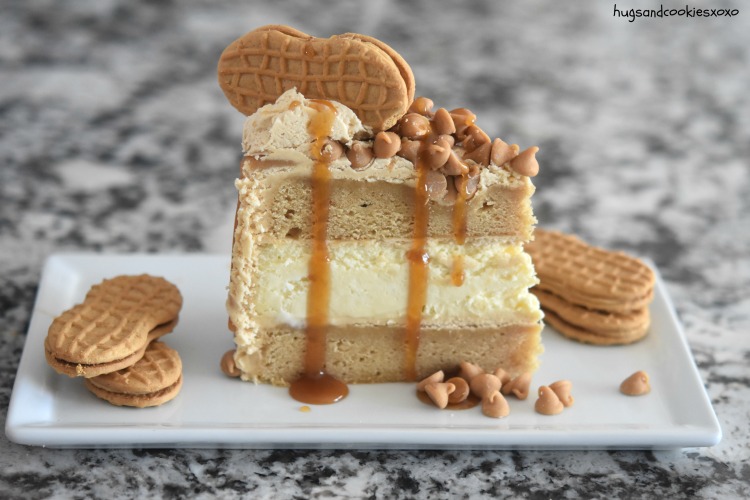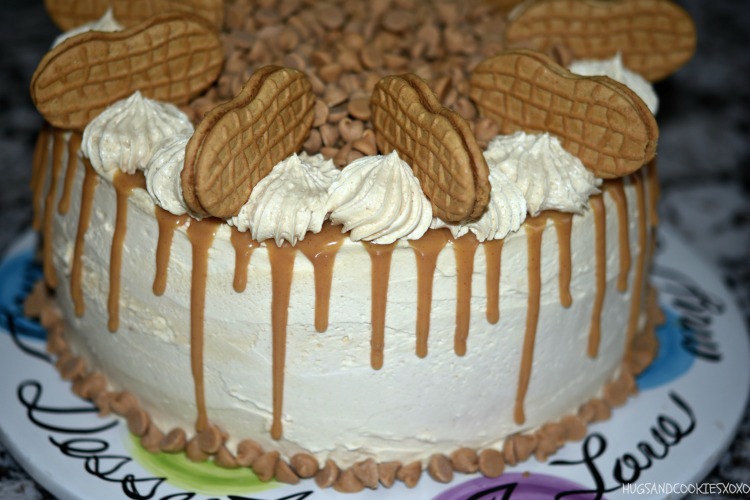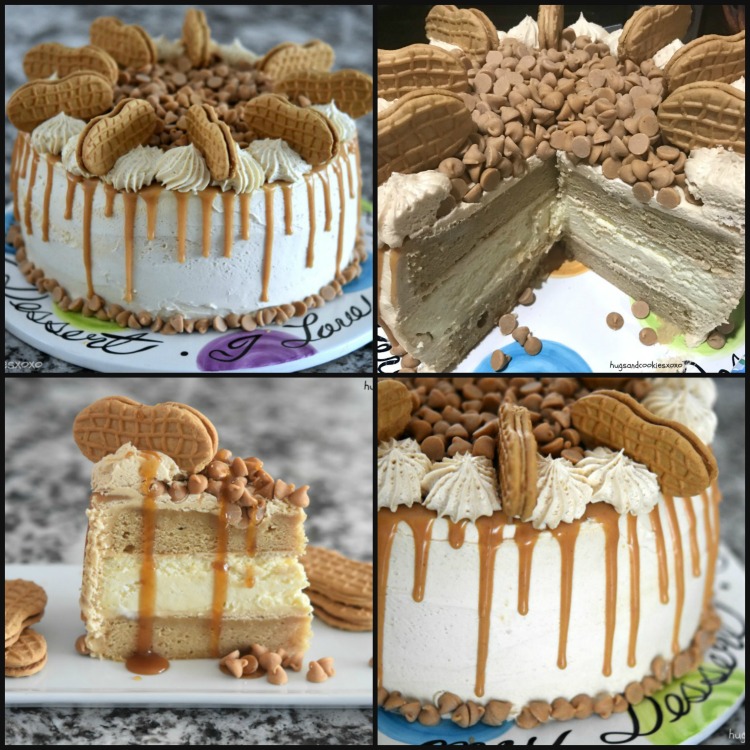 You may want to check out the Cheesecake Moat on Amazon. If you make 2 cheesecakes a year, I say it is worth it!

Peanut Butter Cheesecake Layer Cake
Ingredients
Peanut Butter Cake
8 Tablespoons butter, soft
¾ c. sugar
¾ c. light brown sugar, loosely packed
¾ c. creamy peanut butter
½ c. sour cream
2 tsp. vanilla extract
3 eggs
2½ c. flour
2¾ tsp baking powder
½ tsp salt
½ c. milk
¼ c. water
Cheesecake
24 oz cream cheese, soft
1 c. sugar
3 T. flour
1 c. sour cream
1 T. vanilla extract
4 eggs
Frosting
2 cups butter, soft
1¼ c. creamy peanut butter
9 c. powdered sugar
½ cup water or milk (I used milk this time-might need less if using water)
10 oz bag of Reese's peanut butter chips
Ganache
6 oz peanut butter chips
½ cup heavy cream
Garnish
Nutter Butter Cookies
1 cup Reese's peanut butter chips
Instructions
Cakes
Grease the bottom and sides of two 9 inch cake pans and line with parchment rounds in the bottom. Preheat oven to 350.
Beat butter, sugar and peanut butter a few minutes until fluffy.
Add sour cream and vanilla.
Add eggs, one a time to blend well.
Combine flour, baking powder and salt in a bowl.
Combine milk and water in a separate cup.
Add half the dry ingredients to the mix and blend. Add the liquids. Then add rest of the flour.
Blend well and pour into the two pans.
Bake 23-26 minutes or until a toothpick comes out with just a few crumbs attached.
Cool a few minutes and then carefully flip out onto cooling racks. I place a piece of parchment on the rack to prevent sticking.
Once cool, wrap each cake in foil and freeze until firm before assembling.
Cheesecake
Line a 9 inch cake pan with nonstick foil and let it hang over the sides for easier removal later.
Beat cream cheese until smooth.
Add sugar and flour.
Add the sour cream and vanilla.
Add eggs, one at a time.
Pour batter in pan.
I then bake it in my cheesecake moat. If you don't have one, you can bake it in a larger roasting pan and fill with an inch of hot water.
Bake 1 hour, then shut the oven temp off and leave the cheesecake inside with the door closed for 30 minutes. Then crack the door open and let the cheesecake stay in the oven 30 more minutes.
Place in fridge to chill until firm.
Once firm, carefully remove the cake from the pan and peel off the foil. Wrap in new foil and place in freezer until frozen before assembling.
Frosting
Beat butter and peanut butter until creamy.
Add half the sugar and blend well.
Add ¼ cup of your milk or water until smooth.
Add rest of the sugar.
Slowly add more of your liquid until you have a nice spreading consistency.
You may need more liquid or you may not use it all so add slowly.
Ganache
Heat cream in the microwave to a boil.
Remove and pour chips in.
Cover 2 minutes and whisk smooth.
Let it sit a few minutes to thicken up a bit.
Assembly.
Lay one frozen peanut butter cake on your plate.
Top with 1 cup frosting and then top with the cheesecake.
Top the cheesecake with 1 cup frosting and place the second peanut butter cake on top.
Frost the cake with a thin crumb coat and pop in fridge 10 minutes.
Frost the cake generously and press some peanut butter chips along the bottom. Reserve some frosting for the piping decorations later. Chill the cake 10 minutes.
Drizzle the ganache around the top edges and chill 10 minutes.
Pipe some decorations around the edges and add in some nutter butters. Pour peanut butter chips in the center.
You May Love These, Too! XOXO