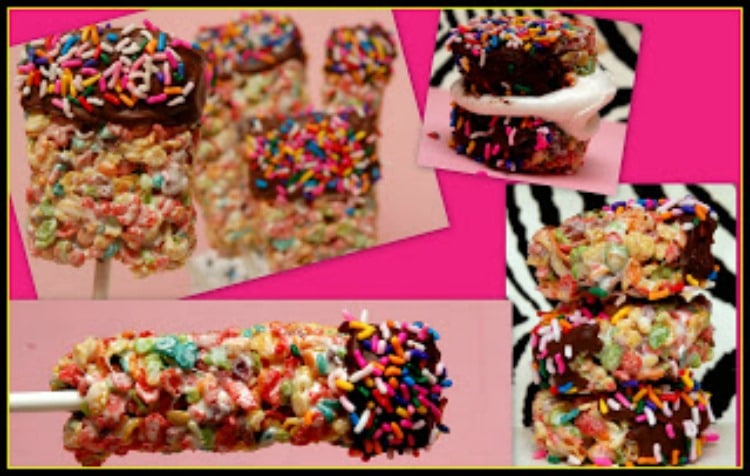 FOR THE SECRET RECIPE CLUB, EVERYONE IS GIVEN THE NAME OF A BLOG (SECRETLY) AND YOU CHOOSE ONE RECIPE TO MAKE FROM THAT BLOG. THEN, EVERYONE POSTS AT THE SAME TIME ON THE SAME GIVEN DAY….TODAY!!!! IT IS FUN TO DISCOVER WHO HAD YOUR BLOG AND TO REVEAL THE ONE YOU WERE SECRETLY BAKING FROM!
THIS MONTH, I RECEIVED THE BLOG TITLED,
YOU GO GIRL
. SUSAN'S BLOG WAS SUCH FUN TO VISIT….YOU WILL LOVE IT! I IMMEDIATELY SCROLLED THROUGH THE GOODIES AND WHEN I SAW FRUITY PEBBLES I STOPPED IN MY TRACKS! MY MOM HAS ALWAYS MADE RICE KRISPY TREATS WITH FRUITY PEBBLES AND THEN SANDWICHED THEM TOGETHER WITH VANILLA ICE CREAM. ONE OF MY FAVES!!!!
I BASICALLY FOLLOWED THE RECIPE AS WRITTEN BUT USED LESS CEREAL BECAUSE I PREFER MY KRISPY TREATS OOEY GOOEY. I PRESSED MY MIXTURE INTO PLASTIC MOLDS, ADDED SOME STICKS AND YOU KNOW I COULDN'T STOP THERE. WONKA TOOK OVER AND INTO THE CHOCOLATE AND SPRINKLES THEY WENT. PURE BLISS!!! I EVEN SANDWICHED A GOOEY MARSHMALLOW BETWEEN 2 ROUND CHOCOLATE DIPPED KRISPIES! S'MORES MEET KRIPSY TREATS! THANKS SO MUCH FOR THE INSPIRATION AND THE RECIPE, SUSAN! I'LL BE BACK TO VISIT YOUR BLOG VERY SOON! XOXO
ADDED BONUS…..THIS RECIPE IS QUICK AND EASY! COMES TOGETHER 1, 2, 3!
Fruity Pebble Bars (adapted from POST cereals)
1/4 cup butter
1 pkg ( 10 1/2 oz) miniature marshmallows (6 cups)
Fruity Pebbles (about 8 1/2 cups) *I just used an 11 oz box (I USED 6 CUPS FOR OOEY GOOEY)
Microwave butter in 4 qt microwavable bowls on high 45 seconds or until melted. Add marshmallows, toss to coat. Microwave 1 1/2 minutes, stirring after 45 seconds – microwave until completely melted and blended with butter. Add cereal and mix well; Press firmly into a greased 13 x 9 inch pan. Cool and cut into squares!
*I like to spray the bottom of a measuring cup with PAM and use this to gently press the mixture into my pan – works great!
You May Love These, Too! XOXO