IT'S WEEK 2 OF "3 BUBBLY BAKERS CONQUER MRS. FIELDS!!" KELLY CHOSE FOR US THE LACY OATMEAL COOKIES. A VERY THIN COOKIE SO I DIDN'T THINK I WOULD LOVE IT. (AS IF THAT WAS POSSIBLE)…..86 COOKIES LATER I DECIDED THESE ARE VERY ADDICTIVE!!!! LOL VISIT Kelly's Tasty Treats AND Bite Me Bakery PAGES TO SEE THEIR PICTURES, TOO!!!! ♥ ♥ ♥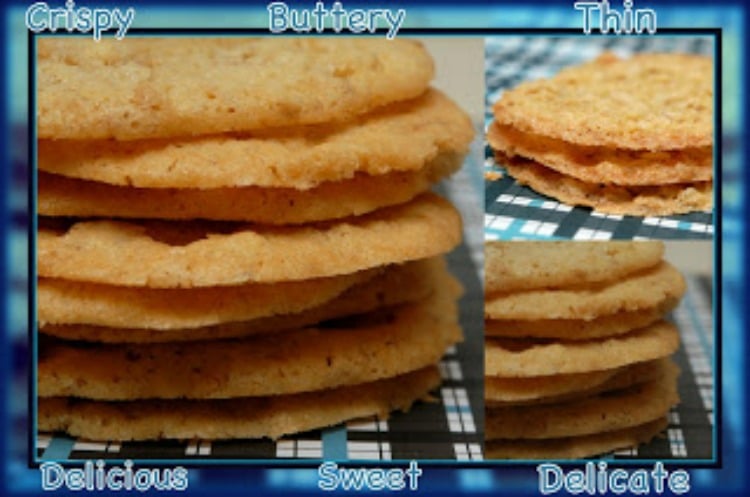 Lacy Oatmeal Cookies
1 cup quick oats
1/4 cup all-purpose flour
1/4 teaspoon salt
1 1/2 teaspoons baking powder
1 cup sugar
1/2 cup salted butter, softened
1 large egg
1 teaspoon vanilla
Directions
Preheat oven to 325 degrees. Line baking sheets with parchment paper or a silicone baking mat. (If you don't have either of those, cover your baking sheet with foil and a coat of nonstick cooking spray.) In a medium bowl, combine oats, flour, salt, and baking powder. Mix well with a wire whisk and set aside.
In a large bowl, combine sugar and butter with an electric mixer at medium speed to form a grainy paste. Add egg and vanilla, and beat until smooth. Add flour mixture and blend just until combined. Drop dough by teaspoons onto your prepared baking sheets, with at least two inches between. Bake for 9-12 minutes or until edges begin to turn golden brown. Let cool, then peel off cookies carefully with your fingers.
Makes about 3-4 dozen.
You May Love These, Too! XOXO