Air Fryer Roasted Corn
So, we are late to the game as far as buying an air fryer but we are LOVING the one we got! I went with the Cusiniart TOA-60 because it allows for toasting and baking, too. I didn't want another gadget on the counter so I was able to remove my toaster. This air fryer has toasted bagels perfectly for my kids and air-fried some fabulous corn! The corn tasted like it was roasted for hours! We also used the convection bake setting to reheat pizza and it was crispy and delicious! Chicken nuggets have never been cooked so quickly thanks to this air fryer. You may also love Roasted Corn Chowder with Rum Glazed Shrimp and Creamy Bacon Corn Dip. I would love to hear what you make in the air fryer that is amazing!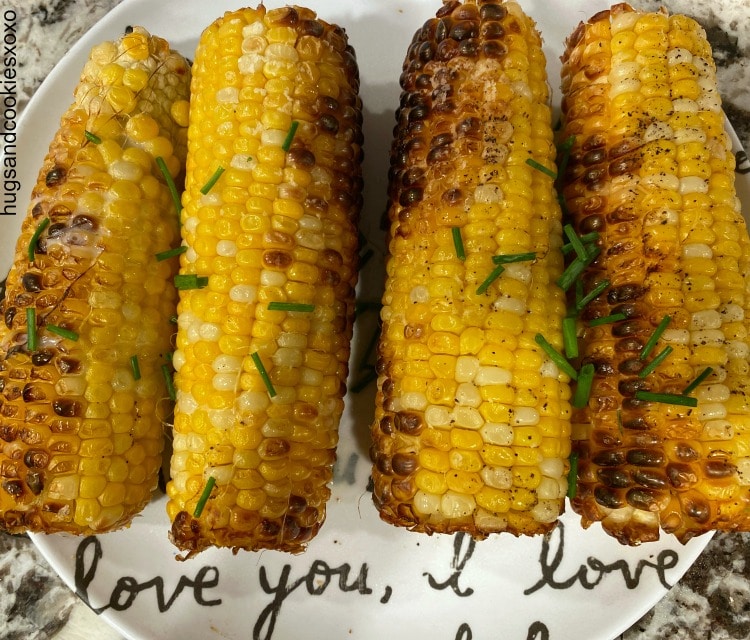 Air Fryer Roasted Corn
Ingredients
corn on the cob (4)
3-4 Tablespoons melted butter
salt/pepper to taste
Instructions
Drizzle most of the butter on the corn, (save a little for the end) add salt and pepper and roll around to coat.
I air fried mine for 10 mins at 400 degrees.
Drizzle on the remaining butter.
Top with chopped chives, if desired.