So, it is time for Two Sweetie Pies again with my baking buddy Liz from That Skinny Chick Can Bake! I had to email her this month and warn her I chose something that was not chocolate. That is almost unheard of since Liz's blog is loaded with chocolate and caramel goodness and we all know I have a HUGE sweettooth! However, I decided to expand my horizons this month as Liz always posts such delicious savory delights as well. I was looking for a steak stir fry recipe at my oldest son's request. He is a picky eater but often requests steak. BOTH of my children loved this meal and this is not an easy accomplishment by any means. I added chicken to this recipe as well to please the second son and broccoli to please the husband. Rave reviews from all means this will most definitely be in the weekly rotation. Thanks Liz for making my boys love and agree on a dinner….finally! You will find this on Liz's blog as Beef Bulgogi! Best Beef and Chicken Stir Fry Ever!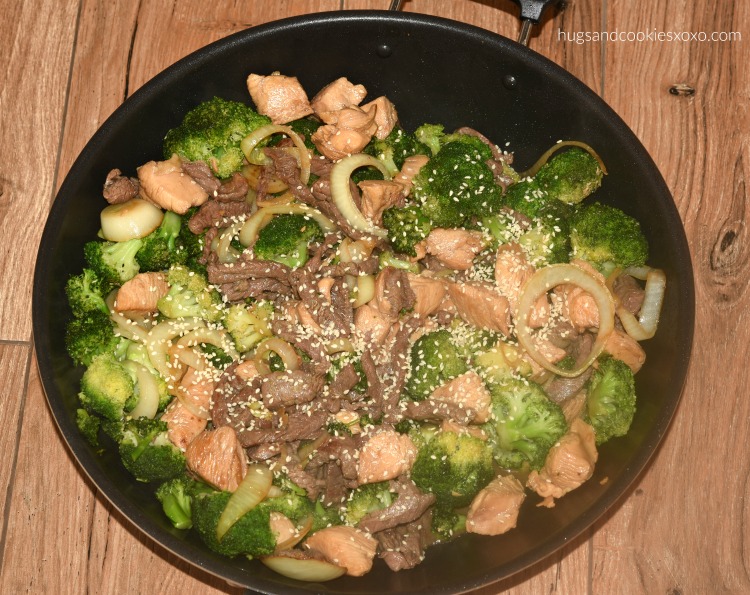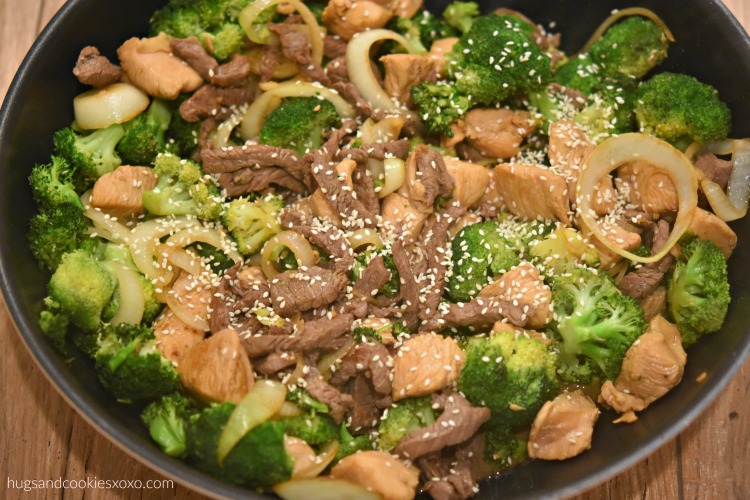 You'll Need:
You can also make this using all steak! more pics below of the steak version.

Beef & Chicken Stir Fry
Ingredients
1 pound flank steak, sliced very thin (I used sirloin and had the butcher prepare it for stir-fry)
1 pound chicken breast, cubed
(or use 2 pounds of just chicken or beef)
Marinade
½ cup Tamari or soy sauce
¼ cup light brown sugar
¼ cup toasted sesame oil
8 cloves garlic, minced
salt to taste
Veggies
2 medium onion, sliced
2-3 heads broccoli chopped
Olive or canola oil
Toasted sesame seeds to garnish, optional
Instructions
Mix all marinade ingredients except olive or canola oil, sesame seeds. Divide in half and pour into 2 freezer ziploc bags. Add steak to one and chicken to other. Set aside to marinate at least 30 minutes.
In a large wok, heat a little oil until hot!
Add marinated meat/onions in batches, frying till no longer pink. Remove to plate.
Add onions and garlic, cook a few minutes and remove to plate.
Add broccoli with a few tablespoons of water to help it steam and stir fry until water evaporates and broccoli is green but still crisp.
Return meats to pan and onions garlic along with any remaining marinade in bags.
Cook a few more minutes until meats cook all way through!
Season with salt as needed.
Sprinkle on sesame seeds.
Chicken stir fry…..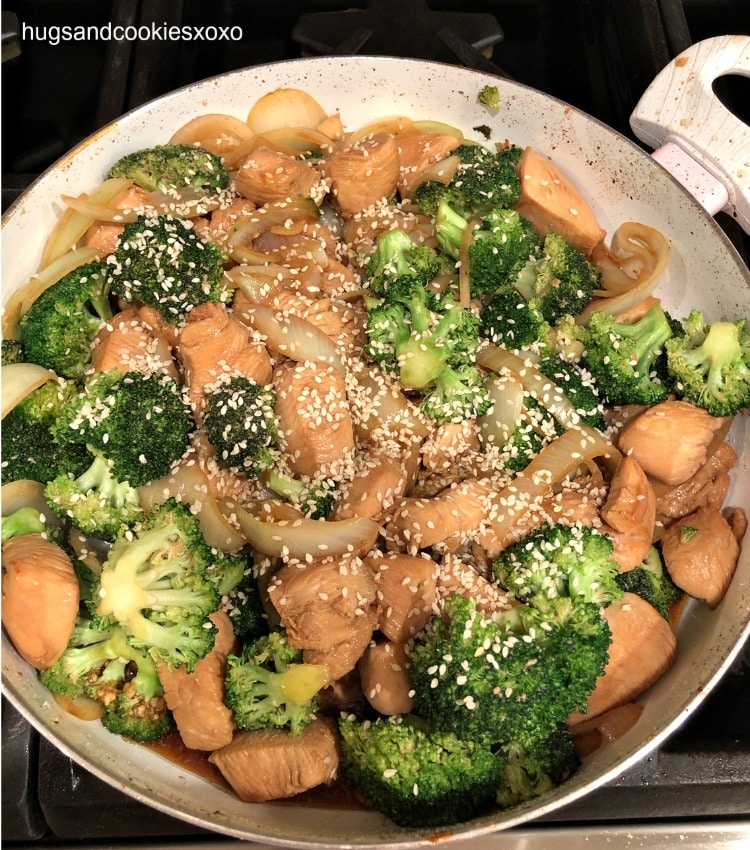 Please visit Liz on her social media channels….you will LOVE and adore everything this woman posts!!! Trust me!

You May Love These, Too! XOXO