This cauliflower pizza crust is all the rage and rightfully so. Again, we are talking about a food that is perfect for everyone. Gluten free? Paleo? Dieting? Low carbing? Hungry? See…perfect for everyone. So, I just read a cool tip. After baking the crust they recommend flipping it over and baking the other side too in order to crisp it up a bit more. I haven't tried that yet but plan to this week. Just picked up some more cauliflower today. Hey, it's my job as a blogger to try this technique out for you right? So, check back soon and I will post the results! In the meantime, this recipe is absolutely fabulous and hubby couldn't stop raving. I even caught him taking a picture of it to send to his friend. Now, how cute is that!!! And here is a fabulous tip thanks to one of my readers-Shannon-she said to dry the cauliflower using a salad spinner….pure genius I tell ya!!!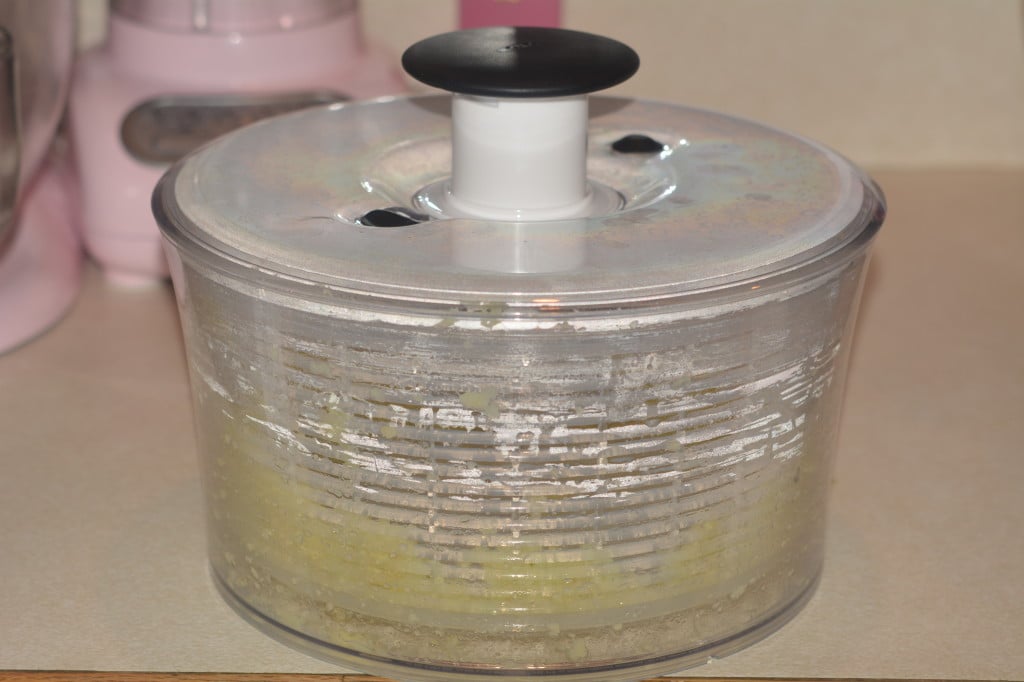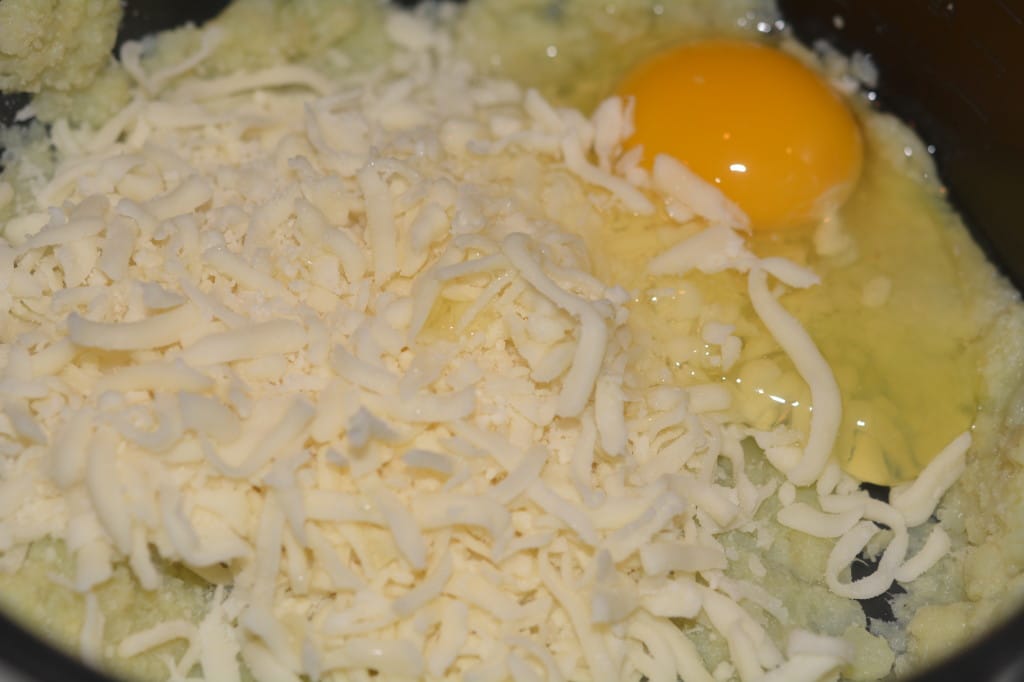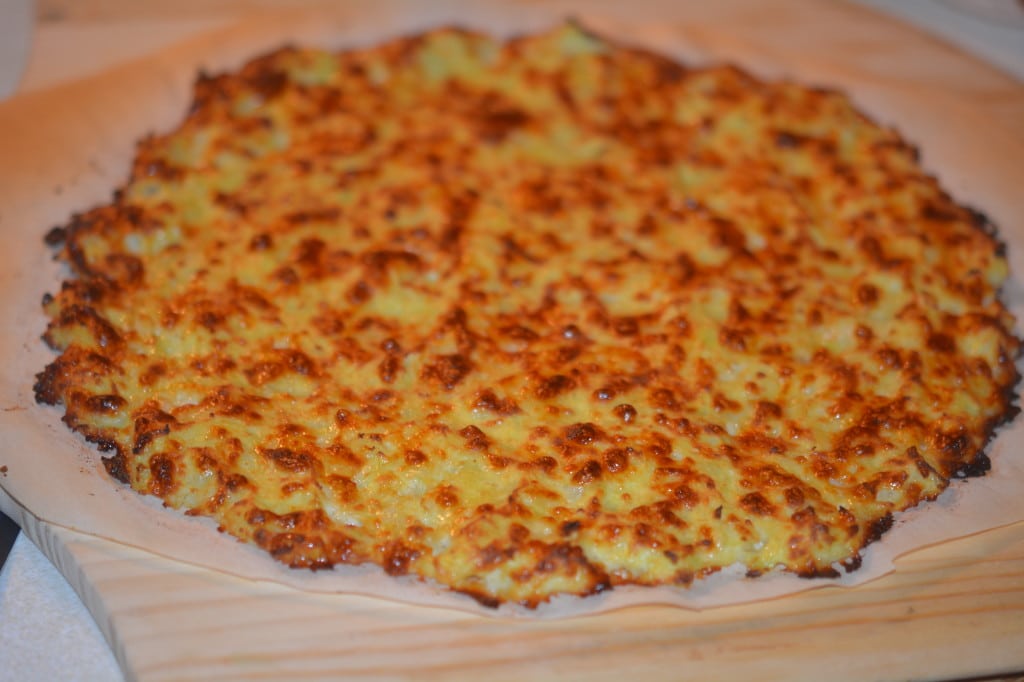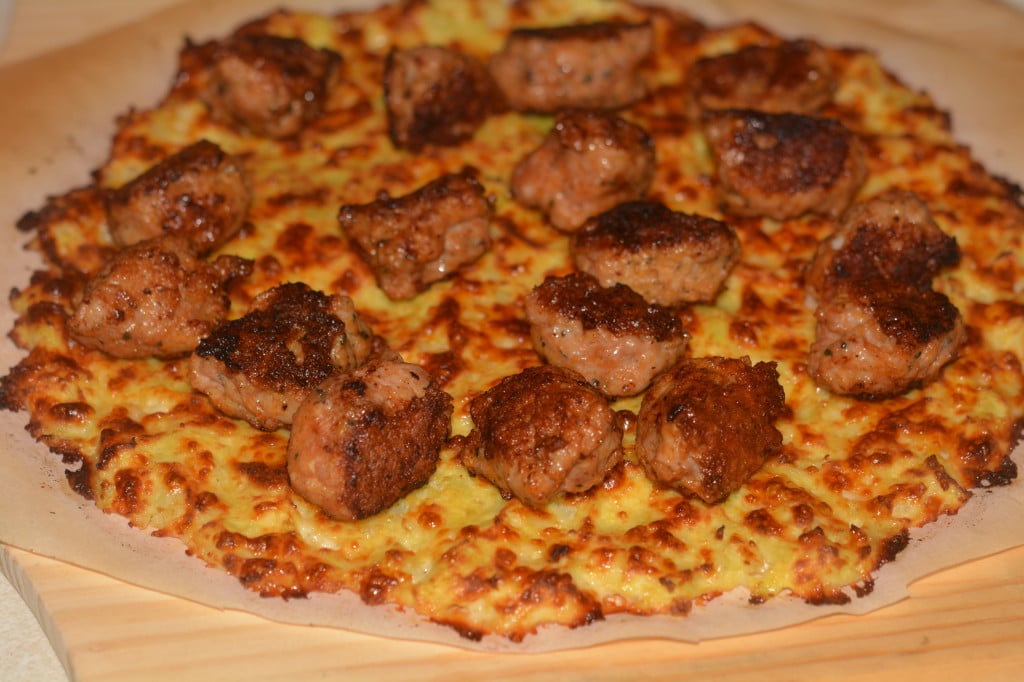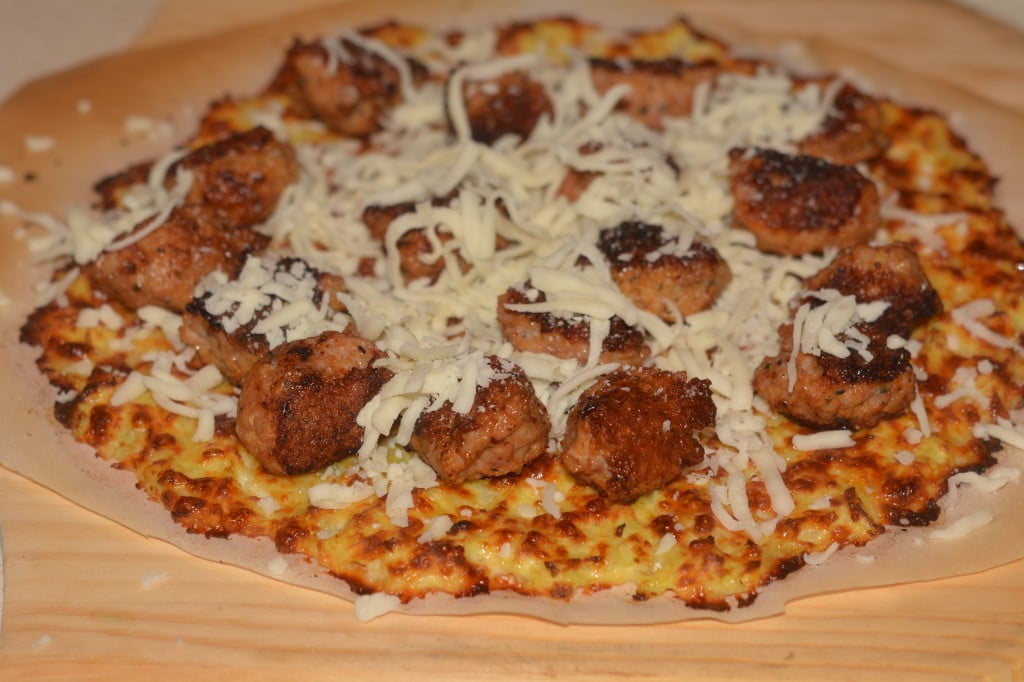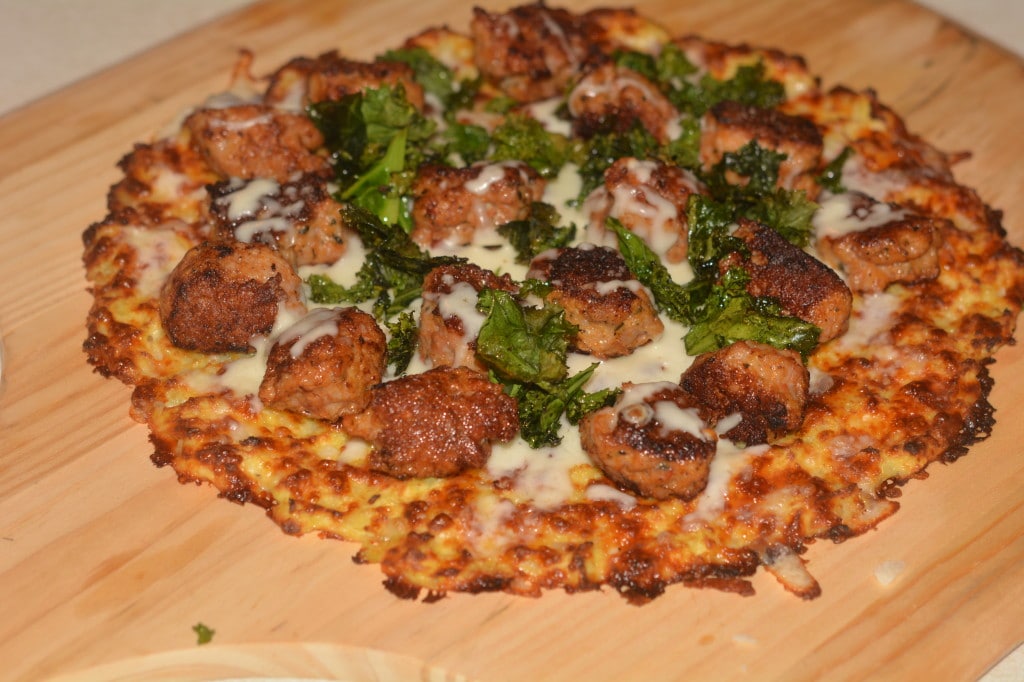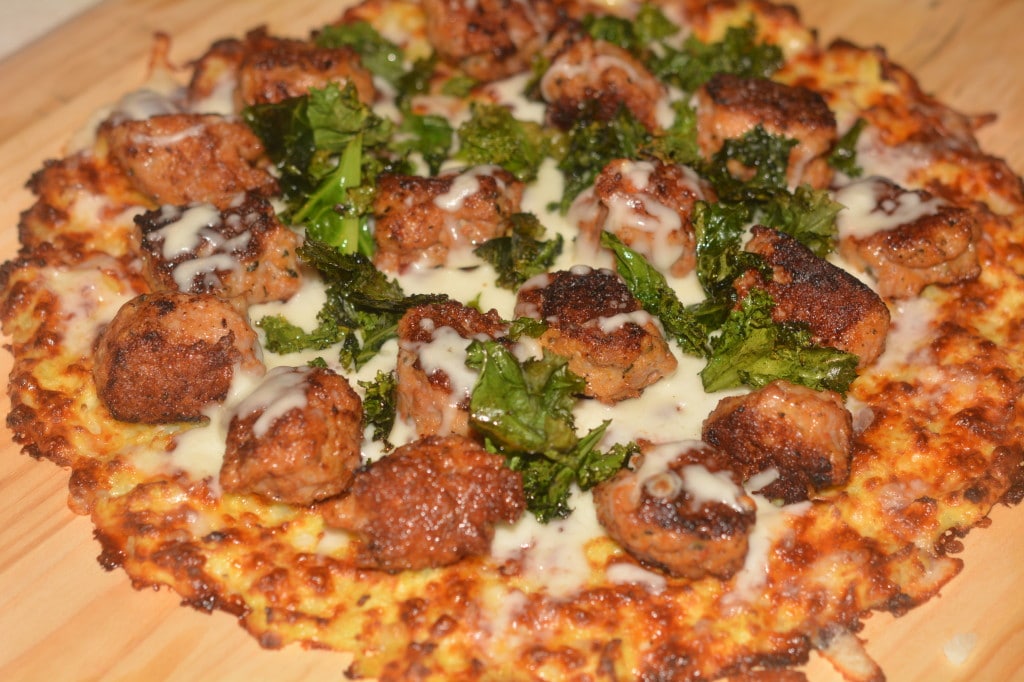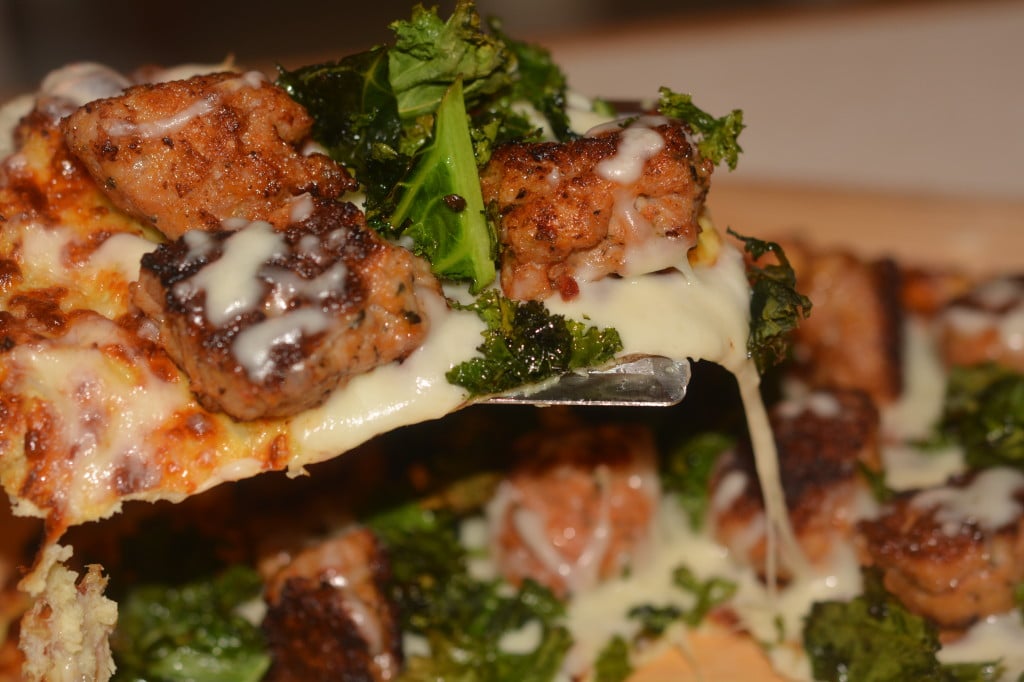 Cauliflower Pizza Crust:
Ingredients:
1 cup cooked, riced cauliflower (USE A RICER OR I HAVE READ SOME PEOPLE USE A FOOD PROCESSOR! I WILL TRY THAT METHOD NEXT TIME)
1 egg
1 cup mozzarella cheese, shredded

Directions:
Preheat oven to 450 degrees F. THE SECRET IS IN GREASING YOUR PARCHMENT VERY WELL. PAM SPRAY DID NOT WORK WELL ENOUGH FOR THIS. GENEROUSLY OIL A ROUND PIECE OF PARCHMENT WITH OIL AND WIPE OFF EXCESS SO IT DOESN'T LEAK OFF SIDES IN OVEN.In a medium bowl, combine cauliflower, egg and mozzarella. Press evenly on the parchment into a round.I baked mine directly on a pizza stone at 450 degrees for 12-15 minutes.Remove the pan from the oven. To the crust, add your toppings.Place under a broiler at high heat just until cheese is melted! Or just back into the 450 oven if you don't like the cheese too brown.
*Note: I topped my crust with mozzarella cheese & fried chicken sausage. After the cheese was melted, I removed it from the oven and topped it with kale chips. Recipe below.
Kale Chips
WASH KALE AND TEAR INTO PIECES. AVOID THE HARDER STEM AREAS. TOSS WITH A LOT OF EVOO, SALT AND PEPPER AND LAY ON NONSTICK FOIL. BAKE 375 10-15 MINS. UNTIL NICE AND CRISPY