THIS IS WHAT THEY LOOK LIKE IN THE END. SO, LET'S GET STARTED!!!!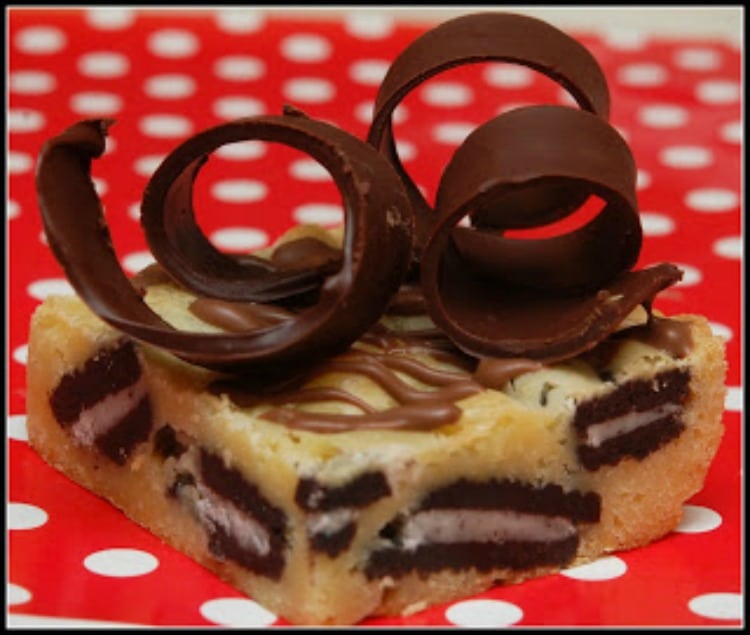 CHOCOLATE CURLS BEGIN WITH A SLAB OF CHOCOLATE LIKE THIS!!!!! YUM!
ONCE CURLED, I PLACED THEM ONTO SOME WHITE CHOCOLATE BROWNIES STUFFED WITH OREOS!

HERE SHE IS…ALL DRESSED UP AND READY TO PARTY!!!!!!!!!

RECIPE? HERE YOU GO!!
2 sticks butter
10 oz white chocolate, chopped into pieces
1 1/4 cups sugar
4 eggs
1 T. vanilla
2 cups flour
1/2 tsp kosher salt
OREOS-I DIDN'T COUNT HOW MANY-JUST CUT A WHOLE BUNCH INTO QUARTERS
Preheat oven to 325°F. Line a 9x13inch pan with nonstick foil, leaving some hanging over the edges so u can pull it out later.
In a pot over low heat, melt the butter and chocolate, stirring constantly, until melted and smooth. Remove from the heat. Stir the sugar into the melted chocolate, then stir in the eggs and vanilla. The mixture will look curdled. Add the flour, salt and any chips or nuts of u want to and stir to combine. Fold in oreos. Pour the batter into the pan. Bake the brownies about 30-35 mins. until the top is lightly golden. Don't over bake! Cool to room temp and chill 3 hours. Cut into squares… or triangles!
You May Love These, Too! XOXO