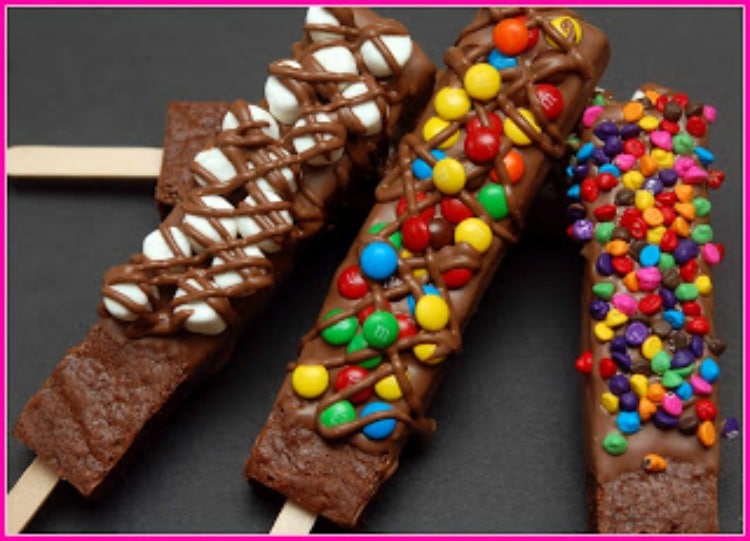 START BY MAKING A BATCH OF BROWNIES. RECIPE I USED IS BELOW. I COOLED THEM COMPLETELY AND PUT THEM IN THE FREEZER FOR A FEW HOURS. REMOVE AND LET SIT JUST A FEW MINS. USE A LARGE KNIFE TO CUT THIN RECTANGLES. INSERT POPSICLE STICKS. MELT CHOCOLATE AND DIP 3/4 OF THE WAY. DECORATE WITH CANDIES AND ADD A CHOCOLATE DRIZZLE!
NESTLE CHEWY COCOA BROWNIES:
Ingredients
1 2/3 cups granulated sugar
3/4 cup (1 1/2 sticks) butter or margarine, melted
2 tablespoons water
2 large eggs
2 teaspoons vanilla extract
1 1/3 cups all-purpose flour
3/4 cup COCOA POWDER
1/2 teaspoon baking powder
1/4 teaspoon salt
Directions
PREHEAT oven to 350º F. Grease 13 x 9-inch baking pan.
COMBINE granulated sugar, butter and water in large bowl. Stir in eggs and vanilla extract. Combine flour, cocoa, baking powder and salt in medium bowl; stir into sugar mixture. Spread into prepared baking pan.
BAKE for 18 to 25 minutes or until wooden pick inserted in center comes out slightly sticky. Cool completely in pan on wire rack.
TASTE TESTER APPROVED!!!!!
You May Love These, Too! XOXO