Chocolate Glazed Rainbow Cookie Cheesecake
This cheesecake is quite delicious, especially if you love rainbow cookies. If you want to decorate the cake with rainbow cookies as picture, you'll need to make an additional batch of the rainbow cookies and cut into squares. The recipe below is only enough for the cake itself. You can always make the cookies days ahead though and freeze them. They freeze perfectly! I love using the Fat Daddio's removable pans!  They are the BEST…even better than springform pans. I was first introduced to them by Say Cheesecake. Check out her baking tutorial as well for cheesecakes… I adapted my baking temp from her tutorial. Plan accordingly for this cake as you will want to make the cheesecake a full day ahead. You could even make it 2-3 days ahead to save time!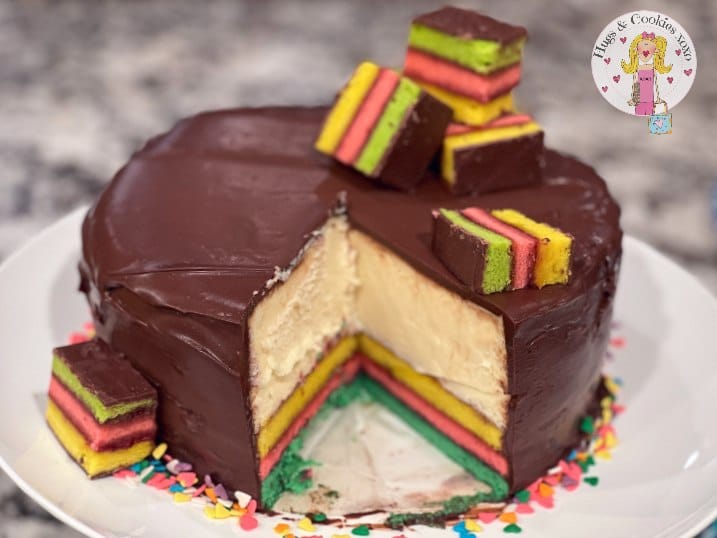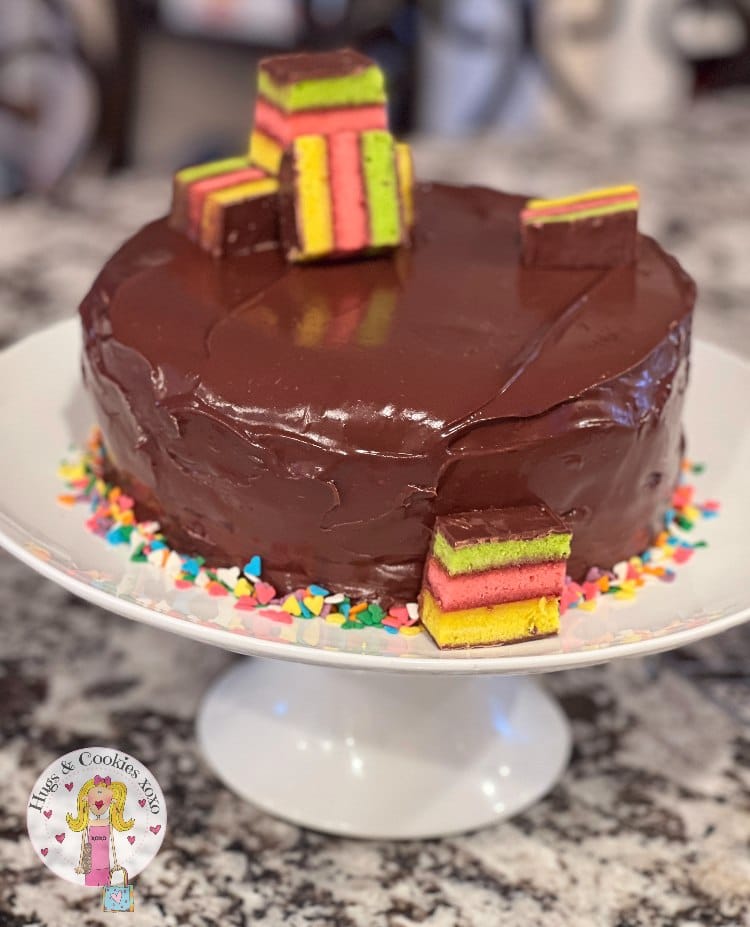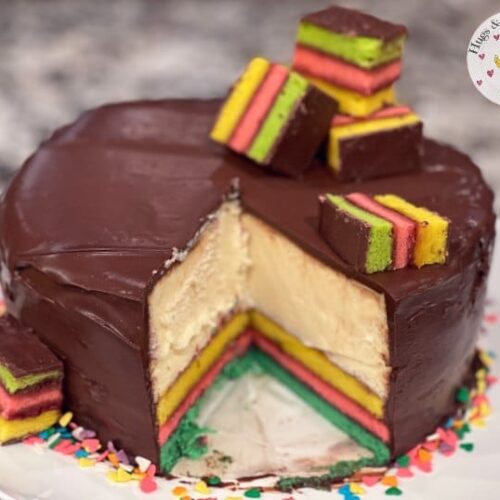 Chocolate Glazed Rainbow Cookie Cheesecake
Ingredients
Rainbow Cookies for the centers!Rainbow Cookies
8

ounces

almond paste

¾

C.

sugar

tsp.

almond extract

¾

c.

butter

3

eggs

1

c.

flour

¼

tsp.

salt

½

c.

raspberry jam

seedless

pink

yellow, green food colorings
Cheesecake
Four 8-ounce packages PHILADELPHIA cream cheese

at room temperature

1 ⅔

cups

sugar

¼

cup

cornstarch

1

tablespoon

pure vanilla extract

2

extra-large eggs

¾

cup

heavy whipping cream
Ganache
1

cup

heavy cream

8

ounces

semi sweet chocolate
Instructions
Rainbow Cake Base
Spray 3 8x8 round pans with Pam, line with parchment and spray again.

Preheat oven 350.

In food processor, mix almond paste, sugar, extract and butter till creamy.

Add one egg at a time.

Add flour and salt.

Divide into 3 bowls (approx 1 cup each)

Tint one pink, one yellow and one green.

Spread into the pans.

Bake approx 12 mins and let cool. (Edges will start pulling away from sides.)

Line cookie sheet with parchment and flip out one layer.

Spread on jam.

Place second layer on top.

Spread with raspberry jam and top with third layer.

Lay parchment over pink layer and top with heavy books. Chill 1-4 hours.
Cheesecake:
Spray an 8x3 inch Fat Daddios's removable bottom pan with Pam. Lay parchment inside and spray again.

In a large bowl, using an electric mixer fitted with the paddle attachment, beat 1 package of the cream cheese, 1/3 cup of the sugar, and the cornstarch together on low until creamy, about 3 minutes, scraping down the bowl several times.

Blend in the remaining cream cheese, one package at a time, beating well and scraping down the bowl after each.

Increase the mixer speed to medium and beat in the remaining sugar, then the vanilla.

Blend in the eggs, one at a time, beating well after each.

Beat in the cream just until completely blended.

The filling will look light, creamy, airy, and almost like billowy clouds. Be careful not to overmix!

Pour into the pan.

Bake at 300 degrees for 15 minutes.

Lower to oven to 225 and I baked it for 1 hour and 40 mins.

Only the very center should have any jiggle left to it.

Shut oven off but leave cake in for 1 hour with the door shut.

Then crack open door and leave in another hour.

Once room temp, chill in fridge overnight.
Ganache
Heat cream just to a boil and pour over the chocolates. Cover 5 mins.

Stir until smooth. It will thicken as it sits. I like to refrigerate it a bit, stirring every few mins.

Place cake on a wire rack over a large jelly roll pan and spread a thin layer of jam on top layer.

Use a huge spatula to carefully transfer the cheesecake on top.

Pour the ganache over the cake and chill to set.

Top with cookies and sprinkles, if desired.