Jumbo Peanut Butter Candy Cookies
With the words:
"jumbo"
"peanut butter"
"candy" and
"cookies"
all in the same title… you know it just has to be a winning recipe. That's right, this one is a winner for sure! It is also decadent, sinful, rich and extremely FUN to bake up! Make sure you treat your family to some Jumbo Peanut Butter Candy Cookies this week. Hey, or even today would be better. This cookie lets you be creative so feel free to do one with all M & M's and one with both M & M's and mini chocolate chips like I did. This recipe makes only 2 cookies but they are Jumbo! Like huge, enormous and not to be eaten alone! They are perfect for sharing! You can double the recipe and make 4 huge cookies or even halve the recipe for just one! The dough comes together quickly and bakes up looking like it came from the bakery. Enjoy!

Jumbo Peanut Butter Candy Cookies
You May Need:
You May Also Like:
Jumbo Peanut Butter Candy Cookies
Ingredients
4 T. soft butter
4 T. sugar
4 T. light brown sugar
4 T. beaten egg
1 tsp. vanilla extract
2 T. peanut butter
¾ c. flour plus 2 T. flour
½ tsp.baking soda
½ tsp. kosher salt
½ cup mini M&M's plus extras for the top
½ cup mini chocolate chips
Instructions
Preheat oven to 350 degrees.
Line a baking sheet with parchment paper,
Beat butter and sugars.
Add egg and vanilla.
Add peanut butter.
Add flour, baking soda and salt.
Fold in M&M's. Stir until just combined.
Divide into two portions and place one portion on cookie sheet. Decorate top with extra M & M's and chips as desired.
Bake 12- 14 mins and add more chips once removed from oven.
Serve warm with milk.
Adapted from
Picky Palate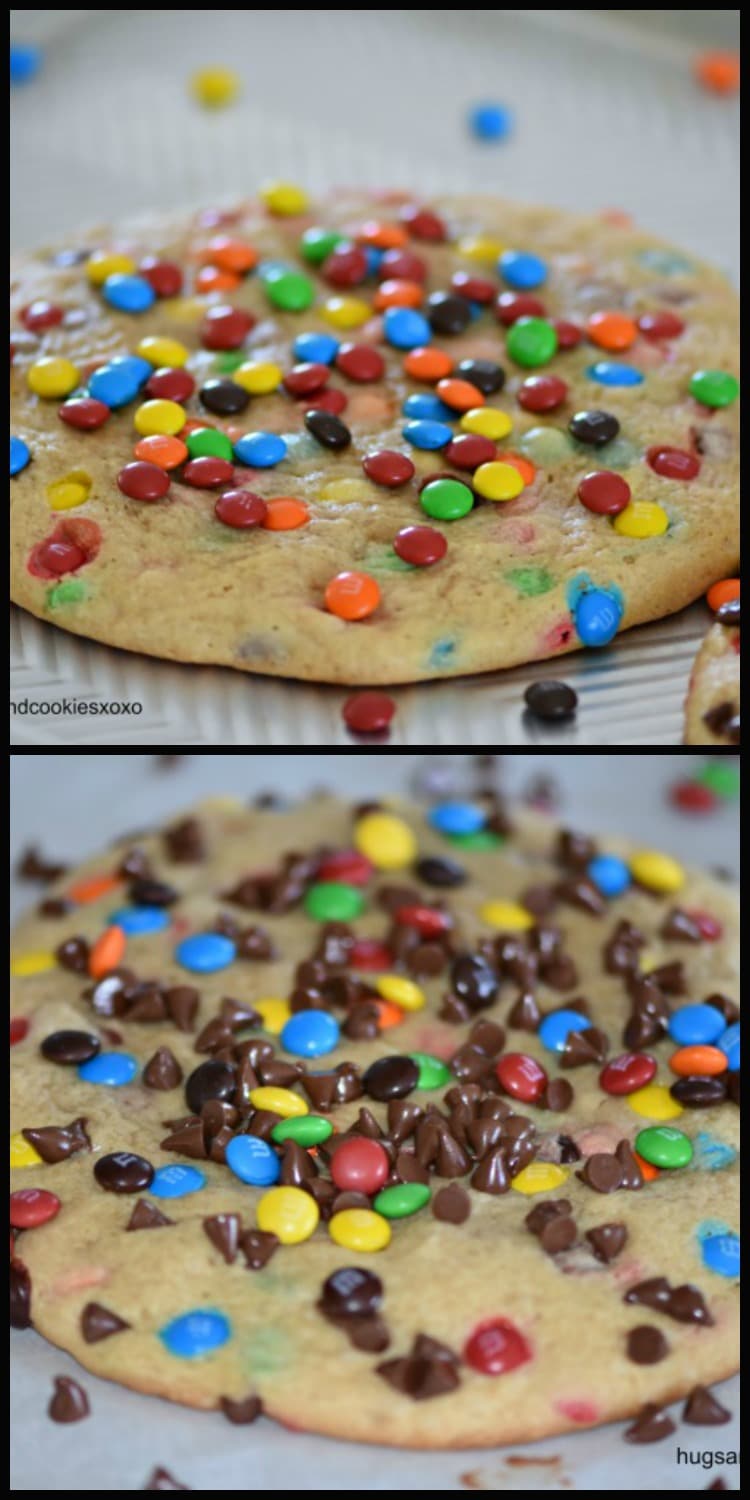 You May Love These, Too! XOXO