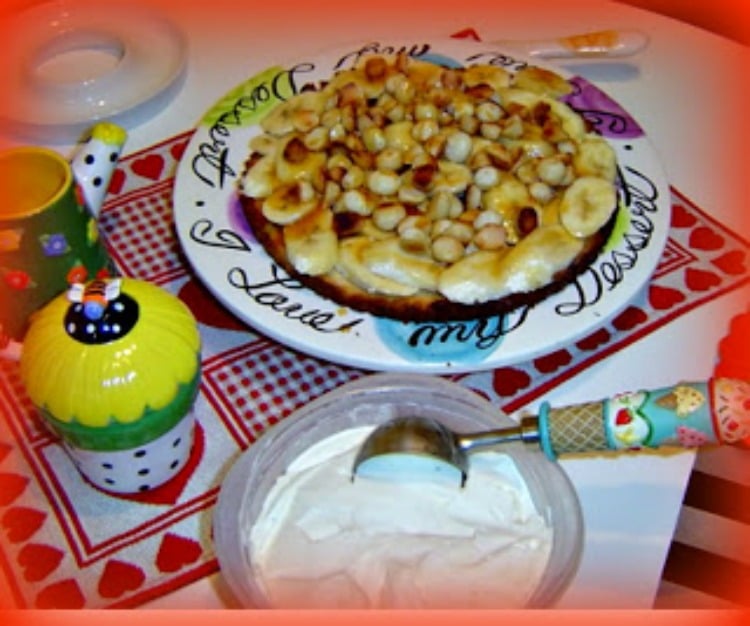 Crust:
1/2 cup butter, room temperature
1/4 cup granulated sugar
1 large egg yolk
1 teaspoon vanilla extract
1/4 teaspoon salt
1 cup flour
Banana Topping:
3 large bananas, thinly sliced
1 tablespoon butter, melted
1 tablespoon granulated sugar
1 cup macadamia nuts, lightly toasted
Caramel Sauce:
1 cup heavy whipping cream
1 cup granulated sugar
1 tablespoon fresh lemon juice (I OMIT THIS)
1/4 cup butter
Sauce: In a heavy saucepan, heat the cream over medium low heat until bubbles form along the edges of the pan; keep warm.
In a heavy saucepan, combine sugar and lemon juice until well mixed. Cover the pot and place it over medium high heat until the sugar melts and bubbles, about 4 minutes. Remove the cover and occasionally swirl the pan or stir the mixture until the syrup is a golden amber color, 5 to 8 minutes. While cooking, brush the sides of the pan with a wet brush just above the bubbling sugar to keep crystals from forming. Stirring constantly, slowly pour the warm cream. Bring to a boil, continuing to stir constantly. Cook until slightly thickened, about 3 minutes.
Remove the sauce from the heat, add the butter, and stir until the butter melts and the sauce is smooth. Serve immediately or cool to room temperature, then cover tightly and refrigerate for up to two weeks, reheat in a pan of simmering water or a microwave.
Heat oven to 450 degrees F.
Crust: In a large bowl, beat butter and sugar, with an electric mixer, until blended. Beat in yolk, vanilla extract and salt. Add flour and beat until moist clumps form. Press dough into bottom of 9-inch tart pan with removable bottom. Pierce with fork and refrigerate for 1 hour. Bake crust until golden (about 15 minutes). Cool.
Topping: Reduce oven temperature to 375 degres F. Overlap banana slices on crust, covering completely. Brush melted butter over banana slices and sprinkle with sugar. Bake until just warmed through (3 minutes). Drizzle with some caramel sauce over bananas then sprinkle with macadamia nuts.
Serve with ice cream and pass extra caramel sauce around.
adapted from recipe goldmine