THE QUADRUPLE LAYER PEANUT BUTTER CHOCOLATE CARAMEL CHEESECAKE!!!! 2 CHEESECAKE LAYERS, 2 GF CHOCOLATE CAKE LAYERS, 2 LAYERS OF THICK HOMEMADE CARAMEL, GANACHE GLAZE, WHIPPED GANACHE FROSTING, PEANUT BUTTER TOPPING FOR DECORATION, REESE'S PEANUT BUTTER CUPS AND HOMEMADE CHOCOLATE CRAFTED CURLS…. MOVE OVER CHEESECAKE FACTORY!!!!! NEED I SAY MORE????????????????????? WHAT DO U THINK???
ARE YOU CONVINCED YET THAT YOU NEED TO MAKE THIS??? SET ASIDE 2 DAYS MINIMUM AND GET TO WORK. USE ANY CHOCOLATE CAKE RECIPE OR MIX YOU LIKE.
I USED BETTER BATTER GLUTEN FREE CHOCOLATE CAKE MIX TO MAKE THIS A GLUTEN FREE RECIPE. THIS CAKE IS WORTH EVERY SINGLE CALORIE!!!!!!! OH YEAH, AND SERVE THIS WITH A BIG SCOOP OF HOMEMADE VANILLA ICE CREAM ON TOP!!!!
BAKE BETTER BATTER CAKES or Regular Cake Mixes IN TWO 9 INCH PANS FOLLOWING BOX MIX.Crustless Cheesecake portion:30 mini peanut butter cups, CUT IN FOURTHS2 sticks softened butter
1 cup granulated sugar
4- 8 oz packages cream cheese, softened
1- 3 oz. package cook and serve vanilla pudding
4 eggs
2 tsp baking powder
Preheat oven to 325 degrees. Grease two 9″ pans with shortening, line the pans with
parchment and then grease the parchment. Lightly flour the pans and tap out excess
over the sink.
Cream butter and sugar. Add cream cheese until smooth. Add remaining ingredients except peanut butter cups. Mix again until smooth. Fold in peanut butter cups. Divide batter evenly between 2 pans. Bake 55- 1 hour. Once out of the oven, place immediately in freezer! Cheesecake will deflate forming a nice pocket for the caramel.
Turn out frozen cheesecakes and remove parchment. Reline the pan they
were in with enough parchment to hang over the sides of the pan.
Place the cheesecakes back in the pans and return to freezer.
Make the caramel
TWO -14 ounce cans of Eagle sweetened condensed milk
10 T. butter
80 KRAFT caramels
Make the caramel in 2 batches dividing above ingredients. Put 1 can sweetened condensed milk, 5 tbsp. butter and 40 caramels in a bowl. Microwave about 3 mins. until smooth-stir as you go.
Pour caramel evenly over center of frozen cheesecakes. Return cheesecake layers to freezer.
Layer cakes: chocolate, cheesecake and repeat
Frosting Recipe
1 2/3 cup Nestle chocolate chips
1 1/2 cups heavy cream
1/2 T. light Karo corn syrup
Put chocolate chips in a bowl. Heat cream in microwave. Pour hot cream over chips and stir. Remove 2/3 cup chocolate mixture into a bowl and add corn syrup to it. Pour this over top of cake for a shiny look. Return cake to freezer.
Pour rest of the ganache into the mixer bowl and whip on high for about 8 mins. until fluffy!! Frost sides of cake with this!
Peanut Butter decorations:
2/3 c. Skippy peanut butter-creamy!
8 T. soft butter
1 c. powdered sugar
Beat pb and butter and slowly add sugar. Beat till smooth. Pipe onto cake using pastry bag or ziploc bag with cut corner.
For Chocolate curls, I melted chocolate onto a cookie sheet and scraped it up when cool using a bench craper. You tube has great videos for technique!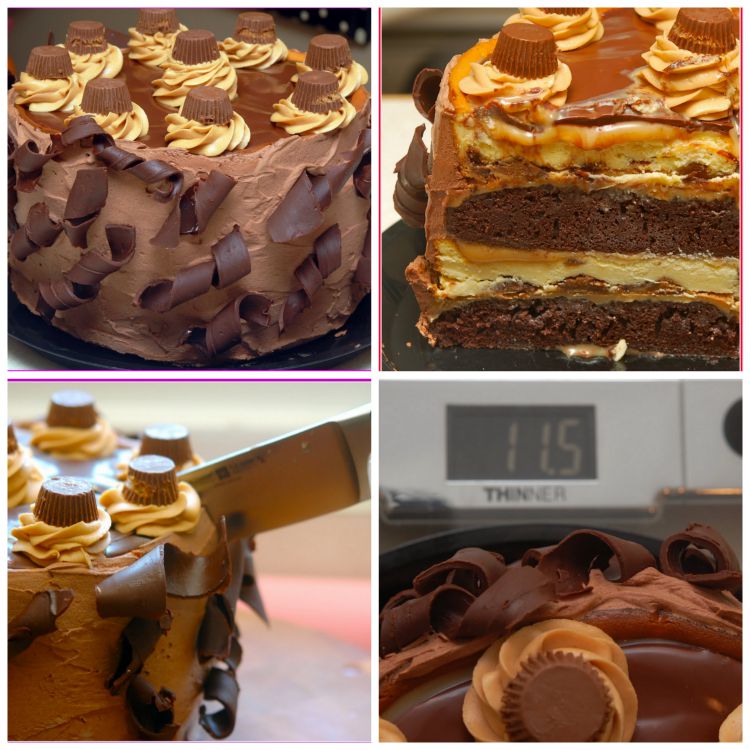 You May Love These, Too! XOXO