Mushroom lovers will go crazy for these! Stuffed with sausage and mascarpone cheese-what could be bad. This recipe comes from Ina Garten so you know it has to be good! Bake them until nice and crispy and serve these Sausage Stuffed Mushrooms at your next cocktail hour or holiday!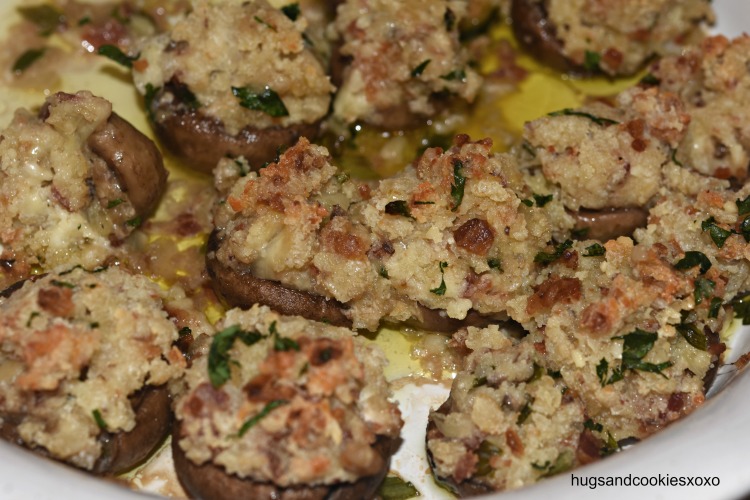 You may need:
Sausage Stuffed Mushrooms
Ingredients
16 extra-large white mushrooms, caps and stems separated
5 tablespoons olive oil, divided
2½ tablespoons medium-dry sherry
¾ pound sweet Italian sausage, casings removed
¾ cup minced scallions, white and green parts (6 scallions)
2 cloves garlic, minced
1 teaspoon kosher salt
½ teaspoon pepper
⅔ cup panko
5 ounces Italian mascarpone cheese
⅓ cup freshly grated Parmesan cheese
2½ tablespoons minced fresh parsley
Instructions
Preheat the oven to 325 degrees.
Trim the mushroom stems and chop them finely. Set aside.
Place the mushroom caps in a shallow bowl and toss with 3 tablespoons of the olive oil and the sherry. Set aside.
Heat the remaining 2 tablespoons of olive oil in a medium skillet over medium heat.
Add the sausage, crumbling it with a wooden spoon.
Cook the sausage for 8 to 10 minutes till browned.
Add chopped mushroom stems for 4 more minutes.
Stir in the scallions, garlic, salt, and pepper and cook for another 2 to 3 minutes.
Add panko.
Add mascarpone until melted.
Remove from heat and add Parmesan and parsley,
Add salt and pepper.
Cool a little.
Fill each mushroom with the mixture.
Place in baking dish and bake 50 mins.